Man arrested at Tuesday's GSU parade not a terrorist, IG Boinnet says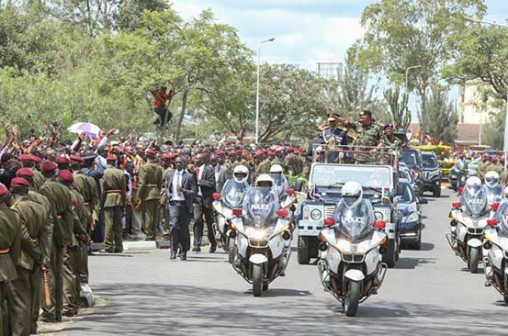 Nairobi: A man arrested as he tried to get into the General Service Unit College, Nairobi on Tuesday was carrying a motherboard of a transistor radio.
Inspector General of police Joseph Boinnet said there was no cause of alarm and that the man and another one who had been arrested would be freed.
"Truth is someone was found with a motherboard of a small transistor radio in his bag at the security check as he queued to access the outer gate and was arrested for further questioning. There was no attempt to sneak a bomb," said Boinnet.
He added the man who was carrying the gadget told police his relative gave it to him to bring it to Nairobi for repairs.
"He was given the gadget by someone in Garsen to bring to another person in Nairobi for repairs," said Boinnet.
Other officials said a team was sent to Garsen to find the said source and confirmed that the arrested man had been handed the gadget to take it to a technician for repairs.
A transistor radio is a small portable radio receiver that uses transistor-based circuitry. Following their development in 1954, they became the most popular electronic communication device in history, with billions manufactured during the 1960s and 1970s.
Security was heightened at the venue following the arrests that were made shortly before the arrival of President Uhuru Kenyatta during the pass-out parade in which more than 1,900 recruits graduated.
Security has been beefed up in the country following threats from terrorist groups.
A leaked memo has warned of a planned terror attack on Kenyan airports targeting domestic flights. It added 11 suicide bombers had been released ready for the mission.
The alert came even as Boinnet warned that Al-Shabaab threat remains real in the country.
"Available information indicate that Al-Shabaab is still keen on attacking us, targeting security installations, soft targets in the Northern Kenya Counties, in the Coast and other major cities," said Boinnet last Friday.
He urged Kenyans to be vigilant and to report anything suspicious activity to the police for immediate action.
Boinnet said security agencies have made significant progress in counter terrorism measures which has led to foiling of several arrests of terror suspects in Mombasa, Malindi, Lamu, Garissa, Wajir, Mandera and Nairobi.
Balala woos investors to tourism
"Our country is rich in heritage, culture, beautiful parks, sunny beaches and wildlife. We must now repackage the Kenyan product to be a cut above the rest," said Mr Balala.