On a good day, I make Sh 100,000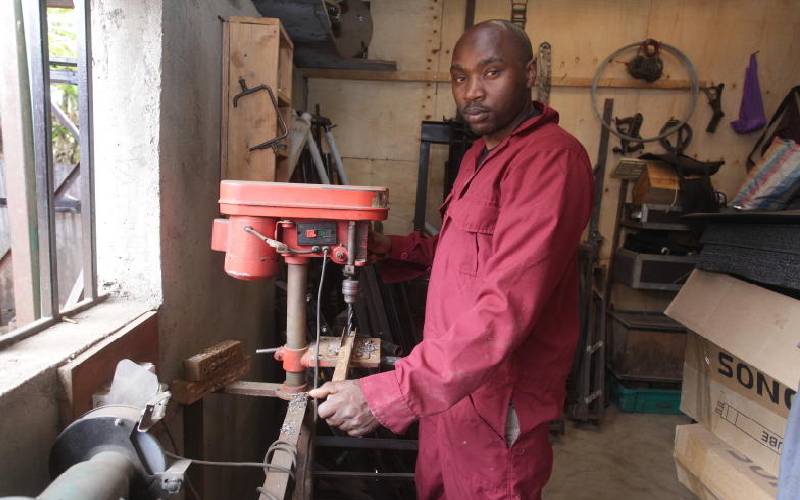 When Paul Kihuha, 34, set out to make camera support equipment to use while shooting his own music videos, he didn't know it would lead him to Protisa Creations, a business he founded in 2013 after noticing a gap in the market for film equipment. Today, his clients include top film directors and musicians.
How did you know there was a market for film equipment?
The market found me. I made a camera crane to help me shoot a music video and a series of events led me here, running Protisa Creations and working with top film directors and musicians.
I dropped out of school in class eight, in 2003, because I didn't think school was for me. It felt as though I was a car trying to run on railroad. I didn't get much grief from my parents after dropping out. I am the last born in a family of nine children and my theory is my parents perhaps didn't see the fruits conventional education promised with the other siblings.
I didn't do anything significant until 2007 when a local politician organised a talent search. I could rap, and I won first prize which was a recording deal for an album with a small-time studio. I recorded 15 tracks before realising what I needed to make was a music video. I made a small prototype of a camera crane using my father's tools (he was a mechanic). I made it without knowing where I'd get a camera.
What happened next?
Another talent search at the Dagoretti Empowerment Centre, this time planned by an organisation called Studio Za Maisha. I found a long queue, and most of the people trying out were singing, acting, rapping, or dancing. I had my crane, which was about 3 feet long, and this caught the attention of the organisers.
They called me to their offices and asked me what was holding me back. The answer of course was money. They told me to create a budget for making a proper crane and afterwards gave the Sh6,000 I asked for. I used most of it to buy scrap metal. I made a proposition to a friend who had a metal workshop: I'd use his workshop on days he wasn't using it and in return I'd help out on busy days. A month later I had a crane.
Take a quick survey and help us improve our website!
Take a survey
Studio Za Maisha were so impressed that they'd use me as a success story for the work they did and bring me along to their events to perform because I was also a rapper.
Eventually, I met the musician Solomon Ng'ang'a who started hiring the crane for his music videos and my name started spreading.
Someone then approached me to make a crane for him. I charged him Sh90,000 which I used to buy my own welding machine — and since then I've never bought another welding machine.
I pulled this one apart and realised I can make something similar, and opened a metal workshop at home in Kiambu county. As I was making cranes, I noticed everything else that was missing and started making them too.
What was the transition like from artisan to entrepreneur?
I don't follow conventional ways of running a business. For instance, I don't have permanent staff. My workshop functions like a school, where I train people and when work comes, I make connections for the people I have trained.
I think that's a better way of supporting young people rather than giving them money. I also don't have standard prices for my products because I realised that would lock some people out. Say, someone asks me the price of a dolly, a platform on wheels, I will say it depends on type and size then I'll ask them for their budget, a very crucial step for me.
I might say a dolly is Sh50,000 and the customer has Sh20,000 and lose out. Or I might quote the same and someone had budgeted for Sh100,000 and might then think my product is of a lesser value. Anyway, once a customer tells me their budget, I'll explain to them how I'll make a product within that budget, what they'll get and how it's different from the rest. That way, I close more deals, by making you understand the value of what you're buying so when I quote the price, you know what you're getting.
I read somewhere that you make Sh100,000 a day. Is that true?
There are months when I've made about Sh10,000, and there are days when I've made, yes, Sh100,000. At times I get a lot of orders. My current challenges are time and money. I wish I had more of both in order to do more. Though Protisa Creations is still at the jua kali stage, I'd love to have an office with structures and processes, especially sales and marketing.