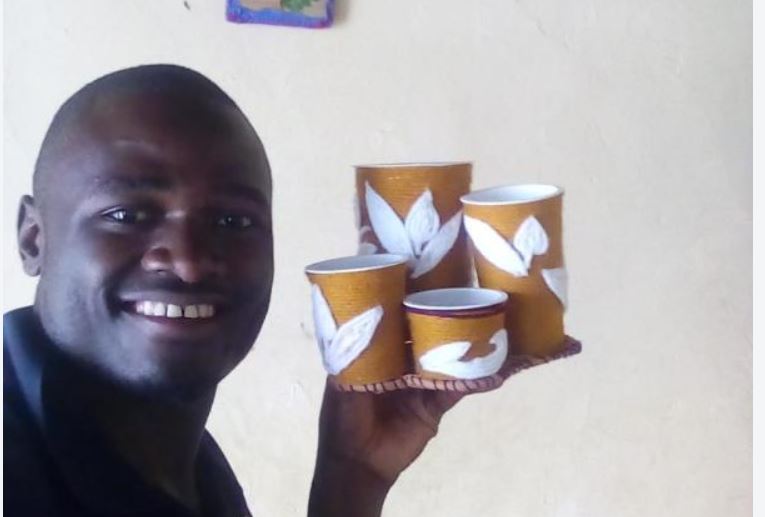 Once booze lovers gulp their drinks to the last drop, everyone staggers home without caring much about the empty glass or plastic bottles they leave behind, and how they will be disposed of. Certainly, the bottles will end up in the trash and the next stop will be at the dumpsite. If they are not biodegradable or recyclable, they pile up and literally fill the earth.
This is where Wycliffe Omondi comes in. Omondi has made it his business to rummage through garbage bins in search for used whisky bottles. He does this with two things in mind; one, to save the environment, and two, to make good money from upcycling the bottles.
His genius idea was born when he landed in the city from Siaya County in 2017. He had travelled from the bundus with high expectations of flourishing in the 'green city in the sun.' However, his expectations were dashed when what he came across was a sharp contrast of a green city.
"When I came to Nairobi, I expected streets, drains and rivers to be cleaner than they are, but to my surprise I realized that almost everywhere was choked with garbage," he says.
This immediately informed his decision to rid the environs of glass and plastic, specifically bottles. Omondi is now collecting empty whisky bottles to make beautiful art products. These include flower vases and interior décor artefacts.
Read More
"The first step is to rummage bins in the city looking for the bottles, which I then clean. After this I knit balls of various colors using yarn," he explained to CityBiz.
The next task is to carve out plastic bottles to make different shapes which he uses to decorate the whisky bottles before binding them with glue. The glass bottle acts as the main vase while the different designs from plastic bottles as branches. Omondi then tactfully rolls the remaining yarn into pompom flowers. The creative artisan says he makes between 20 and 30 flowers vases every week. He hawks them at Kamukunji and Gikomba markets at Sh200 per vase.
Omondi says that although it has taken a long time, customers have embraced his creations, especially those who are keen on creativity and conserving the environment.
"Even though I make money out of my venture, my main aim is to see that glass and plastic bottles choking our environment and rivers are put to good use. That way I will be able to save nature and inspire other people to come up with their own ways of utilizing waste," he says.
Adding "in the near future, I want to partner with event organizers to furnish their event venues using my décor items. I am especially keen on corporate events, birthdays and wedding ceremonies."