Arap Uria: Kenyan comedian elated by Peter Drury, Supersport's recognition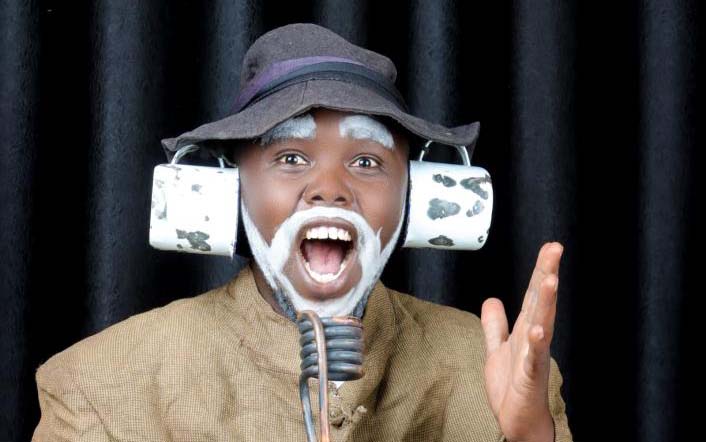 After two years of mimicking legendary football commentator Peter Drury, popular comedian Meshack Kiprop Biwott has earned international recognition. The comedian, better known as Arap Uria, was featured in an interview on Premier League live show last week.
During the interview, Arap Uria got the surprise of his life when a video of Drury praising the 27-year-old comedian for perfectly lip-syncing his commentaries was played.
When The Standard reached Uria on the telephone, the internet sensation claimed he did not see the Friday incident coming. He said he was overwhelmed. "I was surprised because I never thought such a moment would come. I never thought that one Drury would ever praise my work, let alone know my name," said Uria.
Uria said the Supersport team had planned to surprise him by having Drury (right) in the studio, but when he had to fly to Doha for a job, he decided to make the video that has since gone viral.
In the video, the 54-year–old British journalist acknowledges the comedian's videos, describing them as terrifically funny.
He said in the video clip played on Supersport: "Arap, it is Peter here. I really wish I could be with you today, but I am here in Doha to witness the World Cup draw, which is happening today. I love what you do. I am certainly laughing with you. It is terrifically funny. It is superb.
"Football shouldn't be taken too seriously and with all the passion that you show for it, I love your work. I hope one day we may get to meet each other face to face, and you can teach me how to commentate."
Uria says he is encouraged to be consistent in creating more content for his audience because of the good reception. "I am always motivated to do what I do because it is my passion, and you just never know who is watching," said Uria, referring to his content.
In May last year, Liverpool star Sadio Mane shared one of Uria's spoofs mimicking Drury's commentary on a Watford versus Liverpool match. The video got millions of views, with comments from various celebrities.
Uria began by mimicking politicians like Elgeyo Marakwet Senator Mr Kipchumba Murkomen and Deputy President Dr William Ruto.
In August 2020, the father of one became an internet sensation after his mimicking challenge of Mr Murkomen's speech at the Senate on the revenue allocation formula went viral on social media.
Donned in a brown hat, and an oversized brown coat, with a walking stick in his hand, the comedian mimicked the legislator, even banging the table as Murkomen did.
The video attracted thousands of viewers through his Facebook page, and Murkomen was no exception.
The senator shared the video on his social media pages, praising the comedian as a talented young man. He joked that the comedian from his county had a case to answer.
But despite his videos mimicking politicians doing well, the comic has since scaled down such, choosing to focus on football. "I began with mimicking politicians, but with time I realised it was divisive since my audience is diverse in terms of its political views and others were not happy with some content. I decided to stick to football commentaries since football is a neutral ground adored by people from different demographics," explains Uria.
He has been sharing his content on Facebook, Instagram, and YouTube since 2018. He boasts over 37,700 followers on Instagram, more than 325,000 subscribers on YouTube and about 200,000 followers on Facebook.
He says his character, that of an old man, was inspired by his late grandfather Paul Uria. He even chose his grandfather's name to identify himself in comedy. "I lived with my grandfather for the better part of my childhood, and I looked up to him in so many ways. I saw how he interacted with people, but his character was funny to me, so I decided to enliven it," said Uria.
He says his grandfather gifted him the walking stick before dying. "The walking stick is part of my costume. It is my identity and I love it because I saw the stick as a blessing from him," he said.
Born in Muskut in Elgeyo Marakwet and bred in Uasin Gishu, Uria decided to do his comedy in Kalenjin as it brought out his grandfather's character best. With time and with a large heterogeneous audience, Uria now often co-performs with his colleague Gogo Small, incorporating Kiswahili and English scripts to his originally Kalenjin skits.
Uria graduated with a degree in Education from Masinde Muliro University in 2019.
The Mathematics and Geography teacher hopes to step in a classroom some day, but in the meantime says he will focus on his comedy, his true passion.