BBI errors point to a deeper national intellectual malady
FINANCIAL STANDARD
By XN Iraki | April 26th 2021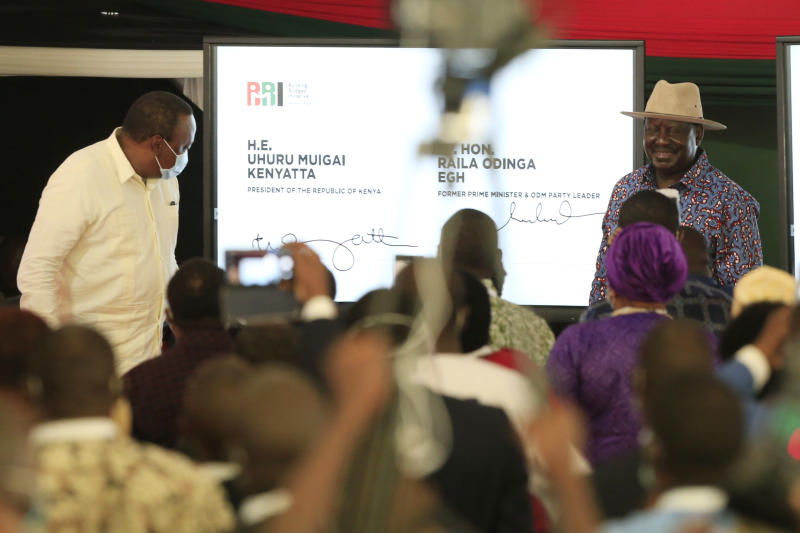 You should only be surprised by the reported errors in the Building Bridges Initiative (BBI) reports that went through county assemblies if you are not a Kenyan.
Take offence if you like, but an average Kenyan will do anything to avoid reading; it does not matter how important the document is or their level of education.
I doubt if we read love letters. We can bet BBI is not the only important document that has errors. It could be that no one has had time to read through other key documents of national importance to point out the errors.
The revelation about BBI points to a deeper national problem that should be declared a national disaster.
We rarely read. Do you recall in the run-up to the 2010 Constitution referendum when someone declared "Baba amesoma" in reference to ODM leader Raila Odinga having read the document on behalf of his supporters?
The popularity of Twitter and WhatsApp coupled with "forwards," which I doubt the forwarders themselves read, is a clear indicator that we hate reading.
Those in the education sector from primary school to PhD level can attest that we seem to love going to school but not reading. Reading and research go together.
How did we find ourselves where we are? How can we fall in love with school and not reading, research and the associated curiosity?
The first blame is the way we are taught. Teaching and learning are perceived as dull and boring, and we long for the day we shall leave school and do "better" things.
Picking teachers from those who failed to get into other professions does not make matters any better. Only those who choose Bachelor of Education (BEd) as their first choice should be admitted to our universities to do the course.
Two, we overuse written materials in class, ignoring computers, phones and other technologies. Remember most of our children are digital natives; they found the Internet and computers when they were born. It is their way of life. Truth be told, books often contain old knowledge.
Three, we are an oral nation, borrowing from our traditions. We prefer to talk not write or read. I have noted many Kenyans take offence when I fail to pick their phone calls and respond with "please text."
Four, its economics. We do not go to school because we love schooling or we are curious. We love the money that comes through promotion after acquiring another degree or title.
Five, job adverts, publication of shortlists and live job interviews have enlightened Kenyans on what degrees they need to get their dream job.
This includes getting the title of "Doctor." After all, who will test after school if your title is commensurate with your depth of knowledge? Those around you are likely to be too intimidated to raise any issue.
Six, we go to school for peerage. Most titles in Kenya are acquired from schooling unlike in the UK where peerage from Prince to Earl, Maquis and Baron are often by birth.
Schooling provides a pathway to our peerage in Kenya.
That is why our CEOs, MPs, cabinet secretaries, vice presidents and even judges get their "peerage" through titles like Dr. Maybe we should revive our kingdoms.
Seven, it's fashionable to be ignorant. We no longer feel ashamed to say we do not know something even when it's expected of us.
I recall a first-class honours BCom graduate requesting me to write a recommendation letter to a UK university. I asked her why not do the GMAT (Graduate Management Admission Test) and try an American university. "What's GMAT?" she asked. Eight, there are alternatives to reading. We have talking books and other sources of information from YouTube to websites, rumours, WhatsApp, Twitter, among others.
Depth is an issue with these sources. Even observation can be a great source of learning. Noted the number of items on "offer" in supermarkets to beat the Covid-19 slump?
You can add on the reasons why you hate reading. Don't say books are expensive. Do you read the free ones available online?
Our hatred for books and reading has unintended consequences. It has spawned a "listening industry" best espoused by webinars and conferences.
It's only in Kenya where conferences are not domiciled in universities and education institutions.
It has led to "finishing schools" and made education more expensive. A BCom graduate needs a Certified Public Accountant (CPA), a law graduate goes to a school of law, while a Human Resource (HR) one needs a diploma in HR.
Why can't we learn through experience and at our workplaces? Is the world not suffering from knowledge explosion? The worst consequence is that by not reading, being superficial with "forwards" and "good accents," we have closed the Kenyan mind.
We read to get new ideas and stimulate new thinking. The new ideas lead to innovations like M-Pesa, Google, iPhone, Zoom, among others.
Noted how people hate science, technology, engineering, and mathematics (STEM), the courses that demand serious thinking, reading and eventually create jobs.
By not reading and searching for new ideas, we blunt national competitiveness.