The place of golf in national development
FINANCIAL STANDARD
By XN Iraki | April 19th 2021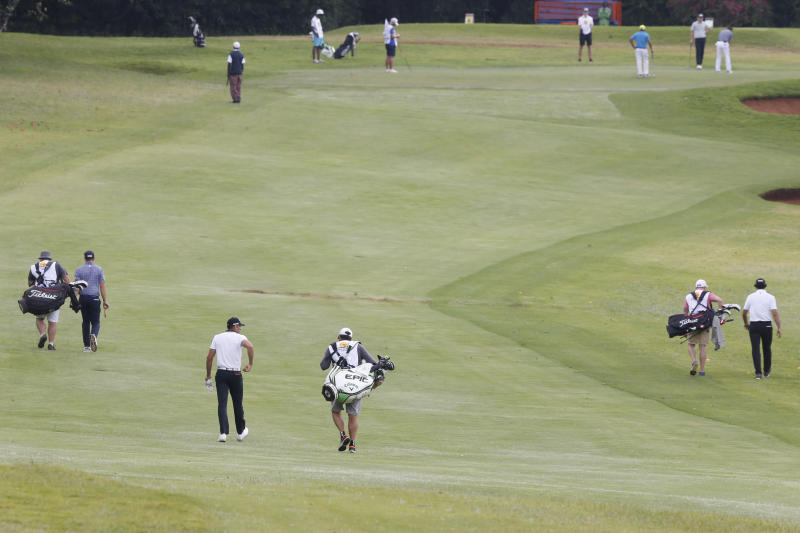 The Augusta National Golf Course in the US state of Georgia was set up the same year as the Karura Forest.
Almost a century later, one is a renowned golf course where every player dreams of winning not just money but the bragging rights and the other one a great place to relax for Nairobians.
Karura Forest is referred to as one of the lungs of Nairobi, providing much needed fresh air in the polluted city.
The other lungs of Nairobi are City Park - which is now overgrown with grass - the Arboretum, Uhuru Park, Ngong Forest, the Nairobi National Park.
There are also a few homes that have preserved trees or planted new ones. Unfortunately, cutting trees is more common than planting them.
We must add golf courses with their trees and other vegetation. They include Royal, Vetlab, Muthaiga, Golfpark, Windsor and Railway golf courses.
Do we ever appreciate this function of golf courses? And why are they still not open despite guaranteed social distancing?
Let's get back to the 365-acre Augusta National Golf Course where the masters, one of the world's most prestigious golf tournaments, is held each year; it's more like the golf World Cup.
Interestingly, many Kenyan golf courses are older than the Augusta National Golf Course. The Royal Golf Course, for instance, was started in 1906, Vetlab 1923, Muthaiga 1927, Kiambu 1916, Mombasa 1911 and Kitale 1924.
The Masters Tournament took place this year despite Covid-19. It was a good distraction from the Covid-19 lockdown. I made a few observations.
The first one was the beauty of the course from fairways to trees and white sand in the bunkers. If you walked into the course with a headache, it will disappear and if a couple had a quarrel, it is likely to have reconciled after the tournament.
The other takeaway was the age of the players. The average age of The Masters winners since 1934 is 32.17.
The oldest winner is Jack Nicklaus who did it at the age of 46, while the youngest ever winner, as you may have guessed, is Tiger Woods at 21 years.
The beauty of golf is that one can play the game into their 90s.
One would ask what our youngsters are doing away from The Masters. Many American golfers are from the university where golf is taught. Do we teach it in any university in Kenya? We seem to play more sports on TV than in reality.
The prize money was out of this world (about Sh200 million) for the winner. We should tie our sports to incentives. Noted the money the English Premier League players are paid? The money comes from ticket sales and media rights.
Beyond building sports facilities, we must add incentives. If the winner in a golf tournament takes home Sh200 million, why would families not invest in it?
Noted how our football clubs are struggling to pay their players? Curiously, Africa has many games that it could showcase to the world.
Is it time we revived some of our old games? The games we admire today like soccer and golf were once local games.
Canadians are known for hockey, Indians cricket, the Japanese baseball and the English football. What are we known for?
We imported games just like government structures, economic systems and religions. But we are free to improve on them. I am particularly interested in golf because it favours us more than its originators.
Scotland is cold and wintery. Kenya has sunshine all year round; we can play golf all year. Like athletics, we should be world leaders.
Yet we have built very few golf courses since independence. Associating them with colonialism has been our undoing. Many people see them as a waste of land that could be turned into plots.
Yet we have a competitive advantage with the availability of land and good weather.
Counties with huge tracts of land should consider building golf courses and nurture them into world-class courses.
As we develop through Vision 2030 and other programmes, we shall get more golfers. Add tourists who would love a round of golf after a game drive.
Golf tournaments such as The Masters demonstrate that one needs to start early like Tiger Woods who began at the age of three. We can do the same by introducing the game early even if the schools have only one hole or putting green.
Beyond athletics, we have not invested in other games. How much land does one need for table tennis or lawn tennis?
We focus too much on sleep, our houses and not what we do when awake. Does it surprise you that parents dread school holidays?
They do not know what to do with their children's energy. Sports have traditionally taken that energy. Without sports, drugs, cheap alcohol and sex take over.
A country develops on all fronts. The driver on the expressway needs to relax, his children need to go to school, do research, get a job, shop, eat and live a holistic life. And why are we reluctant to build golf courses when we all aspire to be rich and affluent?
Finally, I look forward to inter-school and inter-university golf tournaments and a Kenyan gold medal in golf now that it's in the Olympics.