Rice farmers ditch crop amid increasing fears of food crisis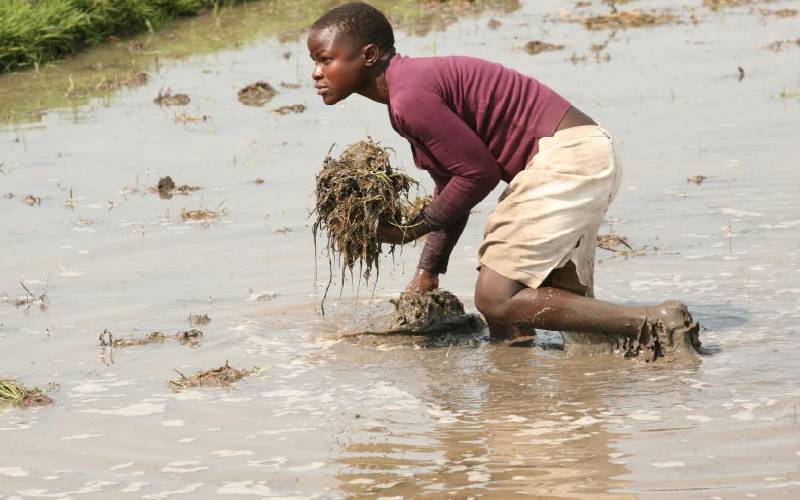 Farmers in the Ahero rice belt region and West Kano irrigation schemes are abandoning the crop in large numbers amid fears of food shortage and rise in unemployment.
Some of the challenges pushing the rice farmers out of the sector include severe destruction of farms by the swollen lake, the rising cost of production, lack of extension officers, pest infestations and floods and hailstorms.
Reports by the National Irrigation Board paint a disturbing picture of several farms were left idle as rice production drops by 40 per cent from 2019.
So dire is the situation that by the end of June, more than 30 per cent of farms were idle while others have now been leased out to accommodate other crops.
A spot check in the rice belt paints a picture of a promising venture slowly losing its value in helping address food security and unemployment.
The situation has been made worse by Covid-19 which has forced the irrigation board to scale down activities in rice schemes while entities that provided farmers with loans to purchase fertilisers have also suspended their services.
Even before Covid-19 struck, farmers were already reeling from adverse effects of natural disasters.
Raging floods
In West Kano, farmers are yet to recover after large swathes of rice fields were washed away by the swollen Lake Victoria.
Christine Akinyi, a farmer in West Kano regrets investing in the crop after raging floods compounded by the lake back flow destroyed her one hectare under rice. "I lost all my crop after the lake waters flooded my land," said Akinyi.
For some, although the floods that affected their farms at the Ahero scheme have ended, their farm have now dried up as a result of the inconsistencies in water supply.
Despite the challenges, the farmers have been facing in cultivating the crop, selling the produce has also been a big problem with middlemen taking advantage of their vulnerability and buying their produce at throwaway prices.
Although rice production is facing several challenges, the government has stepped up its operations to ensure that the sector does not go down the drain.
Before Covid-19 struck, National Irrigation Board had started a process of expanding the schemes under rice production in Nyanza from 11,000 hectares to 16, 000 hectares to boost food production this planting season.
Yesterday, NIB Nyanza regional manager Joel Tanui admitted that rice production is facing a number of challenges that have adversely affected production, and this has been worsened the Covid-19 pandemic.