Why Kirubi firm is pressing pause on new property projects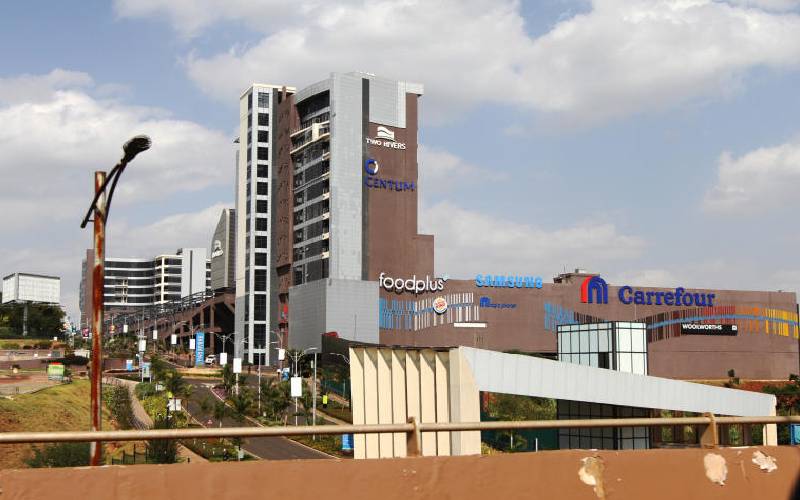 Centum Investment, the company that built the iconic Two Rivers Mall, will not undertake the development of any commercial property in the next five years, pointing to the fading allure of mall business.
Instead, the company will focus on managing the Two Rivers Mall, the biggest in Eastern Africa, and two office blocks.
Things are thick for mall owners, and they can only get worse in the wake of the Covid-19 pandemic, which has seen consumers shun crowded places like malls for fear of contracting the disease.
Moreover, the mushrooming of malls in Nairobi has seen tenants push for lower rents as footfall decline following tough economic times that have left a dark cloud over many Kenyans.
Most investors were lured into setting up malls by the gospel of an expanding middle class.
Today, of the 10 biggest malls in sub-Saharan Africa, three are in Nairobi.
Two Rivers Mall, Garden City Mall and The Hub are ranked second, third and fourth-largest malls respectively behind South Africa's Mall of Africa, which is the largest in Africa.
Take a quick survey and help us improve our website!
Take a survey
But the mall frenzy is dying, at least for Centum. Samuel Kariuki, Centum Real Estate's managing director, said the group will instead focus on managing the Two Rivers Mall and two of its office towers.
Speaking on Friday after the release of the firm's annual results for the financial year ended March 2020, Kariuki said the group would now pursue a "four-pronged" strategy for its real estate portfolio that prioritised a "sales-led development".
The mall leasing level at Two Rivers, according to its management, currently stands at 81 per cent, which is an increase of 71 per cent as of the end of March last year.
"In our five-year strategy, we're not putting up any commercial space, only managing the Two Rivers," said Kariuki.
After a dazzling performance, Centum Investment might have realised towards the end of 2018 that of its myriad investments, the property might be its Achilles' heel.
The high-flying investment firm, majority-owned by tycoon Chris Kirubi, found the going tough that year owing to the changes in the property market.
After putting up the grand Two Rivers Mall, things might have started to unravel for Centum.
A year earlier, Centum warned its investors that it expected its profits for the financial year ending March 2018 to decline by at least 25 per cent, sending a chill down the spines of its shareholders as its share price at the Nairobi Securities Exchange (NSE) dropped by Sh2.50.
"Although our investment properties recorded a gain in value in the year ended March 31, 2018, this gain was lower than that recorded in the year March 31, 2017, which is consistent with the performance of the Kenyan real estate market," said a notice that was signed by Group Chief Executive James Mworia.
"The combined effect of the lower property valuation gains and deferral of recognition of realised gains on the disposal of GenAfrica asset managers was a decline in the group's consolidated net profit by 67 per cent," added Mworia.
Besides Two Rivers Mall, Centum's other real estate include Pearl Marina, Vipingo and Athena — luxury villas and apartments — which together make up half of its investment portfolio.
Back then, Centum's property lost Sh2.3 billion of its sale price, signalling depressed demand in the housing market.
It is not just Centum or the retail sector that is feeling the pinch; the entire real estate spectrum has been going through a rough patch.
The country is currently swimming in an oversupply of office space, and the aftermath of the Covid-19 pandemic has only worsened the situation, meaning rental yields will stagnate or fall.
A recent market report projected that the oversupply of office space would hit 5.8 million square metres this year as more megastructures come up.
The allure of real estate saw investors plunge into the debt market, fearing being left out of the hottest investment class.
But as the demand for houses and offices began to get depressed, most of the investors began to default on their loans.
Real estate's share of bad loans increased to Sh56.9 billion as of June 2018, or 14.2 per cent, between March and June last year. Four years earlier, as a share of total loans to real estate, bad loans stood at 7.1 per cent.
The streak of bad loans has had its victims. A Sh1 billion estate in Kitisuru, a Nairobi suburb, is just one in a string of posh houses that have been put under the auctioneers' hammer after investors fell behind on their debt obligations.
Until recently, Peter Muraya and his wife Sue Muraya — the co-owners of Suraya Property Group — exemplified the dazzling success of Kenya's real estate market. They were always in the limelight, unveiling one project after another.
Suddenly, this veneer of success was peeled off after a contractor dragged them to court seeking liquidation of one of its properties.
Eternal Foundation Construction wanted Sucasa and Encasa West Ltd wound up after the Murayas failed to pay them Sh53 million.
Mworia said the firm will continue to focus on a sales-led development model and affordable housing that saw it earn Sh10.6 billion in pre-sales value of units and bulk land from its real estate portfolio.
The "four-pronged" strategy includes development and sale of infill developments within its land, sale of development rights from its land bank, management of rental assets and development of third party sites on a joint venture basis.
With revenue potential of Sh7.8 billion, the firm has 1,442 units under construction, of which 999 have been pre-sold.
Centum has also signed a joint venture agreement for a 965 unit development along the Thika Superhighway.
"All the units under construction have been financed through internally generated cash flows and the projects were debt-free as of March 31, 2020," said Mworia.
The group posted a net profit of 12 per cent in the year ended March and is set to pay out Sh798 million as dividend to shareholders.
Mworia exuded confidence that the firm would weather the coronavirus pandemic due to enhanced liquidity after it cleared its debts.
Last week, the company announced the repayment of all its medium and long-term debt within 14 months of commencement of the new strategy.
It repaid Sh6.6 billion on its five-year corporate public bond. In September 2019, the company paid off $75 million (Sh7.8 billion) of a US dollar-denominated debt.
Last October, Centum earned Sh12.6 billion from the sale of its stake in Almasi Beverages Ltd, Nairobi Bottlers Ltd and King Beverage Ltd, boosting its liquidity position.
"Overall, the effect of Covid-19 on our business has been neutered largely because of the shift we've had in the business and the asset allocation," said Mworia.
The dividend payout at Sh1.20 per share is the same as last year.
"Whatever dividend we declare, we have to maintain it over time. We don't want to cut it," he said.