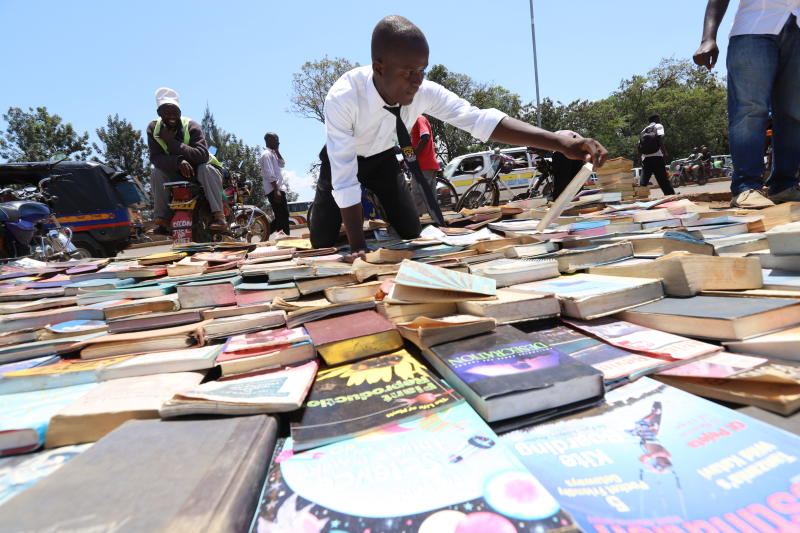 Book publishers are making a killing from the roll-out of the Competency-Based Curriculum (CBC), having so far distributed 28 million books since the start of its implementation nine months ago.
This is despite the fact that the Government had prior to the programme's roll-out promised that students would have fewer books with practicals being key determinants of the CBC.
And way ahead of the roll-out, a vicious bidding war pitting 30 publishers for tenders to supply learning materials to the over 20,000 primary schools in the country had ensued, with only nine making the final cut.
The books that have been distributed are for pre-primary and Grades One, two and three for both learners and teachers. They make up the bulk of the 28 million books with 18 different titles being published for this segment.
Official data shows there are over eight million pupils in Kenyan primary schools and the State's policy of one book per child has given publishers a reason to smile.
Read More
Last year, publishers were alarmed over the Government's indecisiveness in implementing the CBC amid mounting concerns over poor preparations, including teachers' training.
Plans to push it to 2020 had been announced until President Uhuru Kenyatta ordered that the roll-out begin this year. Prior to the presidential order, firms had already published books worth Sh5 billion in preparation for the windfall.
Kenya Publishers Association (KPA) Chairman Lawrence Njagi noted that trade volumes tend to surge whenever new books are required.
"When there's a new curriculum, new books have to be printed and of course this translates to increased business for publishers," said Njagi.
"So far, publishers have distributed 28 million books ... it would be hard to estimate the monetary value as each publisher has their own price," he said.
Listed firm Longhorn Publishers, which recently released its 2018 financial results, attributed a one per cent profit after tax growth for the year ended June 30, 2019, partly due to delivery of books for the CBC.
The profits rose from Sh183 million to Sh185 million. Longhorn Group Managing Director Maxwell Wahome said materials on Early Childhood Development and Education and Primary Course Books "were well received" boosting the company's bottom-line by two per cent.
Longhorn has distributed two million books to 23,000 primary schools, with Wahome saying it was too early to determine what chunk of the CBC market the firm has.
He, however, sees the CBC helping the firm to widen its revenue base as it introduces new products.
Mr Wahome says Longhorn has a competitive edge, having learnt "the dos and don'ts" from their experience in the region where they participated in developing learning materials for their CBC four years ago.
"It's just the first nine months. The market is yet to settle, and we are yet to determine what share we have," he said. "It will give us a chance to increase our market because it is a new playing field. We also have the knowledge and competence to develop the CBC having done it four years ago in Rwanda, and we are currently doing it in Cameroon."
Financial performance
Longhorn, with a presence in Kenya, Tanzania, Uganda, Malawi and Zambia, plans to tap into West and Central African markets. It attributes its improved financial performance to the expansion in the region – particularly Uganda and Tanzania – where it saw its revenues grow by 41 per cent.
Mr Wahome said there is a huge potential in francophone countries that have a huge appetite for local content. The CBC has a digital aspect and the Kenya Institute of Curriculum Development recently floated a tender for submission of digital content for Grade 3, which closed last week. Longhorn is also eyeing the supply of digital content for the CBC to increase its revenue streams.
Longhorn's dividend payout increased by 23 per cent compared with last year. The publisher boasts a strong technology showing, with its digital content being available on both feature and smartphones.
Its e-reader platform has over 400 digitised books, reaching 50,000 active learners. "Digital is not going to replace a book. It's coming to provide a new solution. With a competency-based curriculum, there's only so much you can get from a book," said Mr Wahome.
"We started the financial year in July last year with a lot of uncertainty in the industry as to whether the CBC will be implemented and this lack of clarity affected us."
KPA's Njagi and Longhorn's Wahome, however, said the roll-out of the new curriculum hasn't been a walk in the park, noting that publishers incurred huge extra costs - mostly on training authors. "Whenever there's something new, publishers must adapt and train authors, which is an expensive affair," said Mr Njagi.