Rotich's headache as civil servants, tutors seek higher pay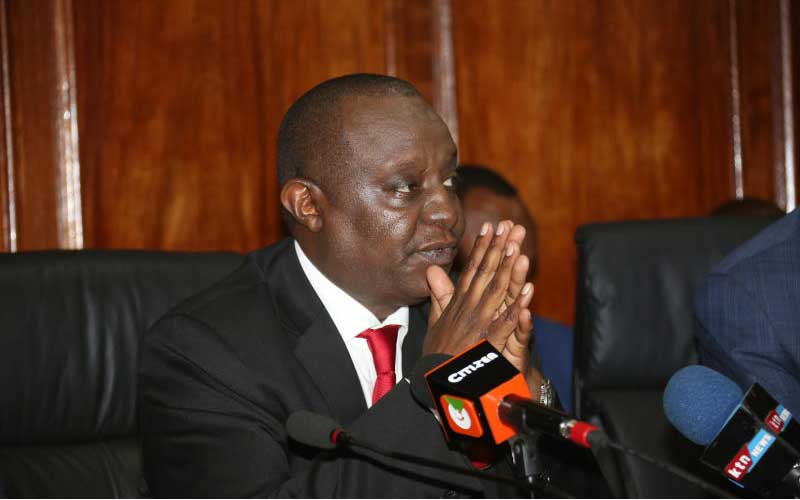 The clamour for higher pay by civil servants, teachers and nurses is threatening to scuttle National Treasury's financial plans as it stares at an extra Sh18 billion spending.
A dismal performance in revenue mobilisation and a surge in the proportion of first-charge expenditure like payment of debts and pension have left Treasury in a delicate position to dole out even an extra cent to the disgruntled State workers.
The Sh6 billion contingency fund that Treasury Cabinet Secretary Henry Rotich set aside for unforeseen expenses, is not enough to stop the wave of industrial actions that have been a source of fiscal upsets for the Government in the recent past.
Civil servants have threatened to go on strike in two weeks' time if the Government does not pay their housing and hardship allowances totaling to Sh11.7 billion. They insist that their employer has reneged on the provisions of the collective bargaining agreement (CBA) signed on June 27, 2017.
Teachers, led by Kenya National Union of Teachers (KNUT) want immediate reinstatement of all promotions. These include promotions of all teachers with relevant higher qualifications, long service and exceptional performance in their work by January 2, 2019.
And with KNUT joining forces with Central Organisation of Trade Union (Cotu) to create a super-labour union, analysts believe the battle will be bruising. KNUT Secretary General Wilson Sossion told Financial Standard that they expect about Sh6 billion from their employer, Teachers Service Commission (TSC).
According to KNUT, close to 30,000 teachers who had advanced their education to get better pay or promotion have been waiting for the last four years to be elevated.
Counties, which halfway through the financial year have received an average of 40 per cent of their equitable revenue, are also staring at an industrial action by nurses threatening President Uhuru Kenyatta's plan to roll out universal healthcare services to all Kenyans as part of his Big Four Agenda.
Take a quick survey and help us improve our website!
Take a survey
Should the industrial unrest materialise, it remains unclear how Treasury plans to contain this crisis. By the time of going to press neither Rotich nor National Treasury Principal Secretary Kamau Thugge had responded to our queries. Economists, however, say this agitation is going to have a negative effect on the economy.
Gerishon Ikiara, an economics lecturer at the University of Nairobi, believes the Government is not going to yield to the State workers' demand. "Our trade unions have been pushing our economy to the limit," said Ikiara, noting that already, the country has a large civil service which has resulted in a bloated public wage bill.
"Paying all this money at the same time will have a ripple effect on other sectors, thus making Kenya a higher labour-cost economy," added Ikiara. He said with such an environment, it would be difficult for the country to attract investors.
Dr Samuel Nyandemo, who also teaches economics at the University of Nairobi, says yielding to teacher's demand is likely to spur lecturers into action. "We can easily get into a situation where a primary school teacher is earning more than a lecturer," said Nyandemo. Such unrest, said Nyandemo, will negatively impact on service delivery and production of goods and thus compromising the generation of revenues. "If Government yields, that will spur growth through consumption which is not good for development," said Nyandemo.
In the Budget Policy State of 2019, Treasury admits that "additional risks could emanate from public expenditure pressures - especially recurrent expenditures." The main component of recurrent expenditure is payment of wages and allowances. In the Financial Year that ended in June 2018, the Government spent Sh377.7 billion on salaries and allowances, with almost 60 per cent of these funds, Sh216.5 billion, going to teachers, according to a report by the Controller of Budget.
Going by how the Exchequer has handled such developments in the past, something will have to be given. Treasury will probably cobble up a supplementary budget, snatching some funds from some State agencies to assuage the jilted Government workers.
Critical development spending, such as the building of roads, hospitals, schools, dams, might be sacrificed, slowing down the country's ambitious march to becoming an industrialised middle-income country by 2030.
Threats to the economy by industrial actions by teachers, health workers, and civil servants have not been lost on investors.
"Periodic strikes by doctors and teachers disrupt the provision of health and education services in Kenya and may lead to further increases in the public sector wage bill, which could crowd out spending in the much-needed infrastructure and affect the stability of the Kenyan economy," said transactional advisors to the second Kenya's second Eurobond note.
According to these transactional advisors, such intermittent industrial actions may force the State to increase wages or implement costly measures to prevent further disruption, thus increasing government expenditure.
The Government realised that job promotion based purely on academic attainment as opposed to career progress was not only resulting in inflation of the public wage bill, but the State was also not getting value for money.
In 2017, in a memo to Cabinet Secretaries and accounting officers, CS Rotich froze new recruitment and promotion, except for essential services such as security, health, and education.
This is after he had allocated Sh26.5 billion for civil servants' salaries and house allowances for the financial year 2017/18 a year before, a move that would see over 600,000 public servants start enjoying higher perks. This was in keeping with the new job structures for public officers by the Salaries and Remuneration Commission (SRC).
"Mr Chairman, out of the total Sh63.4 billion under the recurrent vote of the National Treasury… Sh20 billion and Sh6.5 billion is being held to fund targeted government interventions that include Civil Service Basic Salary Adjustment and Civil Service Phase III House Allowances respectively," Dr Thugge said in a brief to the National Assembly's Finance, Planning and Trade Committee in December 2016.
Also in 2017, the Government back-tracked on a decision it had made in 2015 not to increase pay for primary teachers despite the latter's three-week strike that paralysed learning across the country.
At the time, the President lamented that while all public and State officers number 680,000- just about 1.5 per cent of the entire Kenyan population - they consumed over 50 per cent of Government revenues. "It is important to point out that of the Sh1.1 trillion collected in revenue last year, Sh568 billion went to pay our wages, meaning that 1.5 per cent of us consumed 52 per cent of our revenues," he said.
"The global average for middle-income countries like us is about 35 per cent. Further, the public wage bill accounts for more than 10 per cent of our Gross Domestic Product (GDP), well above the middle-income country average of about five per cent," said the President noting that in the past seven years the country had experienced eight disruptive strikes or strike threats
"Our debt, our maintenance of public assets, and our essential public services must be paid for out of the remaining 48 per cent," said the President.
The head of State noted that if teachers were to have their way, the Salaries and Remuneration Commission (SRC) would be forced to harmonise wages across the entire public sector, with the wage bill rising from 52 per cent to 61 per cent of revenue collected.
But with an election beckoning, all this changed. In June 2017, a few months to the general election, TSC and KNUT suddenly agreed on a new salary deal that saw the teachers' employer wire Sh54 billion to the teachers' accounts. "Teachers will access their salaries from Saturday, July 29, (today)," said TSC Chief Executive Officer Nancy Macharia.
TSC had signed Collective Bargaining Agreements (CBAs) with Knut and the Kenya Union of Post-Primary Education Teachers (Kuppet) for the period 2017 –2021. "The salaries for all the 312,060 teachers have now been converted to the new grading structure and individually placed on respective new pay points," said Macharia then. The lowest paid teacher under job group B5 who currently earns Sh16,692 will take home Sh19,224.
In addition to increased spending on personnel emoluments, the Government also overshot payment to farmers, doled out a few goodies to millers and sugar millers in what the International Monetary Fund described as "election-related" spending.
"All these things that are happening in an election year and especially to an economy that is still vulnerable to shocks will be assessed in our next review in April. We are going to reassess the impact of new developments such as drought and increases of the wage bill in the budget," Armando Morales, the then IMF resident representative in Kenya told one of the national dailies. Sure enough, the country experienced serious fiscal slippages, a situation that contributed to the two severing relations.
There was a time when a bloated wage bill soaked up much of the tax revenues. However, expenditure on the wage bill as a fraction of the total tax revenue has been shrinking at the expense of interest payment on the debt, as well as other recurrent spending (see graph).
Mr Kenyatta's critics such as David Ndii have since argued that the Government invocation of a ballooning wage bill as one of the major domestic risks is a red herring.
He has several times insisted that the country does not have a wage crisis but a debt crisis. As a share of total tax revenue, interest payments have gone up from 13 per cent in 2005 to 26 per cent in 2018.
This even as the share of wage bill has declined from 43 per cent to 31per cent during this period. Perhaps that is why the teachers and civil servants will not hear Rotich's plea for mercy. Treasury must be ruing the renewed clamour for fat pay by teachers and civil servants. Its fiscal consolidation was just beginning to take shape. "In terms of percentage of GDP, the wages and salaries bill for teachers and civil servants including the police is expected to reduce to 4.1 per cent of GDP in the FY 2019/20 from 4.2 per cent in the FY 2018/19," said Treasury in the 2019 Budget Policy Statement.
"On compensation of employees, the share of wages to the National Government revenues was 30.2 per cent in FY 2016/17, and is projected at 29.0 per cent in FY 2018/19 and at 23.4 per cent over the medium term." It added: These ratios demonstrate the commitment to the fiscal responsibility principle of ensuring that the national government's expenditure on wages and benefits for public officers does not exceed 35 per cent of the national government's equitable share of the revenue raised nationally."
Tax collection is not doing well, so much so that Treasury has been forced to release county cash in very tiny bits. Donor funds to the 47 counties have helped Treasury save face after the exchequer fell behind in tax collection, new data shows.
Treasury admits that revenue collection has generally been low, thus the below average disbursement to counties. "Despite the strong growth, cumulative ordinary revenue still fell short of the November target by Sh27.7 billion," said Mr Rotich in the 2019 Budget Policy Statement.
"Due to revenue collection shortfalls, we are a bit behind in disbursements to counties. Currently, we are disbursing November/December allocations," said a source at Treasury told The Standard.
With poor tax collection, the Government has been left to borrow, digging itself into a debt trap. President Kenyatta's way of getting out of the trap is by shoring up taxes and aggressively combating graft and wastage in state departments.
But, every time Treasury has laid down its plan, strikes and collective bargaining agreement have scuttled it.
According to Ikiara, the merger between KNUT and Cotu will worsen the situation, noting that militant labour union has been our undoing. "But as an economist, my preference is for a well-balanced trade union policy," said Ikiara.
"Our labour market needs to be revisited so that people are paid based on their productivity," said Nyandemo. For example, while TSC wants teachers to be promoted based on their career progress, KNUT wants its members to be promoted based on academic qualifications.
Treasury has since acknowledged that intermittent push for high pay is one of the major domestic risks its fiscal plans. The wage bill has grown six-fold from Sh66 billion in 2000 to Sh392.8 billion by June 2018. For every Sh100 that was collected in taxes in the first two months of the current financial year, Sh37 went to wages and allowances.
Tax collection in the first six months of the current financial year has not been that impressive, with the Exchequer admitting to having missed its November target by 28 billion and is banking on new taxes to bridge a deficit.
Treasury has frozen recruitment and promotion of workers except for education, health and security sectors. Last year, the State introduced new taxes to finance a Sh2.6 trillion budget for the financial year ending June this year.