How politicians, power brokers are angling for maize billions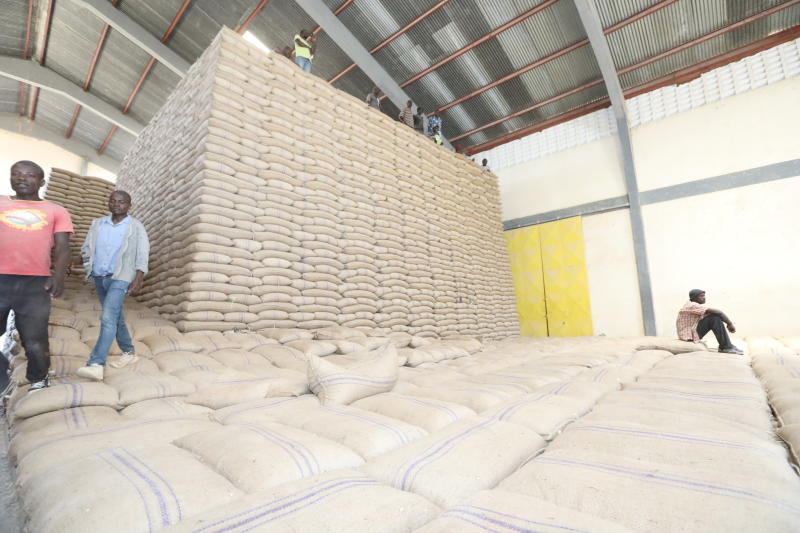 As the political dust kicked up by last year's campaign season settles down, well-connected honchos who raked in billions of shillings by selling cheaply imported maize to the National Cereals and Produce Board (NCPB), have once again designed a new, politically-charged scheme to fleece taxpayers.
In a well-choreographed campaign driven by a section of legislators, these people, having succeeded in condemning the millions of bags of maize in NCPB silos, are now lobbying for the Government to pay them an absurdly higher price of between Sh3,200 to 3,600 for a bag of 90-kilogramme of the cereal that they plan to deliver to NCPB.
There are about 1.5 million bags of discoloured maize in NCPB stores, the Government stand to lose at least Sh3 billion, which it recently pumped to bail our farmers. And hardly a year later, there is a push to declared the maize it bought unfit for human consumption.
Sh3 billion is enough to help President Uhuru Kenyatta to roll out Universal Health care to counties at a cost of Sh2.5 billion and still remain with Sh500 million, which the Government intends to spend on mechanisation of the agriculture sector in the current financial year.
And yet, no one seems to be questioning why the Government keeps losing maize due to poor storage, yet the cereal can be preserved for two years if properly handled.
The risk is that selling this maize to the open market at Sh1,600 for a discoloured type that is still fit for human consumption and Sh1,400 for the unfit for consumption might see this maize find its way back into NCPB stores as brokers position to cash in from the enhanced price.
And the blame continues. NCPB is blaming the Strategic Food Reserve Fund Board (SFRFB) for doing so little to ensure that its maize at the silos are well maintained so the maize can be preserved for two years as opposed to the current six months.
NCPB acting Managing Director Albin Sang told Financial Standard that the NCPB silos have gone for too long without maintenance, a situation that has seen most of the cereal stored there turn colour as a result of exposure to moisture.
"Ideally it should take up to two years if silos are working well," said Sang noting that the current silos at NCPB are 20 to 30 years. Exposure to moisture is also what has caused The Kenya Bureau of Standards (Kebs) recently carried out tests on the maize in NCPB depots in 37 counties and found that majority of the 256 samples collected were unfit for human consumption.
"SFRF is not facilitating NCPB to remove the maize or pay farmers. They have not invested even a coin in their maize," noted Sang, who insist that not all the discoloured maize is unfit for consumption.
The SFRFB wants to buy about 2.4 million bags of maize at a price of Sh2,300. But first, it needs to clear its stores of more than 1.5 million stock that has been discoloured.
It is possible that those who will buy 1.5 million the discoloured maize at NCPB silos are still the ones who will deliver the 2.4 million. And the cyclic scheme has been to buy cheaply from the Government and sell back to it at a premium price. And in this well-calculated scheme, the farmers hardly benefit and instead are used as a decoy.
If they sell back the maize to NCPB, that is the 1.5 million bags of discoloured maize plus another nine million from the market being sold at Sh1,600, they stand to pocket Sh3.84 billion profit.
At the forefront of this scheme are politicians and behind-the-scenes power broker who have been agitating for the price of Sh3,200 under the guise of fighting for farmers.
Indeed, Kwanza MP, Ferdinand Wanyonyi, is reported to have remarked in a committee sitting that he had 250,000 bags of maize.
We were unable to confirm from Mr Wanyonyi whether or not he really had as many bags of maize. If true, and MPs push through a price of Sh3,200 for a bag, Wanyonyi would make Sh800 million by selling all his maize to Government.
"We need a scientific report backed by numbers and the areas you benchmarked that led to the conclusion of setting up the price of Sh2,300," National Assembly Agriculture Committee Chairman Adan Haji (Mandera South) told SFRFB Chairman Dr Noah Wekesa.
"Let it be known to you that the price we are expecting is nothing less than Sh3,200," Kwanza MP Ferdinand Wanyonyi told Wekesa, with the latter explaining that the new price was guided by the Agriculture ministry's policy guidelines that include prevailing local maize prices, local production and regional supplies.
Some North Rift MPs told farmers that they now want a price of Sh3,600 per 90kg bag. In a country where 70 per cent of maize is produced by small-scale farmers, it means that less than 30 per cent of maize farmers have the financial muscle to deliver to the NCPB and benefit from such high price.
And for the many large-scale farmers who meet the threshold, most are frustrated by the long stays on the queue and when they finally deliver, most of them are not paid on time.
Indeed, NCPB is yet to pay several farmers that delivered maize last year. Timothy Njagi, a research fellow at Tegemeo Institute of Agricultural Policy and Development says farmers, most of whom are yet to be paid for their last year's delivery, have no incentive to deliver to NCPB this year.
"Those people who will deliver to NCPB are those who are well-connected individuals who get paid within two days of delivery," said Njagi.
Njagi wonders why the politicians calling for a higher price of Sh3,600 have not been as vocal in pushing for the farmers to be paid their outstanding dues?
"These (politicians) do not represent the interest of farmers. If they were, they would have asked why the farmers have not been paid," noted Njagi.
Politicians have also frustrated efforts to restructure the NCPB, fearing that a streamlined board will deny the opportunity to engage in price agitation.
For example, MPs have been accused of sitting on the Warehouse Receipt System Bill 2018 which would enable farmers to take their maize to a private warehouse and instruct them to sell their stock of maize when the price reaches a certain level.
A former NCPB official told the Financial Standard that MPs do not want to pass the Bill as it would deny the power to control the setting of price by NCPB. "Under the Warehouse Receipt System, NCPB would be just one out of many warehouses owned by private sector," said an official at NCPB.
A senior official at the Ministry of Agriculture who spoke on condition of anonymity due to the political connotations of his statement said that the price of maize was being politicised.
Last year, the SFRFB had set the price at 3,000 but the Government which was keen to entice farmers added another sh200 to the price, a decision that the Ministry of Agriculture says has contributed to the current mess.
"They are resisting the Sh2,300 price because of the price that was offered last year. But what they are forgetting is that last year was a campaign year. That price was given to please farmers so they can vote favour," said the official.
He also noted that the importation of maize, which he insists was illegal, destabilised the prices of maize in the country. "Its effects have lingered on up to now," he said.
Last year, as the drought took a toll on President Uhuru Kenyatta's re-election bid, the Government opened the country's borders, allowing for duty-free entry of maize from as far as Mexico and South Africa.
The Government announced the price of Sh3,200 on October 31, 2017. But the subsidy programme went on to December 31. "Miller's bought the subsidised maize. NCPB was left with all the other maize," says an official at NCPB.
Between April and December 2017, the State was the sole supplier of maize in the country under the subsidy that saw a two-kilo packet of flour retail at Sh90.
According to official figures, some 15 million bags of maize valued at Sh39.6 billion was imported during this period - taking up nearly all the space in the 39 NCPB depots across the country.
By December 2017, maize valued at a whopping Sh42 billion came into the country. Slowly, but surely, maize glut crept in.
Mr Noah Wekesa insists that Sh2,300 is a realistic price if a farmer can be paid on time. He blames NCPB for dragging their feet when it comes to payment of farmers. "NCPB having accepted the maize they keep the money for the farmer for long," he said.
Should the scheme by maize cartels work, these opportunists will be able to buy millions of discoloured maize from the NCPB, mix it tonnes of the white maize currently flooding the market and sell it back to the Government at a premium price of Sh3,200.
Already, a brow-beaten Cabinet Secretary for Agriculture Mwangi Kiunjuri has mellowed from his erstwhile tough stance that farmers should take a price of Sh2,300 or leave it.
Hounded out office
Having been bruised by its decision to pay farmers a high price of Sh3,600 per 90-kilogram bag and a badly executed subsidy programme, Kiunjuri is trying hard to ensure that this embarrassing situation does not recur.
This cartel axis in the maize market might have been dealt a blow after several senior officials at the NCPB were charged in Court and hounded out office.
But they are regrouping, overwhelming Kiunjuri who has twice been tongue-lashed by President Kenyatta in public. Calls for his resignation have also started growing loud.
The pressure on Kiunjuri is not economic, it is political. And it is because politicians are at the heart of this sub-sector. They always have been.
There have been whispers from the Agriculture ministry that President Kenyatta might have literally thrown Kiunjuri under the bus by giving him a tall order of taming the greed of powerful politicians in the Jubilee Party.
Asked whether there were politicians in the ruling party that had benefited from the frivolous payments by the NCPB thus contributing to the current maize saga, the CS made no attempt to rule it out, only saying that they (politicians) to are farmers. "70 per cent of the debate in Parliament is about farming," he said. In fact, Kenya's first scandal was related to maize.
Maize scandal started early as 1966, following allegations of "unfairness, inefficiency, corruption and black marketing in the distribution and marketing of maize throughout Kenya.
It touched on the former powerful minister in Kenyatta's regime Paul Ngei.
44 years later, the names of former Prime Minister Raila Odinga, the then Minister for Agriculture, William Ruto, now the Deputy President, would feature in another maize scam.
Although millers have been cagey about buying brownish maize from the NCPB, Wekesa is confident that this time, they will take up the cereal.
He explained that they were in talks with millers who are ready to swap the debt owed to them by NCPB with the maize at NCPB stores.
The SFRF says it is working on a system that will see farmers paid a week after delivery. "We can use banks rather than NCPB as paymasters," said Wekesa. Farmers will be paid by their local banks
He noted the State gives money to NCPB, whose officers in return collude with traders.
That is the reason payment is being moved from NCPB.
"Any farmer who plants maize must be registered," said Wekesa noting that they have details such as their names, acreage, title deed and the time when they started planting.
Deputy President William Ruto also said that there is already a taskforce in place to restructure NCPB with the intention of privatising it so that it can operate efficiently.