President Uhuru's tax gamble that enraged Kenyans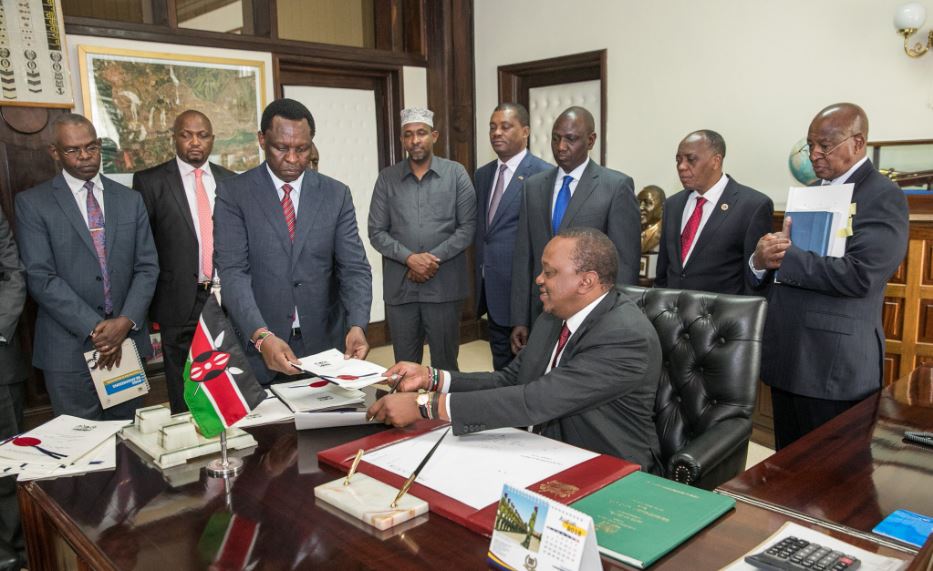 NAIROBI, KENYA: President Uhuru Kenyatta is on the receiving end of Kenyans' rage after administering a series of crippling taxes as he moves to finance his latest pet project - the Big Four agenda.
In a move reminiscent to a mini-budget, the President asked taxpayers to swallow the bitter-pill of eight per cent value-added tax (VAT) on petroleum products and numerous other punitive levies.
Kenyatta took the risk, knowing very well how devastating the new measures would be to a public that is already weighed down by a high cost of living. In a televised speech, he acknowledged it would be a "short-term pain" which would culminate in a "long-term gain."
"As President, it is my responsibility to put Kenyans first, those living today, and your children, who will inherit the country tomorrow," said the President.
But Kenyans' children might just inherit a scorched earth, thanks to Kenyatta's administration high taxes and debts. The latest raft of tax measures have even been ridiculed by Kenyans on social media, with some going as far as creatively linking the President's name to the country's debt and tax burdens.
Some have called him 'Ushuru Kenyattax.' Even the country has not been spared this play of words, with Kenya nicknamed 'The Republic of Chinya', in reference to its heavy borrowing from China.
Others have even suggested reporting the country to the Credit Reference Bureau, the bodies charged with taking stock of individuals' and institutions' credit worthiness to enable lenders make informed decision when decision while extending credit facilities.
The country's future generation has been saddled with debts running into trillions, loans that were borrowed in a span of six years and sank into some projects that Treasury itself now admits might not have been verified for "quality" and "cost-effectiveness."
The World Bank, in its 16th Kenya Economic Update, decried the sharp increase in development spending, inefficiencies in public investment, such as project appraisal, selection, implementation, procurement, evaluation, and land acquisition issues which limited the requisite productivity gains from these projects, and contributed to fiscal pressures.
The Washington-based institution warned that Kenyans might not be getting value for money in most of the mega infrastructural projects, including the much-hyped Standard Gauge Railway (SGR).
President Kenyatta and his Treasury team insisted that all the borrowed cash was well-spent and that all the projects were valuable.
But the Government's tune has since changed. First, President Kenyatta in June directed that all development projects be frozen, a move that saw projects worth over Sh400 billion halted.
Only projects aligned to the Big Four agenda, which is related to achievement of universal health care, the creation of manufacturing jobs, construction of half a million low-cost houses by 2022 and food security and nutrition for all Kenyans, would continue with procurement.
Treasury has also realised that some of these projects might as well be white elephants. This has informed its decision to come up with the Public Investment Management (PIM) guidelines, with Treasury regretting that "the country does not have a public investment management framework."
In a way, the establishment of PIM only confirms what it has been denying all along: That in the six years that Jubilee Government has been on a construction overdrive, it has not been able to verify the "quality" of these projects and their "cost-effectiveness."
Unpredictable funding
The result, said Treasury, is "bloated project portfolio, unpredictable funding, installed projects and inflated costs." No wonder, as our sister publication The Standard on Sunday noted, the country will spend as much as Sh1 billion to lay a kilometre of road for the Mombasa-Nairobi Expressway, a road that runs parallel to the SGR.
The SGR itself would have cost the country a paltry Sh16 billion if the Government would have heeded the World Bank's advice to upgrade the metre-gauge railway into a standard gauge. But with well-connected individuals on standby, the Government poured Sh400 billion into the new railway.
An article in The Economist noted that Kenyans will pay dearly for what is basically a "third-rate railway." If anything, said the article, the Government could have paid far less and probably funded it from internally-generated revenue, says the article. The SGR, said the article, was a rip-off.
World Bank officials were quoted as saying rehabilitating the older line would have cost just five per cent as much as building a new one.
"Repaying the loans taken out to build the line will require hefty fees or huge volumes of traffic. But truckers — who now handle more than 95 per cent of freight moved from Mombasa port will compete fiercely on price, and shipping companies may look to other ports if levies rise," noted the article.
Besides the mountain of debts, Kenyatta's administration has also taxed Kenyans to the bone. Unfortunately, a huge chunk of this hard-earned cash has gone into lining the pockets of "tenderpreneurs," a new breed of opportunistic Government suppliers who have exploited Kenyatta's token economy and weak procurement policies to enrich themselves.
The Devolution Ministry, for example, bought 18 male and female condom dispensers at a cost of Sh450,000 in 2015 — compared to a market price of Sh4,500 per piece.
The ministry, then headed by current Kirinyaga Governor Anne Waiguru, also acquired 20 ballpoint pens at Sh174,000, which translates to Sh8,700 apiece compared to a market price of Sh300.
And as the rains wreaked havoc in the same year, the Government proposed to spend Sh37,500 per bar of soap to be distributed to Kenyans who would be affected by El Niño rains. The same piece goes for about Sh150 a piece in local shops and supermarkets
The Government has borrowed heavily while still hitting Kenyans with hefty taxes, ensuring that both the present and future generations are hurt.
And although current administration has grown the economy by an average of 5.56 per cent between 2013 and 2017, compared to former President Mwai Kibaki's 4.66 per cent in his last term (with the GDP badly affected by the 2008 post-poll violence), Kenyans were generally better off in either of the President Mwai Kibaki's terms.
While Kibaki's laid-back style might have been disastrous for the country's politics, it magically transformed Kenya's economic landscape. On the other hand, by having his hand all over the economy, Kenyatta might have left the economy in tatters.
Kibaki's non-interventionist approach saw the emergence of M-Pesa, a mobile money transfer service that has revolutionised the country's financial sector. New jobs have been created by M-Pesa, while financial inclusion has inched up to over 80 per cent of the adult population as bank accounts moved to mobile phones.
During Kibaki's time, the private sector flourished with credit extended to households and firms growing at a jet-speed of 25 per cent, this compares to a slow growth of three per cent as at July 2018.
Because the private sector was doing well with companies raking in record profits, revenues collected by the Kenya Revenue Authority also performed well, compared to recent performances.
"Despite the robustness of GDP growth in recent years, revenues have underperformed targets by an annual average of about 3.7 percentage points of GDP since FY11/12," noted the World Bank citing that a rapid rise in the expenditures had significantly contributed to the deficit."its lowest level in a decade," said the World Bank.
Dozens of firms went public during Kibaki's presidency, with the Nairobi Securities Exchange (NSE), then known as Nairobi Stock Exchange (NSE), turning into a bee-hive of commercial activities.
However, Uhuru's touch, which has extended to almost all the sectors of the economy, has not had the desirable effect on their performance. NSE continues its dry-spell with only NSE itself going public.
Capital markets
Although Francis Muthaura, the CEO of Capital Markets Authority (CMA) insists that a lot of equity is being taken up privately, an analysis done by Financial Standard revealed that the country's capital market is not so rosy.
The analysis showed that profits by NSE-listed companies shrunk by a third between 2013 and 2014. This saw managers resort to painful cost-cutting measures like job losses and other panic strategies to stay afloat.
Yet urged on by his legion of populist MPs, Mr Kenyatta, keen to be re-elected for a second and last term, chose to play to the gallery by assenting to the controversial Banking (Amendment) Bill, 2016 in effect putting a cap on the interest rate. Banks have since switched to lending to Government and large corporations, ignoring the myriad SMEs. Yet the numbers look impressive.
Gross domestic product (GDP), or the sum of all finished goods and services produced in a year, between 2013 and 2017 averaged 5.56 per cent - as the President excitedly pumped billions into roads, railways, ports, and energy and water projects. But critics still question why isn't the private sector feeling the billions of shillings being injected into the economy?
Well, because the money is not reaching ordinary Kenyans. By tying loans to Chinese contractors and suppliers for the projects it funds, the Asian nation ensures a good chunk of its billions of shillings are repatriated, but never reaches the country.
The few dollars that enter the country are swiftly snapped up by well-connected individuals - mostly high-ranking Government officials.
Hefty salaries
In the case of the SGR, President Uhuru Kenyatta's legacy project, Chinese workers have lingered on, even after the completion of the project. They are the recipients of hefty salaries and wages courtesy of overburdened taxpayers even as hundreds of thousands of Kenyans continue their unending search for employment.
A recent investigation by The Standard revealed that the SGR is being powered by an army of 5,000 Chinese nationals.
Among this massive workforce are civil and structural engineers, accountants, dieticians, cooks and self-taught locomotive operators as well as welders and carpenters.
Their upkeep is part of the Sh1 billion monthly wage bill footed by taxpayers.
Chinese money has not only edged out the local workforce, but Kenyan suppliers have also been crowded out. For example, between 2013 and 2017, when the SGR was built, the value of imports from China more than doubled from Sh182.3 billion in 2013 to Sh390.6 billion in 2017 as materials for the construction of the modern railway poured into the country.
The value of metals imported from China increased by 64 per cent from Sh41.2 billion in 2013 to Sh67.6 billion in 2016, most of which were used for the SGR construction.
China is one of the leading, if not the leading, producers of steel, a critical metal used in the construction of the railway. Steel manufacturers in Kenya had to lay off workers due to a glut that saw thousands of tonnes of cheap metal come in. As much as there have been locals who have been compensated for their land to pave the way for the Chinese projects, or those hired to do manual work such as mixing concrete, the biggest beneficiaries have been power brokers, whose cut in these deals have been astronomical.
It is not the first time that the current administration has fallen into the wrong side of public opinion.
A year after his Jubilee Party swept into power with lofty promises of growing the economy by double-digits and significantly improving Kenyans' standard of living, a bullish Kenyatta pushed through radical tax measures that would see prices of basic commodities such as unga, cooking oil, wheat flour, milk go through the roof as the Government moved to expand the tax net by removing these products from the zero-rate status to a tax-exempt status.
This was the VAT Act, 2013 which had also introduced a 16 per cent Value-Added Tax on petroleum products but exempted it for two years to September 2016. The President noted then that the amendments were "expected to make life easier for Kenyans."
"Generally, he has made the economy worse off than we were 10 years ago. Mixing the economy with freebies and limited funds is detrimental. You promise citizens what you can deliver fiscally, not borrow to meet their expectations," says Dr Scholastica Odhiambo, an Economics lecturer at Maseno University.
He at some point expressed frustration at his fight against corruption.
"As president, if there is one issue that has frustrated me, it is this issue (of corruption). And I will say why. Because the pressure is on me. Show me anyone administration since independence that has taken action on corruption as I have done. I have removed everybody. I have done my part, at great expense also, political, by asking these guys to step aside," said a visibly frustrated president.