Kenya Airways moves to protect its turf from Kampala and Dar carriers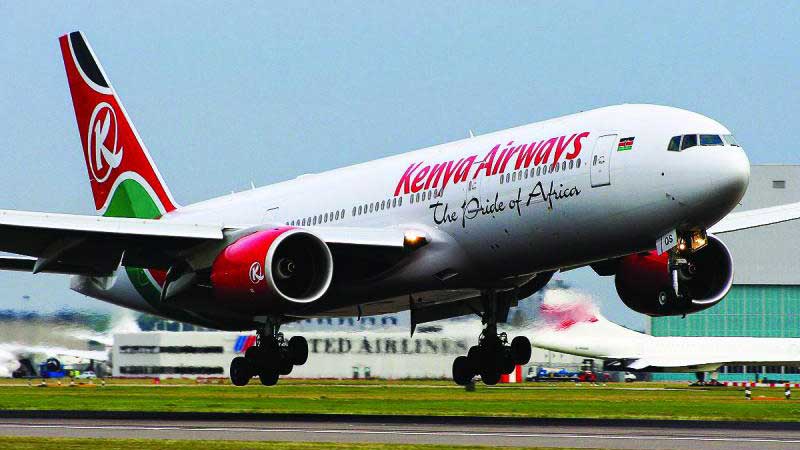 The East African skies are set for stiff competition following the move by Uganda and Tanzania to revive their national carriers.
The two countries hope to share the regional pie that Kenya Airways has enjoyed in the larger East African routes.
Kenya Airways, however, said it is unfazed by the return of the two airlines, noting that they have miles to go before they can catch up with the local carrier.
Kenya, Uganda and Tanzania formed the East African airlines but split in 1976. What followed were years of decline for all the three airlines. KQ, though in turbulence, has, however, been able to stay afloat and sustain flights in Africa as well as other far-flung destinations in Asia and Europe.
This was the same for Air Uganda until shut down in 2001 while Air Tanzania was able to sustain only a few local flights. Air Tanzania has, however, been rejuvenated. It has already taken off but only operates domestic flights with a single international flight to Comoros.
It plans to start flying to other cities in East Africa, including Nairobi, Entebbe, Kigali and Bujumbura.
Earlier this month, the airline received its first plane that can make long-haul flights, the Boeing Dreamliner, which it said would be used for the Indian route and other long-haul flights.
Air Uganda is also preparing for take-off. The country has recently inked a deal with Airbus for delivery of an A330-800 new engine option, which has been received with criticism in Uganda as the airline is the sole customer for the aircraft with other orders having been cancelled.
Air Uganda has ordered four Canadair Regional Jet 900 series (CRJ 900), which are set to be delivered by 2020. Both airlines appear set to steal some of the markets in the East African routes that are largely dominated by Kenya Airways.
RwandAir has in the recent past emerged as a competitor in the East African Community (EAC).
KQ is, however, putting on a brave face, saying the new developments are manageable.
The airline's Chief Operating Officer Jan de Vegt told Financial Standard that it has a strategic advantage of being in the market for long and flying to most corners of the continent.
KQ, he noted, is still growing and will have made more strides before Air Uganda and Tanzanian airline can find their footing.
"We are an airline with 39 aircraft, we fly to over 50 destinations and we have a footprint across Africa. KQ is still growing this footprint and we also have connections to the rest of the world where we either fly to or can offer our customers access to global destinations through our partners," Jan de Vegt said.
"It is very hard for another airline to just build that from the ground up… strategically we do have an advantage." KQ is still in a recovery mode and It is barely a year since it concluded its complex restructuring.
It has been looking for partnerships to strengthen its product offering and perhaps beat the emerging competition seen in the revival of Ugandan and Tanzanian carriers as well as the existing competitors that are RwandAir and Ethiopian Airlines.
Key among these partnerships is working with the Kenya Airports Authority (KAA) in the management of the Jomo Kenyatta International Airport (JKIA).
The plan has already received cabinet backing and now awaits regulatory approvals.
Emerging issues
Other than being a KQ plan, it is also part of the State's plan to restructure the airline industry that entails propping JKIA into an African hub and KQ into a 'world-class' airline.
"We are first making our own assessments and based on that, we will do a proposal but before that, there are legal steps we have to go through before we can talk to KAA. There is a process for the public-private partnerships that we have to follow," said De Vegt.
He explained that the partnership would result in speedier solutions to certain challenges at the airport that take longer to resolve due to the bureaucracy that ties down KAA.
"The most important thing is for the main user of an airport to have a good relationship with the airport's authority. I have worked in many airports and this is the practice across many countries," he noted.
"At JKIA, there are things which are hampering our development and we want to sort them out… we are looking for better and fast solutions to these challenges." "I am not blaming KAA but they have different procedures as a Government institution whereby bureaucracy results in delays in handling emerging issues at the airport," Jan de Vegt observed.
He said KQ is not looking at an absolute control of the airport but noted that most national carriers are given priority that is critical to their success.
These include the Arab carriers.
In Africa, Ethiopian Airlines gets preferential treatment at Bole International Airport and the local travel agents are required to give at least 70 per of the business to the airline.
Rwanda does not allow other carriers to set up shop at the Kigali International Airport.
"If you look at relations in other airports, there are instances where KQ or other airlines are delayed to take off so that their national carriers can take off or land. I am not saying that we will do that but you can see how far people can go," said De Vegt. KQ is also evaluating the possibility of partnerships with South African Airways (SAA).
Joining forces between the two carriers, which are the second and third largest in the region, could be seen as a move to defend their turf from Ethiopian Airlines, which has been on an acquisition spree, threatening to further eat into their market share.
The two airlines have been loss-making and SAA has recently hired a restructuring expert to help it relook its process with hopes that it can return to profits.
New owners
KQ concluded its own restructuring in November last year, which resulted in the State increasing its stake as well as bringing on board banks as new owners, which now hold a 38 per cent stake in the carrier.
SAA, under the eighth CEO since 2010, reported a seventh straight annual loss in May this year and is seeking emergency funding even as it targets break even by 2021.
Though not elaborate on the level of cooperation that it is pursuing with SAA, KQ said it could range from a simple code-share agreement allowing reciprocal ticket sales to a more extensive joint venture arrangement.
The two airlines joining hands could form a formidable competition to Ethiopian Airlines, which emerged as a major player in the African aviation industry.
The KQ-SAA pact will also help the two defend their airspace from Arab carriers operating flights to the Middle East which serves as a connecting hub to other parts of the world.
De Vegt said a partnership with SAA would enable KQ to offer its customer easy access to more destinations.