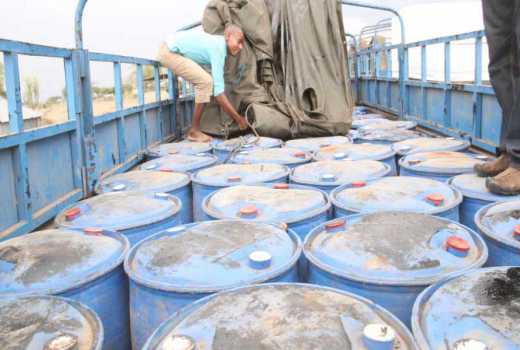 Two blue trucks crossed the Kenyan border at Isebania from Tanzania on January 11. They were loaded with bags of cereals coming into the country.
Cereals are a normal consignment into Kenya, especially when the country is facing maize shortage as has been the case in the last six months. A tired border official would easily wave them on, given the number of trucks that cross the border daily. This was not that day.
A closer scrutiny by border officials revealed that behind the sacks of maize were drums of ethanol concealed to escape the dragnets of Kenya Revenue Authority (KRA) customs officials.
The cheap ethanol would have found itself in the hands of unlicensed alcohol manufactures funding its demand - whose profits are higher than most of the imports coming through other ports of entry other than Mombasa.
Such incidents are becoming rampant in the recent months, with some trucks impounded going unreported due to corruption or collusion between customs officials, KRA staff, and the Kenya Bureau of Standards.
Read More
In another raid last year, KRA said it impounded the 20 containers of sugar imported from Brazil and one 40-foot container with 135 drums of ethanol at the Autoports Container Freight Station.
According to investigators, the sugar consignment had been declared as floor sanding machine and hardware tools.
The officials say the sugar and ethanol contraband is estimated at Sh36 million and Sh11 million in tax value respectively.
Smugglers even print fake KRA stamps for spirits to sanitise their shipment.
KRA said it had cut down the number of local distillers of spirit from 177 companies to 26 due to increased engagement in illicit production.
On every full truck of ethanol smuggled into the country, the taxman also loses in about Sh3 million in taxes.
One of the biggest losers of the ethanol importation syndicate is Mumias Sugar Company, which has a 22 million litre ethanol distillery at their factory in Kakamega County. It was one of the first millers in the country to venture into ethanol production as part of a diversification plan meant to secure its future, as Kenya prepared to open its sugar market to external competition.
The firm, which also had an ethanol scam of its own that saw it exit six managers, said the slow sales were because some of its traditional buyers imported the product during the period it had switched off its engines.
Key customers of Mumias ethanol include London Distillers, Keroche Breweries, Kenya Wine Agencies and buyers from outside Kenya.
Local ethanol manufacturers export the product to Tanzania motivated by lower tax regimes. Ethanol is taxed at Sh60 per litre in Tanzania, a fraction of the Sh200 they would pay in Kenya.
KRA does not tax ethanol meant for export market at the same rate as local products to ensure local companies are competitive in the regional market.
But this has come to haunt the taxman given that the same ethanol is smuggled back into Kenya and snapped up by illicit liquor manufacturers who use it to make counterfeit and second generation alcoholic drinks.
Their factories are also thriving in the shadows because they are not licenced and lack compliance requirements, making their costs of doing business much lower. They counterfeit genuine brands thereby eating into the market of genuine manufacturers.
The fact that they also do not pay taxes is an icing on the case with estimations showing that the country could be losing up to Sh50 billion annually.
Due to this, they price their products so low that genuine manufacturers cannot compete with them. Players in the industry also say local ethanol producers are in the conspiracy and would rather sell the product to exporters in Tanzania than Kenyan companies.
The irony is that Kenya imports more ethanol than it exports. This has made alcohol manufactures losers in the scam.
An anti-counterfeit lobby last year petitioned President Uhuru Kenyatta to order a crackdown on cartels of unscrupulous traders smuggling ethanol into the country from Tanzania.
Through a petition handed to the Office of the President at Harambee House, Nairobi on Tuesday, Futa Magendo Action Network, told President Kenyatta that the ethanol used in illicit brew was being smuggled into the country through Namanga and Isebania borders.
The group said the cartels had been importing untaxed raw spirit from Tanzania, denying KRA billions of shillings in tax from the sale of counterfeit drinks.
"The cartels use fake KRA stamps to evade tax. Since the spirit is being smuggled into the country without paying excise duty and VAT. It is cheaper than products purchased through proper channels," reads the petition.
In 2015 President Kenyatta ordered countrywide crackdown, which led to the closure of 115 firms and immediate withdrawal of operating licenses for breach of statutory requirements following the recommendation of the inspection report by the Inter-Agency Taskforce on Control of Portable Spirit and Combat Illicit Brews chaired by Joseph Irungu.
The return of the ethanol syndicate indicates that the 2015 regulations by the taxman have failed to deal with the cartels. KRA enforced procedures governing access to ethanol as part of the measures requiring persons intending to acquire ethanol to provide it with quarterly usage projections.
Under the rules, traders seeking to purchase ethanol from local producers were also subject to KRA's verification while transportation of the commodity was to be strictly controlled through electronic cargo tracking fitted vehicles. Importers of ethanol are also expected to ensure prompt declaration of the consignments a week before the consignments arrival.
All sea-based imports were to be consigned to and exclusively cleared at the Container Terminal, Kilindini Port, Mombasa. But these measures cannot take care of the illegal importers.
Customs and anti-corruption officials in 2016 unearthed another a multi-million-shilling syndicate involving illegal packaging and sale of untaxed ethanol meant for export.
The syndicate was raided at an Embakasi godown where they impounded truckloads of ethanol.
This paper exposed how insiders at Mumias colluded with KRA officials to ensure everyone who buys ethanol from Mumias pays a five-shilling kickback fee per litre of ethanol purchased to get an allocation letter from Times Towers.
This means that for a customer who orders two million litres, the cartel pockets Sh10 million to "facilitate the release of the allocation letter".
It was estimated that the firm was losing about 300,000 litres of ethanol annually to the scam. In 2014, about 600,000 litres of ethanol were syphoned from the miller between November and December.
For months, the company had trouble knowing how much ethanol it actually had in its storage tanks due to faulty measurement gadgets.
There has been an incessant conflict between the warehouse department and production departments that present questionable reports on production and what is in the storage tanks - opening up an avenue for diversion of cargo meant for the international market and its dumping into the local market.