How your energy bill has been creeping up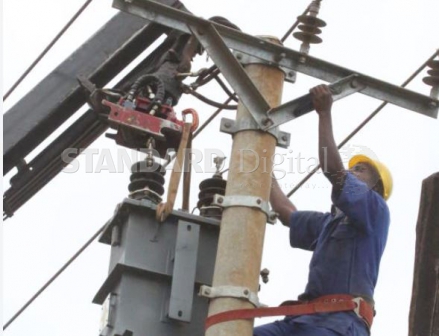 The cost of electricity in Kenya has over the past year been rising, albeit in an incremental manner that may have gone unnoticed.
Such high cost is now becoming apparent, threatening to reverse the declining cost of living brought about by the short rain season.
So far, power cost has over the last one year grown by 20 per cent, while the three commonly used fuels of kerosene, diesel and super petrol have hit a three-year high.
The cost of fuel might further go up, considering there has been notable gains in the pricing of crude oil in the international markets over the last few months.
Households that would have consumed 50 units of electricity this month will spend Sh649 for their November power bill.
This will be an increase of Sh46 compared to Sh603 that they paid a month earlier, which was also an increase from Sh581 in September this year. It is also Sh121 more than what they paid last year in November, up from Sh528.
The surge in the cost of power for consumers under the lifeline tariff, which is designed for low income households consuming up to 50 kilowatt hours (KWh) and who buy power at a subsidised rate, mirrors the steady rise in power bills across different consumer segments over the last few months. Households that will have consumed 200 units by end of November will see a four per cent increase in their bills to Sh4,000.
Compared to last year, Kenya Power customers that use 200 units of power a month have seen their electricity bills go up by 20 per cent from Sh3,374 recorded in November last year.
The increase has been attributed to the increased use of thermal power plants following the drought experienced over the last two years.
The drought resulted in the near drying up of hydroelectric dams which forced the country to rely on the thermal plants to bridge the deficit from renewable and cheap power sources.
Whenever there such a shift, the power producers usually pass the cost of fuel used in electricity generation directly to the consumers and is captured in the monthly power bill as fuel cost charge.
Fuel cost charge
While it has been steady at around Sh2.85 for the better part of this year, it has shot up by more than 50 per cent between August and November this year.
For electricity consumed in November, consumers will pay a fuel cost charge of Sh4.35 per unit of electricity used during the month, up from Sh3.35 in October and Sh2.85 in August.
Power industry players say the rise has been due to the prolonged dry spell that led to decline in water levels at the hydroelectricity dams adding that the October-December short rains have substantially increased water levels, which will in the coming months result in reduction of power bills.
"This year may have recorded the worst drought in 10 years and therefore we have reduced hydro generation," said KenGen Chief Executive Officer Rebecca Miano. "But due to the short rains, we have seen Masinga increase from 1,036 metres above sea level to 1,044 metres today, a significant improvement and hydro will now come in to cushion consumers on fuel costs."
She said in the long-term, the Government and industry players are working towards the possibility of eliminating thermal power plants in the electricity generating mix.
"The intention of the Government and the entities is to eventually increase the renewables and reduce the thermals so that we can manage the fuel cost and the tariff. The renewables are cheaper because there is no fuel cost," she said.
While rise in water levels at the hydroelectricity could have the impact of bringing down the cost of power, other factors are at play that could see the electricity bills stay high.
These include growing demand without adequate generation capacity from the cheap energy sources coming on to the grid.
Peak demand grew substantially over the last three months, reaching 1,727 megawatts in October this year, which is in comparison to 1656 MW in August this year and 1,609MW in June 2016. Kenya has an installed electricity generating capacity of about 2,300MW, but this also includes the costly thermal producers.
With demand growing, consumers might be subjected to further fuel costs that would sustain high power bills.
ERC expects the new demand to be met by new renewable capacity that will be created with the commissioning of new electricity generating capacity including three solar power plants in Western Kenya. The plants have a combined power production capacity of 120 megawatts. There is also the Lake Turkana Wind Power plant with a capacity of generating 310MW that is expected to start feeding into the grid mid next year.
KenGen is also in plans to increase its generating capacity by 721MW by 2020. "In a year, we have added 127 MW which is quite huge," said ERC acting Director General Pavel Oimeke.
"Over the next one year, we expect cheap generation from three solar plants — 120 megawatts form western Kenya towards end of 2018, Turkana Wind is also expected mid next year and it is also quite cheap. The weighted impact of thermals will be minimal."
Despite the hopes of new the new cheap electricity generated from renewable sources, the spike in electricity prices due to fuel cost can be partly be blamed on the Ministry of Energy, which has dragged its feet in reviewing the power purchase agreements.
Deliberate further
It had kick-started the process early this year with the appointment of a committee that gave recommendations in March.
The Ministry however send the committee back to deliberate further noting it was not satisfied with the report and it needed further thought. This means as long as the deal remains Kenyans will continue paying dearly for electricity despite expected new feeds.
The steady rise is not limited to electricity but also the three commonly used fuels of kerosene, diesel and super petrol.
The retail price these fuels has risen to a three year high as of mid-November, when the Energy Regulatory Commission (ERC) published retail prices that will be in place over the next four weeks.
Hard hit are kerosene users, a fuel considered to be the poor man's alternative to cooking gas and electricity as it is largely used by low income households for lighting and cooking.
The price of kerosene has risen to Sh71 per litre in Nairobi, the highest it has sold for since December 2014 when a litre went for Sh72.
Diesel and petrol have also been on a similar trend, reaching a three year high in November, which has been attributed to rising price of oil in the international markets.
A barrel of crude rose to $63.80 as of Friday, rising from a low of $45 during the year and in turn resulted in the spike in prices of petroleum products locally.
A litre of super petrol is now retailing at Sh102.7, almost comparable to Sh101.1 seen in February this year.
Diesel, which is critical in powering industries such as transport, agriculture and manufacturing, is currently retailing at Sh92.41, also a three-year high having been at similar levels in November 2014 at Sh97.84.
Cheaper energy
The high fuel prices could see inflation rise, which has been on a decline in the recent months owing to cheaper energy prices as well as the onset of the October-December rain season that has had the effect of pushing down food prices.
The three fuels and electricity costs are taken in to consideration when computing the cost of living.
Together with rent, water and cooking gas, electricity and fuel, account for 18.3 per cent of the basket of goods used to calculate the cost of living by the Kenya National Bureau of Statistics.
It is the second largest component in this basket, the Consumer Price Index, after food (36 per cent) after food and hence a spike in prices of fuel and electricity are likely to fuel inflation.
Other than consumption at the individual level, sectors such as manufacturing and transport also rely heavily on electricity and diesel for their processes and price hikes might also see players in these sectors relook their retail prices.