From rags to riches the TV way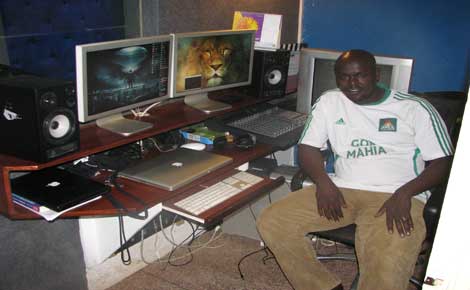 David Kinyanjui at his Sanaa Zote Production Ltd studios along Ngong road during the interview
NAIROBI, KENYA: In his trademark faded jeans trouser and polo t-shirt, David Kinyanjui, a creative writer, music and TV producer passes for any other hustler in town.
However, a closer look reveals an entirely different picture. A visit to his Sanaa Zote Production Ltd studios along Ngong road immediately wipes out any negative perception about the man. The studio depicts hard work, crisp strategy and determination of a young man who barely a few years ago had only a secondary school certificate to show for. "Sanaa Zote is a production house that promotes local talent," he says.
The entrepreneur has used local artists to produce programmes that appeal to local audiences. Kinyanjui is associated with the production of reality TV shows, documentaries and advertisement for corporates.
Before he ventured into his own production, the self-made producer was part of the production of Makutano Junction, an educational drama series production by Mediae Ltd, themed on development in Sub-Saharan Africa.
"I would say I am successful in the production industry having gained experience over a long time €" working with diverse groups and individuals from different places, including doing shorts in seven different countries in Africa," Kinyanjui observes.
When he got into the industry, he only had a Form Four certificate but he has risen to be where he is today. Now he employs four people on permanent basis and another 60 basically actors on part-time terms.
"My passion for the industry started at Baraka films, where I got an opportunity to swing the microphone to actors during various productions," he says.
"It got better when I landed a training opportunity at Mediae, the producers of Makutano Junction to train on sound mixing by experts from the British Broadcasting Corporation," he says.
"I was able to quickly grasp sound mixing concepts that earned me promotion as the head of sound production at Mediae," he adds. He says over the years he has worked with experienced directors with international experience from Kenya, India, United Kingdom and the US on development-based feature films, documentaries, drama series and reality shows.
Kinyanjui sees more opportunities for budding producers in the era of faster Internet connectivity and migration of television transmission from analogue to digital platforms. "There would be a huge market for producers in the era of fibre optic Internet and digital television.
Once the shift to digital TV is totally achieved by 2015, content will be highly sought for, and I would encourage unemployed youths to take advantage of this opportunity to join the industry and lift themselves out of poverty," he says. real time In his work, Kinyanjui says he is comfortable working with multiple mikes on location.
"I have created a system whereby, with the help of a translator, I am able to provide real time translation for foreign directors, giving them a feed straight to the microphone in a language they understand," he says. Already, Kinyanjui has produced two programmes "the Ghetto Heaven" and "Kasheshe Korna" which have been received well in the market.
"Currently, we are in talks with teams from Finland who have expressed interest in airing the programmes abroad," he says.
Ghetto Heaven is a gritty, contemporary drama, set in Kibera slum, where a mother and her two sons endeavuor to bring some relief and joy to the lives of those around them. Set on the outskirts of Nairobi City, on the edge of the Industrial Area, it is the story of Kamau and his twin brother, Otieno and their struggle to survive in Africa's largest slum.
On release from a five-year prison sentence, Kamau returns to life in the slum, determined to set up a legitimate business running a small "community centre" with a pool table and video show, amongst other things. He calls it Ghetto Heaven. But Kamau is faced with many challenges as he tries to build his business, not least keeping himself and his twin brother Otieno, out of trouble.