Wowzi: The online firm taking on ad giants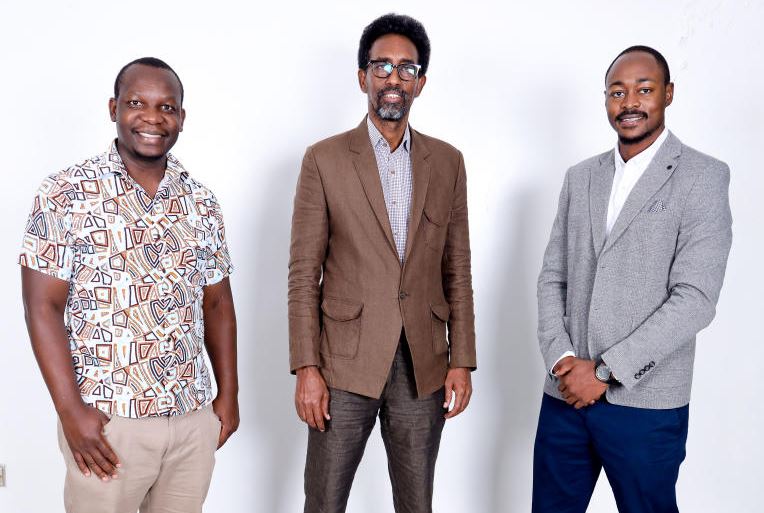 Between November and December 2018, three men – Hassan Bashir, Brian Mogeni and Mike Otieno - sat together to brainstorm on an idea they hoped would revolutionise the advertising industry in Kenya. They hoped to leverage on their diverse experiences in the digital world.
Brian had over seven years' experience in developing and scaling internet companies such as Opera Software (Opera mini), smart taxi application Mondo Ride, and Africa Internet Group, now Jumia. Otieno worked with renowned firms such as McKinsey, the Palladium Group and as an Uber ambassador in Nairobi.
Bashir, a serial entrepreneur, has held key positions in the insurance and technology sectors in East Africa.
The trio came up with Wowzi a digital platform where brands connect with influencers to scale up their marketing. Hustle talked to Bashir, the company chairman, and Brian, the Chief Executive about their "wow" moment.
First, you are three of a kind in terms of age. Bashir is in his early 60s while Brian and Mike are in their late 20s. How did you meet and work together?
Bashir: I met the two young men when they were evaluating innovative startups for funding. I had a business idea that required a similar advisory. They looked at it and told me not to invest in the idea. But I saw something else. I saw innovation from their young, educated and globalist thinking. Figuratively also, I saw two 'cobblers' wearing worn out shoes. I challenged them to create an idea that we could work on together. By February 2019, this idea became Wowzi. They became my friends and co-founders.
Brian: You can say among us, there is the energy of the youth and the wisdom of the old. Few can understand tech the way Bashir does. We combine all these with the hunger and ambition to create the technology of the future.
Not many have such level of trust in young people, especially in business. How did the trust build up?
Bashir: I am a teacher and can tell pretenders from genuine innovators. These two are men of integrity. We were therefore aligned from the beginning.
Tell us more about Wowzi...
Brian: It allows advertisers to load a brief then select influencers they would like to engage with. To create value for money, a brand will target specific influencers depending on the target market. A brand can decide to work with a certain demography of influencers such as male or female, certain age group and specific occupations. On the influencer side, it allows anyone who meets the criteria set out by the brand to get an advertising job. This is the "Uber" for influencers.
So anyone can become an influencer?
Brian: Yes, provided you meet certain requirements. For example, you must have a minimum of 250 followers on any of your social media accounts. The accounts must also be clean – no nude posts, drug promotion or such vices. We do background checks and verify the quality of an influencer's output before he or she gets the job. So far we have 10,000 influencers on the platform. We have 60 local brands and about 12 international brands. Think about it, this is a platform that creates jobs for such a large number of people who would otherwise have no jobs in the formal market.
Did you do any feasibility study before launching?
Brian: Yes, we did. Let us start with numbers. Influencer marketing is a $20 billion (Sh2.7 trillion) industry with an annual growth of 19 per cent. We also spoke with more than 1,500 respondents to survey how such a platform would create value for all parties. We did not want to rely on the few influencers with big numbers only. We also wanted to eliminate the back and forth that characterises the local influencer marketing scene.
Why should a brand choose your platform rather than work directly with influencers?
Brian: We naturally trust those we know. For example, your circle of friends on social media are more likely to trust you than a person they hardly know. You share similar interests and goals. Currently, influencer marketing is too physical since brands need to have several meetings with influencers. Payments, too, have been a problem since brands have a challenge assessing their return on investment (ROIs). In our platform, a brand can see immediate gains while an influencer does not have to guess what his earnings are. They are automatically computed.
Without financial muscle, Small and Medium Enterprises (SMEs) find it hard showcasing their products and are edged out by the "big boys". Now, with just a small budget, say Sh50,000, they can tap on the power of influencer marketing. In fact, 90 per cent of the business market consists of SMEs who can leverage on youth who are the largest users of social media platforms.
Will this model push out mega-influencers and big agencies?
Brian: No, these are not going anywhere. In fact, we are creating a bigger market for both influencers and agencies. We are exposing them to global brands that were not accessible to them. For example, a Kenyan influencer in the entertainment industry can now work with brands such as Netflix. Think of "cartels" that rule the influencer market. You needed to know someone somewhere for you to get on the inside world of influencer marketing. On the other hand, we are building a platform where agencies can plug in. While such technology is usually viewed as disruptive, Wowzi is more of an enabler. Nobody should go out of business.
Bashir: Wowzi is there to tackle unemployment. Unlike some Blue-chip firms that repatriate capital outside Kenya, the money made on our platform will be redistributed to the masses, to millions in Africa.
How does Wowzi make money?
Brian: We said the platform works just like Uber. We retain a fraction of the funds going through the platform. It is to our interest that more brands and influencers come on board and create a win-win situation.
How was the financing structure for Wowzi?
Bashir: It might be too early to talk money since we just rolled out a couple of months ago. Despite the fact that we developed the system in Europe to comply with global standards, seed fundraising was done in Kenya. We did not want to go out of Kenya to look for money.
However, two foreigners and five Kenyans raised 10 per cent of seed capital. We want to ensure that foreigners will not own more than 30 per cent of the company. We do not want to take the route taken by many local startups; nice-sounding Swahili names with all the shares held by foreigners.
Do you fear Wowzi will fall in the category of failed startups?
Bashir: Such fear can be real. However, you need to understand why many Kenyan startups do not see their third birthday. In the past, lack of capital was a problem.
Today, scaling up is a major issue. Also the lack of ingenuity is notable. For example, how many taxi hailing apps can you have on your phone? The industry rewards those who take a foothold early like Safaricom.
Sadly, rather than create something unique, most entrepreneurs embrace tired ideas that eventually fade away. Others burn out for lack of consistency. We have tried hard not to take any of those routes.