11 principles that winning entrepreneurs master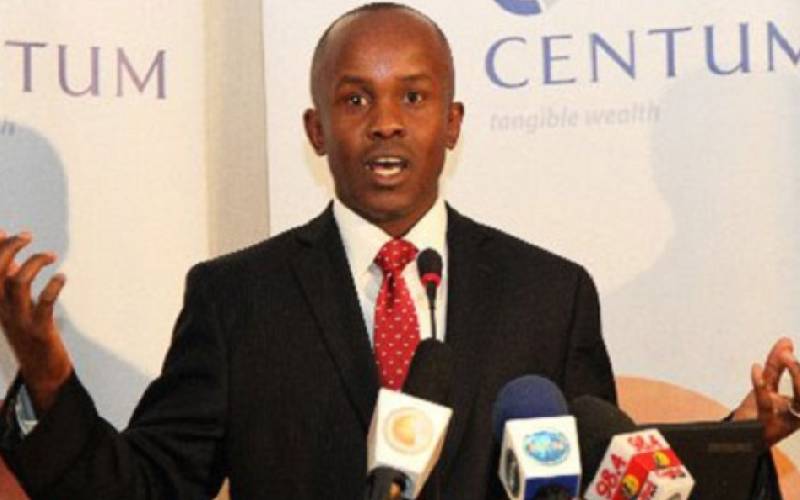 Research shows that close to 80 per cent of start-ups die within two years. Have you wondered then, why some businesses succeed while others fail? Dr James Mworia, Centum's CEO gives invaluable advice that any aspiring entrepreneur should take to heart.
1. Seamless systems
Economists always refer to resources as scarce. If a business owner has not set up systems to ensure the tracking of resources of the business and that the resources are well-utilised, the business is likely to fail. Resources include cash, stock and other business assets. Such resources are continuously under threat of being misused or stolen, hence the need for proper systems to monitor their use. The business owner can also be a threat to the business if he takes resources such as cash and stock from the business for personal use. This denies the business the opportunity to grow as it will struggle to replenish supplies and meet customer needs. Inevitably, this will lead to loss of customers.
2. The debt rule
A smart entrepreneur realises that debt is good if it is going to fund a venture that will generate a greater amount of cash than the cost of servicing the debt. An example of good debt would be borrowing to acquire machinery that will make the cost of production lower and the savings generated greater than the cost of servicing the debt. If the venture does not achieve this, the business will have to look for cash elsewhere including raising additional debt or equity to service the debt.
3. A solid business plan
A business plan gives direction to business and informs on the resources required to get there. If there is no plan, the business may end up attempting several ventures, none of which may be viable and this may deplete the resources. Have a clear and well-documented plan that is understood across the entire business and ensure everyone in the business is working towards getting the business to the same destination.
4. Digital marketing
In terms of promotion and delivery of goods and services, digital channels provide one more route to customer access. Many customers now prefer reduced physical contact with businesses out of fear of getting infected with Covid-19. Businesses must open themselves up to this new route to retain current customers and attract new ones. Businesses still using their traditional routes to market are likely to see lower sales, lower revenues, lower profitability, and eventual struggle to stay afloat during the pandemic.
5. Need assessment
Some reports say more than 80 per cent of start-ups fail in the first two years. Many businesses fail because they were addressing no real need. For instance, a business looking to sell traditional alarm clocks, no matter how stylish or cheap the alarm clocks will fail because there is no real need for alarm clocks – we have our phones for that. An entrepreneur must question the need his business is looking to address, then call up 100 people and ask if they would be willing to pay for such goods or services. If the answer is No from at least 30 per cent of the people, abandon that business idea and move to the next. On the other hand, there may be a need in the market but the business is not able to produce and sell the goods or services at competitive rates or terms. They are eventually knocked out of the market by competitors.
6. Innovation
Businesses should continuously evolve so as to meet customer needs and to stay ahead of the competition. Innovation requires continuous testing of new ways of doing business or new products. Be quick to learn from new innovations and products.
7. Leadership acumen
Leadership is about inspiring others to a certain course of action. Where there is a failure in leadership, the team is not inspired to take the organisation to the agreed destination. Poor leadership manifests itself in different ways – demotivated staff and dissatisfied customers – who eventually leave.
8. The 'right product' concept
The best business model is funded by the customer. If your customers are willing to pay for your product, even in advance, it is the best sign that they like your product. If they are paying deposits or full price in advance so as to "book" your product, it means the business has a service that customers value. On the other hand, if customers demand huge discounts or extended credit terms, it means they do not necessarily value your product and could easily switch to other businesses without notice. In some cases, your product may be borne out of a completely new idea as was the case with mobile money transfer service several years ago. You can also modify an existing product similar to what Apple does with iPhones. The important thing is to identify the need you are solving in the market and decide on the best product to meet that need.
9. The expansion formulae
Scaling up should be driven by customers – existing or new ones who demand the goods or services at a greater rate than current operations can sustain. However, successful businesses are keen on side-stepping two dangers that come with scaling up. First one being that they make sure that scaling up does not make the business less profitable. For instance, if expansion requires a massive capital investment financed by debt, consider if the increased costs will make the business less profitable. Second, they check that they have the right systems to control a much larger organisation. If the systems are not right, it could lead to depletion or misuse of resources. For instance, a supermarket chain may be better off with just five branches that can be controlled effectively instead of 50 branches that are leaching money.
10. Location, location, location
Proximity to amenities such as transport, hospitals, schools and shopping centres will always drive people to choose one location over another. The more proximate a location is to such amenities, the more likely the location will have higher demand from customers. Conversely, the farther away a location is, the lower the demand will be. Appreciation of property prices in such locations will also be very slow.
11. Partner equation
Partners, particularly in the supply chain, are critical to a business's ability to deliver goods and services to customers. If you have weak partners, the business may suffer from poor reliability issues. For instance, a shop doing home deliveries needs to ensure that its partners doing the actual deliveries are reliable otherwise the customers may end up frustrated and again, move their purchases to other shops. Where possible, have multiple partners to guarantee reliability.