23 years in business taught me to be adaptable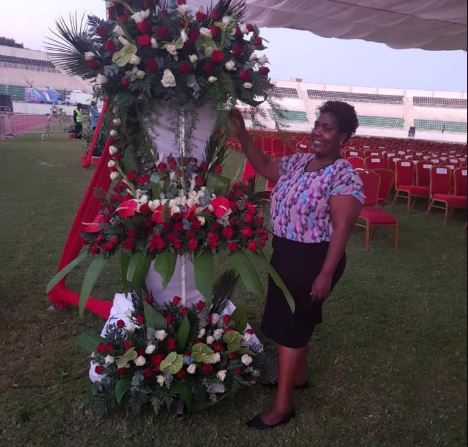 Peris Njeri was an employee at a big-time florist business in the city for six years. By the end of the sixth year, she had gotten restless and having mastered the art of floral arrangements, figured she could do it on her own. And for the next three years, she was a mobile florist; which is essentially doing flower arrangements in offices and other venues.
When she could finally afford it, she set up her own flower shop and today, she owns a string of flower shops under the name Pien Florists. It has been 23 years in business, a time within which she has taken her craft even beyond the borders.
Why the florist business?
It was what I knew to do so well. I did floral arrangements at work, and had risen through the ranks to being a manager. Six years into employment, I felt I needed a challenge. So I left to do the only thing I knew how to. It was an exciting challenge.
In the first few years of this business, I was mostly a freelancer, moving from place to place doing floral arrangements. With time, the business picked up and I was able to open a first then second flower shop.
Which moments do you consider the highlights for your business?
When I was contracted to do State House events. When the late President, Daniel Moi was being interred, I had the honour of doing the floral arrangements at his send-off venue. Usually, such contracts to do outdoor State events like Jamhuri Day and Mashujaa Day can be through direct contract or being subcontracted by another party who does all State functions.
Other than that, I was part of the team doing arrangements at the venue where Uganda hosted Her Majesty Queen Elizabeth II when she visited in 2006.
To backtrack a bit, were there any regrets leaving employment?
I would say it was the best move I ever made. Being my own boss gave me the much needed flexibility I craved. Having acquired the best experience from a leading flower shop, and the fact that the industry needed experienced florists, it would have been a bad move not to go for it. I saw the need to fill the gap by opening my own business and replicating the same success I had enjoyed in employment. It was tough going at first.
What was it like, competing with your employer?
It was, and still is, a competitive market. However, to curve a niche for myself, I had to do things differently from what was the norm. Back then, players in the industry were using wire meshes to make floral arrangements, but I had to go an extra mile by doing oasis floral foam.
Oasis is green foam used to design flowers in whatever design a florist wants. It acts as a preservative to prolong life of flowers and also as a support to hold them in place. It was a hit. And that was our selling point for a long time. Through this new technique, I was able to introduce new designs in the field, and I got lots of referrals from my clients and people who saw my designs. I can say it opened many doorways to success because I started getting orders within East Africa.
What does a typical day for a florist entail?
The day would begin very early in the morning when you visit flower markets to get best cut flowers that would match the theme for your client's event. Setting up can see one working late into the nights garlanding a place so that it can be ready early enough.
Who are your clients?
My clients range from walk-ins to corporate. There are the walk-in customers, wedding brides, corporate clients and events. I get new clients mainly through referrals but in some instances, I've long-running contracts to do events for loyal clients.
What do you wish you had known before starting your business?
What I had not envisioned when starting out were changing trends with time. I had not foreseen the rise of events industry that would overshadow everything. If I had the foresight of what was to come, I would have strategically positioned myself as an events florist. Not all is lost though, as there is always room to adapt with the changing market trends in order to stay relevant.
I thank God for the exposure to so many State events which had given me much needed experience and seen the business going. It also opened doors like an opportunity to showcase my creativity in the International Flower Show in Netherlands recently as a leading florist in the country. Moreover, I have mentored and trained many florists who are forever grateful and some are working outside the country.