Turning tattoos into a fine arts launchpad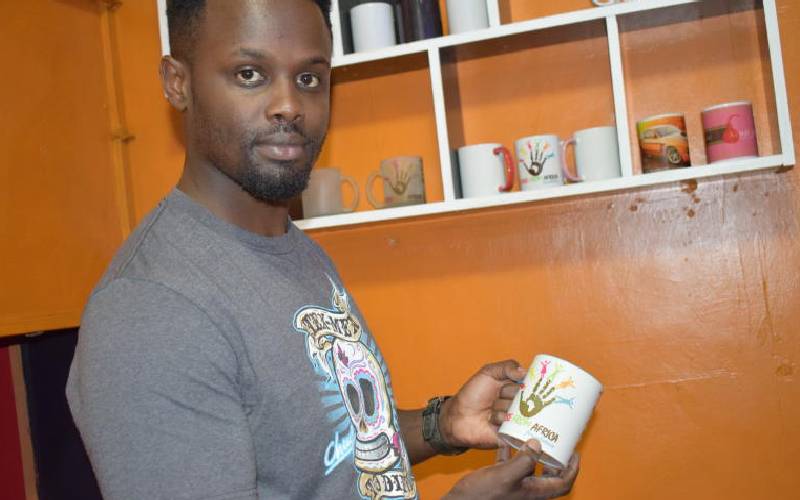 Antony Munene (pictured), alias Tony Nitoz, was born in Nairobi's Kayole at a time when crime in the area was regularly making national headlines.
However, he came from a family of artists, and started making money from art while still in primary school. He'd charge his schoolmates between Sh10 and Sh20 to draw diagrams and maps for them. In high school, he'd do calligraphy on love letters and charge Sh20 for the service.
This kept him busy enough to avoid falling into trouble, and he saw the potential of an artistic future for himself; a future that meant he could avoid joining a gang or going into touting like his peers.
When schools closed for the holidays, Tony would visit a tattoo parlour in Nairobi where he'd pretend to be a customer so he could watch the owner work.
"The guy used to earn Sh1,000 for 15 minutes of work. I was amazed and wanted to grow up and be like him," he says.
By the time he was done with high school, Tony had become friends with the tattoo artist, who taught him how to sketch tattoo art. A friend's father later paid for his formal training at the Buru Buru Institute of Fine Arts.
"I knew that I couldn't rely on doing tattoos forever. I needed to diversify my skill set and so I decided to study art and design," says Tony.
When he turned 18, Tony was invited to Meru by friend who wanted a tattoo done. He sent fare and Tony borrowed a tattooing machine. The friend asked him to stay for a week, and in this time, Tony earned Sh5,000.
"I got another friend who offered to house me for a month; I took up the offer. Without the burden of rent, I was free to look for business. I'd visit workplaces and residential houses to tattoo my clients. By the end of the month, I had made Sh20,000."
Clothing line
Tony decided to stay on in Meru. He rented a single room and found a building to operate from. To supplement his income, he started selling clothes, and hired two people to manage this while he focused on tattoos.
In 2007, he started a clothing line, Tribe from Africa, to promote peace following the post-election violence of 2007-08. He made T-shirts that he'd sell at Sh700. His positive messaging caught the attention of the media, and a story on his business in 2013 gave it a major boost.
Tony made enough money to buy his own printing machines and start a training centre for youth interested in printing and branding.
"I came from humble beginnings and wanted to give back. So when business steadied in 2014, I started a foundation called Tribe from Africa. Twenty per cent of my profits go to it."
So far, the foundation has 275 registered members and has trained more than 100 youth on fine arts.
Today, Tony has six registered businesses to his name. He still keeps up with tattooing, with charges starting at Sh1,500 and removal services costing Sh3,000 per session. He also does body piercings and makes an average of Sh50,000 a month from the body art arm of his business.