So you want to be a part of KCB Lions' Den TV show?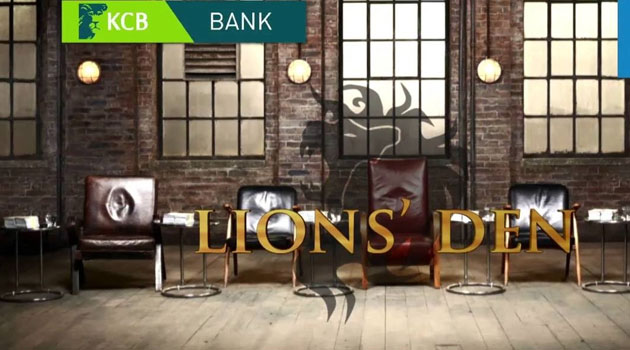 Are you tired of knocking on anyone and everyone's door? Tired of looking for a job? Tired of asking your friends, parents or siblings for cash to drive your business for an extra month?
Maybe it is time you considered applying for the kind of money you need from a team of seasoned investors. KCB Bank Kenya launched KCB Lions' Den in 2016, a reality TV series aimed at empowering young people to achieve economic sustainability.
The fourth season of the show will soon be airing on KTN, so why not be a part of the experience?
The investors, or Lions, on the show have so far signed deals worth Sh219.4 million over the past three seasons. They're giving you a chance to be a part of these success stories, and show the country that product or service that they don't yet know exists.
You have eight weeks from March 29 to submit your application. Here's what you need to get started.
What you need:
1. Application form
You'll need to fill in the editable application form on www.kcb2jiajiri.com/lions-den/. Once you're done, send it to [email protected] You can also download the form, fill it in manually and then drop it off at any KCB branch. Keep in mind that you'll be required to list a KCB account.
2. Personal details
The application form includes a section where you'll be required to provide your bio data, including name, where in Kenya you are and your identification details.
3. Business details
You'll need to be clear on your business' unique selling point – the thing that makes it different from its competition.
You'll also need to list any business partners you may have, and let the producers know if you'll be bringing any props should you make it to the show.
Your business' financial records will also be required, including its valuation (how much your business is worth) and how much equity (share of the business) you're willing to trade for a specified investment. If you're selected for the show, you have the space to negotiate the amount of equity you're willing to sell based on the offer your business gets.
Before you fill in the form, try and think up one exciting sentence that best describes your business.
4. Executive summary
This section gives you the opportunity to sell yourself and your business idea. You'll detail the problem your business solves, and summarise why you think it's going to be a success.
You'll also need to detail your target market, which is the people who'll buy your goods or services, by their age, gender and location.
You'll also need to provide information on the profits you've been making, or plan to make, and how much more you see your business bringing in after you get the investment you're after. You'll also outline your business plan and any current loans.
Keep in mind, however, that even if you clinch a deal on the show, the investor will need to do his or her due diligence to ensure the financials you provide are backed by your books.
Under the executive summary, you'll also state if you have any patents, copyright and trademark protection documents.
5. Your consent
By applying to be a part of the show and signing the application form, you commit to being available once shooting dates are announced should you be selected as a contestant, and you also allow the producers and programme sponsors to verify the information you submit.
Your signature also means you consent to the terms and conditions detailed in the application form, including that you currently don't have any warrants of arrest against you and that you own the business you submit.