He dreamed of flying planes but coffee brewing has surprisingly pushed him to stardom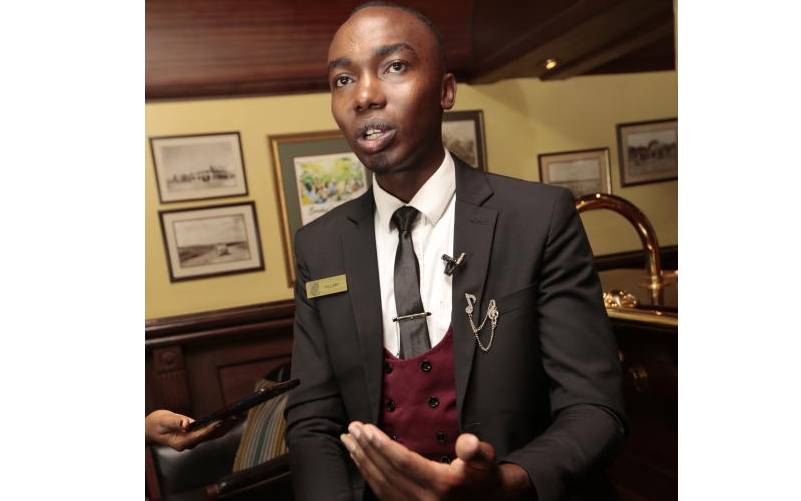 In life, a troubled person may push a wrong door in desperation to find an exit. But in surrender, he might lean on an apparently closed entrance that easily and unexpectedly flings open, setting the captive free.
That is the discovery that Hillary Mugasitsi made after many years of empty struggle to find acceptance in the aviation industry. He accepted his role as a head bartender at Lord Erroll Gourmet Restaurant, five months ago, with little knowledge on what destiny had in store for him.
The 25-year-old was fascinated by a coffee-making machine at the bar that he had never come across all his life. His curiosity has taken him to greater heights than he anticipated, considering that he trained as an aeronautical engineer.
Lifelong ambition
"Since I was a child, I wanted to be a pilot but due to financial constraints, circumstances forced me to train as a waiter, chef, housekeeper and front officer to increase my chances in employment," said Mugasitsi.
Five months ago, he joined Lord Erroll as a mixologist, preparing cocktails at the bar where the coffee-making machine was also located.
He developed interest, especially after his beverage manager Jesse Wambugu encouraged him to take up the challenge.
After two months, Mugasitsi's progress in coffee-making impressed his manager who tipped him of the competitions and advised him to participate.
He had not heard of competitions in the industry and was hesitant but did not want to offend his supervisor.
Determined, he started training on his signature drink dubbed "The Doctor" — a blend of coffee and some other ingredients.
"I used natural ingredients like fresh blueberries, cinnamon, star anise and madafu to give it a coastal feel," he said.
After an intensive training at Dorman's coffee, Mugasitsi was ready for local competition.
"We were 42 at first during the 16th Kenya National Barista Championships held at the Hub in Karen last year November and we competed against each other and I emerged first," said Mugasitsi, his face beaming with joy.
"I proceeded to Rwanda where we faced off with other African contenders and I emerged second."
The barista will represent Kenya in the World Barista Championships in April in Boston, US.
He said for the world championships he would only change a few things to keep the originality and the Kenyan feel of the drink.
"You need to be very creative for the championships I want to keep the originality of my signature drink because it is what got me to the finals. Even if I have to change, I'll have to keep a few things," he said.
He remained upbeat that he would conquer the world stage.
New trends
"Kenya has good coffee, we need to showcase it to the world and hopefully it will bring us an award," he said.
"It's the passion, willingness to learn and dedication that got me here. I haven't learnt everything but I have learnt a lot about new coffee breeds and new trends,"
He thanked Zahra Moi, the owner of Lord Erroll, for her support ever since he enrolled in the competition.
Mugasitsi is still hopeful that he will enroll for a piloting course since that hass been his lifelong dream.
The Lord Erroll Gourmet Restaurant won nine awards during the prestigious World Luxury Restaurant Awards, 2018, putting Kenya on the list of destinations with top global luxury restaurants.