How home made Apple Cider Vinegar saved my life, Nyeri Businessman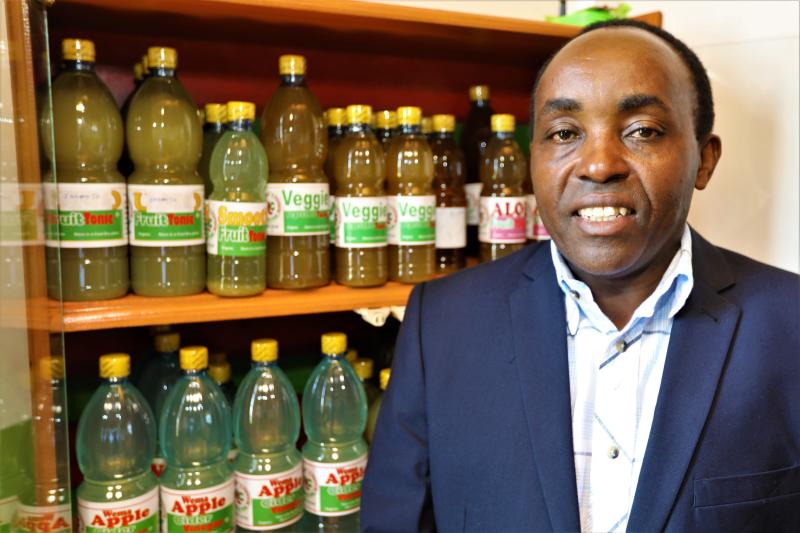 In 2013, Dr Mwangi Njururi had just lost a grueling political battle for the Nyeri governor's seat, and he was exhausted. The campaigns took a toll on his physical and emotional health, and he soon found himself bed-ridden.
"All my life, I'd lived with gastritis, however, after 2013, it got much worse and it caused me great physical pain to the extent that I had to seek medical attention," he says.
While researching his treatment options, Mwangi – who holds a PhD in chemistry and was a senior researcher in the US pharmaceutical industry – came across a natural remedy for his problem. He read that he could balance the acid levels in his body by taking apple cider vinegar (ACV).
However, when he went shopping for the product, he realized the brands available were all imported and had a taste he struggled with.
"I noticed a gap in the market and decided to do some research to find out more about the vinegar and its benefits. I also wanted to learn more about its manufacturing," Mwangi says.
Full benefits
And after eight months of extensive research, he decided to make ACV himself.
"I realized that the process of making apple cider vinegar was not as complicated as I'd expected; it just involved fermenting the fruits in a sterile environment."
With capital of Sh10,000, Mwangi got started. He bought a carton of apples at Sh4,000, a 100-litre tank and 1,000 litres of water.
"Ideally, 100 litres of water should produce 70 litres of ACV. I sell a litre of my product, Wema Apple Cider Vinegar, at Sh1,000," he says.
However, the cost of marketing Wema ACV and relying on word-of-mouth to compete with more established and commercial brands hasn't been easy.
"As a result, I've chosen to take a holistic approach to selling ACV. I don't just stock it on shelves of supermarket – I offer clients advice on how to use it to reap its full benefits," Mwangi says.
Natural ACV has gained popularity globally for boosting immunity, aiding in weight loss and as a part of beauty regimens, including hair and scalp conditioning, skin toning, anti-dandruff and as a clarifying treatment.
However, Mwangi also wants his clients to know that ACV is a health drink that offers complementary therapy and isn't a cure for any ailments.
"I always tell my clients that they should not stop using their medicines, but they can complement their treatment with the product."
In the last five years, Mwangi says he's sold more than 5,000 bottles of his ACV.
So you want to publish an eBook?
An eBook comes with advantages like reduced costs and the potential of reaching a wider audience. There are also numerous online platforms through