Six ways to survive your first year as an entrepreneur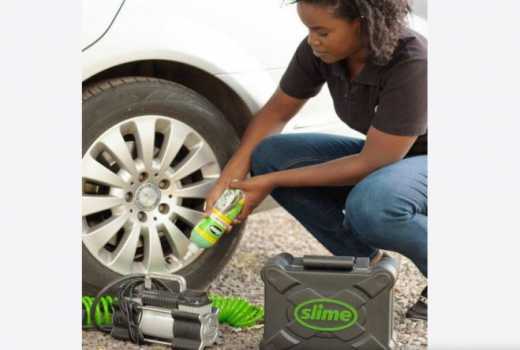 Wanjiru 'Ciru' Kiiru was born to sell. From shirts in her primary school years to puppies in her teens, she learnt the power of an unshakeable confidence and a convincing tongue early.
And as the 23-year-old waits to graduate with a degree in entrepreneurship from Strathmore University, her eyes are now set on Slime.
Slime is a tyre sealant that works like a clot, and in the event of a puncture could save drivers the hustle and worry.
Six years ago, she started selling bottles of it to friends, family and boda boda operators in her neighbourhood as a broker. Today, she runs Auto Seal Ltd, a company she set up a year ago to distribute the American product. Her client list has grown to include Motorcycle Club of Kenya and Power Governors, and she is in the process of wooing Government agencies.
Here, she describes the lessons she's learnt in her entrepreneurial journey.
1. Research is key
From where Ciru stands, there can never be a one-size-fits-all approach to customers. She places a lot of emphasis on learning all she can on the people she pitches her product to, and discovering the challenges they face so that she can present tailored solutions.
"Without research, you're working on a hunch. Everything about your business affects your customer, so get to know them. It helps to be customer-centric," she says.
Further, before deciding to import Slime, Ciru first did her research on the product, its source, why the previous supplier went out of business and the whole ecosystem around the product.
2. Go beyond Google
To distribute Slime, Ciru got in touch with the Dubai-based office with the franchise for Middle East and Africa.
"At first, the Dubai office was sceptical because they had had so many fraudulent calls from Africa and weren't sure I was credible. I also had to do my homework on them so that I don't end up sending money to the wrong people," she says.
But at a time when people trust the web, checking on Google was not enough for Ciru.
"The reviews online were great, but I had to send friends who lived in Dubai to check if the company was legitimate by actually visiting their business location before I could place my first order."
3. Get a friendly source of capital
Distributing Slime under her own enterprise, was bound to be a capital-intensive project. Ciru wanted to serve the corporate segment, so she'd need extensive stock and a base to operate from to give her credibility.
Rather than approach a bank, she opted for a friendlier source.
Armed with a business proposal, sales projections and a repayment plan, she made an appointment with her father, a businessman, and made her case just as she would have to any other investor.
She convinced him to plough in the Sh1.5 million she needed for stock, and negotiated for further support in securing a office and storage space within one of her father's premises.
"People assume that I run my father's company. What they don't know is that I have to honour my promise to repay the capital advanced to me in two years. I also pay a small fee to utilise the office. He comes in as an advisor, but I ultimately have to make the decisions," Ciru says.
However, it certainly helps to know that her father wouldn't push her aside as a bank would, "but seeing as he is a 24-hour businessman, I know that I cannot neglect my responsibilities. In fact, I don't feel like he should cut me any slack because I risk becoming complacent. It's easy to be lazy. This (arrangement) gets me up and moving."
4. Product interest does not guarantee a sale
With the money matters handled, Ciru was rearing to set up her business. She and her first employee worked hard to market the product ahead of its arrival.
They got several clients who gave them the impression that they would take litres upon litres of Slime. In fact, Ciru factored this in as she made her first order. But when the product landed, they ignored her calls.
"It shook me. These people had expressed such interest and I wanted to get started as soon as I could so I chose to bring in the goods via air freight. I will never do that again. Shipping, despite the fact that it would have taken longer, was the cheaper option. I guess you could say that I was overexcited," she says.
5. Set up structures and keep records
Ciru has leveraged on the power of Bitrix24, a free social enterprise platform that serves as a united dashboard, to manage daily operations and tasks so that nothing falls through the cracks and she can hold her employees to account.
"If I said I would call a customer back or email our profile, I can note that in the system and it would remind me to do so. That way I can keep my word. Big companies have structures in place to help them achieve their goal, but small companies don't usually have the cash to invest in similar structures. This shouldn't be an excuse, though. Technology offers us so many solutions to compete with the best."
On record keeping, Ciru says she has learnt the value of keeping proper, detailed records, not just receipts.
"We now have a contact database and all relevant documentation, so we can call up almost anything with a few clicks of a keyboard."
6. There's no friend-zone in business
For the year and some months that Auto Seal has been in business, talent management has been tough.
"As a start-up, I've found it challenging to hold on to someone who fits within my salary budget and is passionate about tyre care solutions. I also find that it is difficult to find genuine people because people can lie on their CVs and deceive you in an interview," Ciru says.
Her first hire was a former colleague, but she quickly learnt that familiarity can breed contempt.
"It became an issue because I wasn't sure how to relate to her without being too friendly. I would often ask myself, 'how friendly can I be? how do I reprimand?' especially because all my hires tend to be older than I am."
With time, though, Ciru found her authoritative voice. Now, with every new hire she gets, she leaves no grey areas and has learnt to draw an unapologetic line between being personable and being familiar.