Finding profit and purpose in jewellery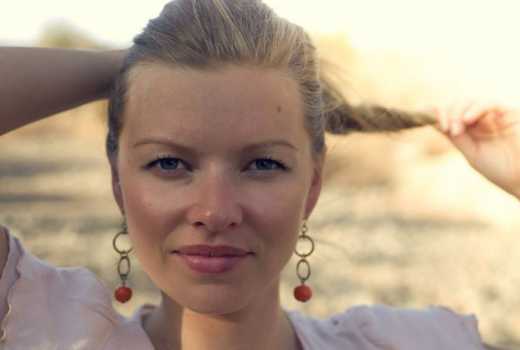 Jewellery and African culture have always been intertwined. Various ornaments have played different roles, from fashion statements to designating one's age group, role or status in society.
Jewellery in traditional Africa was not so much a luxury, but a means of expression and a unifying factor.
Kipato Unbranded, which was co-founded by Marta Anna Krajnik, 33, has a vision to rekindle this legacy of African jewellery.
The company crafts and distributes jewellery made from brass and recycled bone by local artisans from Kibera, Dagoretti and Ongata Rongai.
She talks to Hustle about what inspired her journey.
What led to Kipato Unbranded?
I come from a background of development and social programming. I've studied in the United States, South Africa, London and Canada. My passion was always to develop programmes that would empower people in high crisis or high poverty areas.
As a result, through NGOs, I've worked in Afghanistan, Iraq, Iran, Pakistan, Sudan, South Sudan, Ethiopia, Tanzania and Kenya. When I finally decided to start my own business, I wanted to continue the work I'd been doing: social empowerment.
I wanted to use a vehicle I enjoyed and believed in, which would help improve the lives of others and also turn around a profit. Locally made jewellery was a perfect fit.
You've worked in war-torn and hardship areas. How did you cope?
My childhood played a big role in that. I was born to Polish parents who fled to the US as refugees in the 80s in opposition to the government through the Solidarity Movement.
My parents, though qualified professionals, arrived in the States without knowledge of English and endured financial hardships to start a new life. My mother worked as a cleaning lady for a long time before she got formal work.
As a young teenager, to help with the cash flow, I did odd jobs, from babysitting and painting houses to mowing lawns and clearing snow. I learned to survive.
I believe that's where my passion for people in challenging situations comes from. I've been there. It's also what gave me the strength to maintain sanity in some of the insane and horrific circumstances I've seen in my travels around the world.
When did you start Kipato Unbranded?
In November 2015. I was in Kenya at the time and was disillusioned with my role at an international NGO. I felt like there was too much bureaucracy for us to make a big enough impact.
I had worked at the grassroots for a while and knew my way around. When I started looking for a venture to get into, I came across these artisans who were making incredible jewellery using brass and recycled bone.
The issue was they didn't have enough outlets for their work. I knew I could get a market for their products, as well as help them improve or diversify some of their designs. We went into partnership.
What does Kipato: Unbranded stand for?
'Kipato' means 'income', which is a term that underscores the social justice core of the enterprise.
Unbranded came about because very early on, we decided our jewellery would not be an exclusive product that only a select few could afford. We wanted a brand made by everyday people, that everyday people could wear.
Kipato Unbranded ensures that artists are empowered by their work and receive fair wages for their creativity. I thought it would be great to name the company using a term coined by people who didn't want handouts, but an honest means of livelihood.
How much did it take you to start your company?
I can't quite put a figure to it. At the beginning, I was working full time to ensure I met my bills and channelled funds into the business. Almost half my salary went into Kipato, mostly for operational costs.
Later, the investment went towards marketing, which included hiring a professional photographer to capture our pieces.
How does the production process work?
We partner with three main artisans who each have about 10 others working under them. The designs are a collaborative effort between the directors of the social enterprise, staff members and the artisans.
Once a design is agreed on, Kipato Unbranded makes the initial sample, which is reworked until the final product is reached. The company then sells these pieces on the artisans' behalf, who then get a share of the profits.
Where do you retail?
When we started, we mostly sold to friends and by referral. Now, we're stocked by 10 retailers in Nairobi, two in Mombasa, and one in Kampala.
We also have international stockists in the US, UK, Australia and Singapore. Recently, we opened our own outlet along Nairobi's Kilimani Road where customers can buy from us directly.
How did you get word out about your brand?
Our biggest selling point has been Instagram, where a majority of our revenue comes from. We receive orders daily from this platform.
Through Instagram, we have managed to go international by getting requests from retailers who saw our products on the platform. We also make a point of sending out queries every week. We target at least 10 emails to potential stockists.
Are you profitable?
We broke even in our second year, in late 2017. Last year, in December alone, our sales went just over Sh324,000.
We project a large growth in turnover this year.
What makes Kipato unique?
I think it's the energy with which we create and run the company.
The jewellery is crafted by young people who otherwise wouldn't have a livelihood. We believe in fair pay and fair pricing. We believe in giving back to society and continuously mentoring the people who come through our doors.
I have a passion for women in particular. The company is run predominantly by women under 35. The brand activators are all women under 25.
I believe anything created to advance fellow humans prospers. Our products are made with heart and professionalism. That's a win-win, I think.
How much do your pieces cost?
Our prices range from about Sh1,500 for a pair of earrings to Sh6,500 for an intricate necklace.
What's your vision for Kipato?
To be a global brand known for unique, locally made, durable, high quality, affordable jewellery. We want to duplicate our franchise across Africa. We are already doing this successfully in Uganda and want to spread to other countries.
I imagine the beauty of jewellery made from local products by local people from across Africa being sold to outlets, not just in their own countries, but also in Europe, the US and around the world.
We plan on doing market research to identify the best international retail market.
For me, if we are associated with social empowerment, uplifting women, being eco-friendly and giving back to society, I would have accomplished a large part of my mission.