Varsities? budget cut to Sh91b amid cash woes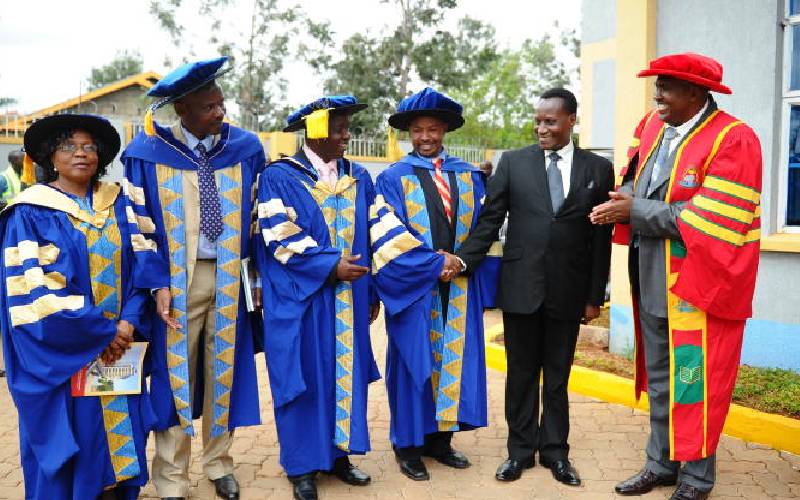 Treasury is proposing to cut the funding to universities by 5.4 per cent to Sh91.2 billion, pointing to continued struggles for institutions of higher learning.
The proposed allocation for the financial year starting June is Sh5.21 billion lower than the Sh96.41 billion for the current financial year—made up of Sh87.84 billion initial allocation and Sh8.57 billion in supplementary budget support.
University education in the 2019/2020 financial year received Sh116.94 billion but the allocation has been coming down, putting a strain on universities which are also grappling with falling student population.
Data from the Universities Fund— an institution that guides the allocation of State cash to public universities— had shown the funding gap for public universities had more than doubled in two years to hit Sh27 billion in the current financial year.
Kenya has about 102 public universities and campuses — which posted a deficit of Sh6.2 billion in the financial year ended June 2021, having received about Sh70 billion from the exchequer.
Universities have been struggling to survive following the reduced State funding, with some like the University of Nairobi opting to increase school fees in order to cut the cash shortfall.
Funding per student has declined by up to Sh44,357 per student in the financial year ended June 2021 compared to Sh66,493 in 2017/2018, raising fears that more universities may opt to increase tuition and accommodation fees to avoid closure.
The Treasury has in recent years been cutting allocation to universities in the face of perennial revenue shortfalls and debt payment obligations that have increased pressure on the Exchequer.
Approved expenditure for university education and research stood at Sh116.94 billion in the financial year ended June 2020 but fell 25 percent to Sh87.84 billion in 2020/2021 financial year.
This at a time student enrolment under parallel programmmes has been falling, leaving many institutions of higher learning with idle capacity.
Many students eligible for self-sponsorship courses at the universities have been opting for Technical and Vocational Education and Training (TVET) institutions, boosted by expansion and State's funding of tuition fees.
Universities have in turn had to shut down several campuses amid continued defaulting on statutory obligations and payments to contractors.
Egerton University, Moi, Laikipia Kisii and Jomo Kenyatta University of Agriculture and Technology are among the universities that have shut some of their campuses on low enrolment and cash crunch.
The World Bank has been calling for the merging of universities and campuses as well reviewing academic courses to bring some stability.