Contempt charges against Munya as he issues Sh122 million to disputed sacco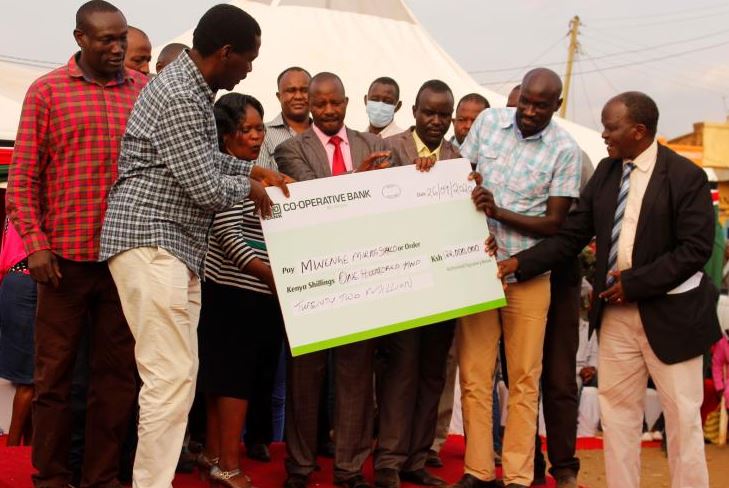 Meru County's 25 miraa growing wards have each been allocated Sh5 million from the Sh180 million government funded credit scheme.
This even as a lobby group filed an application to cite Agriculture Cabinet Secretary Peter Munya for contempt of court.
At the weekend, Munya symbolically issued dummy cheques totalling Sh122 million to Mwenge Miraa Sacco to be lent to registered members at an interest rate of three per cent per annum.
Farmers and traders lobbied for the credit scheme to cushion them against export bans in lucrative markets in the past decade, which had made some of them lease out their farms for long periods.
Speaking at Kianjai in Tigania West on Saturday and at Maili Tatu in Igembe Central yesterday, Munya warned against politicising miraa business.
He spoke just days after the Nyambene Miraa Traders Association (Nyamita), the main miraa traders lobby, filed an application in court seeking to have him, Agriculture ministry officials, and Commodities Fund cited for contempt of court over the disbursement.
Nyamita, through lawyer Kobia Michubu, has accused Munya of excluding them from the process, and for disbursing the kitty through Mwenge Sacco against court orders from a 2017 ruling that required that the lobby and other miraa stakeholders and the Meru County Government be involved in any government intervention in miraa business.
Justice Alfred Mabeya ruled in 2017 that Nyamita and the Meru County Government must be involved in the implementation of the Miraa Task Force Report.
Nyamita claims in court papers that Ministry of Agriculture officials said Mwenge Miraa Sacco was a single-sourced entity, which should not disburse the money.
Munya termed those opposed to disbursement of the money through Mwenge Sacco as "enemies of development".