"Thirsty" residents take siege of Gitaru power station to demand for piped water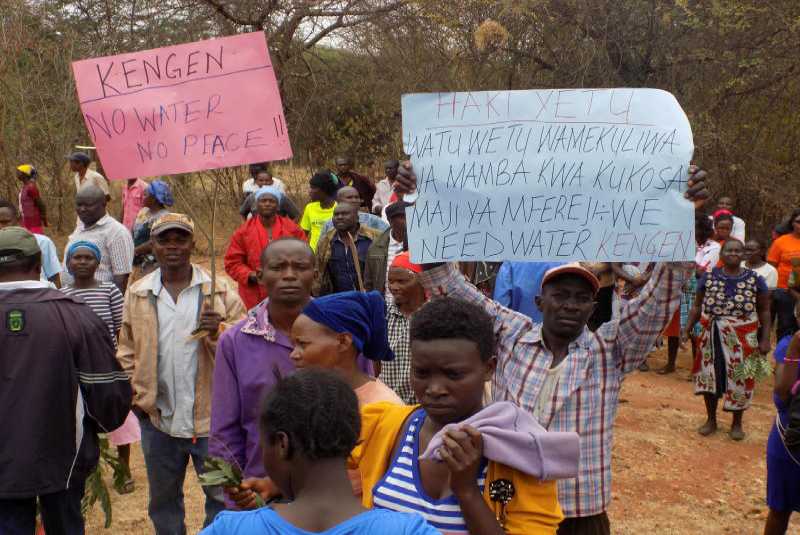 Residents of Kiambere and Mavuria wards in Mbeere South laid siege on Gitaru Power Station on Monday in a row over water projects funding.
The protest aimed to compel the Kenya Electricity Generating Company (KenGen) to fund water projects for the community.
Numbering about 1,000, the protesters barricaded the road leading to the station and also the Kiritiri-Kiambere road using boulders and vandalised guard rails.
They also burnt tyres to express their displeasure.
The busy Mutuovare market, which is the main shopping centre in Kiambere ward, remained deserted as traders and dwellers closed shop and walked about 10km to the gate of the Gitaru station where police stopped them from storming the premises.
Led by Kiambere MCA Lenny Mwaniki and his Mavuria colleague John Mbaka, the residents said water shortages had plagued the area for decades.
They said despite living within the Seven Forks dams, whose reservoirs collect millions of litres of water, KenGen has not initiated adequate water projects for the local community under its corporate social responsibility programme.
They claimed KenGen blocked the community's traditional water points during construction of the five dams - Masinga, Kamburu, Gitaru, Kindaruma and Kiambere - by diverting the water from the river to underground tunnels, leaving residents to fetch water from the crocodile-infested dams.
The residents claimed the station's water outlets supplied clean piped water to Machakos and Kitui counties through the Kiambere-Mwingi and Masinga-Kitui water projects.
KenGen to use extra cash on plant
The Kenya Electricity Generating Company (KenGen) has completed plans for extension of existing Olkaria One units four and five geothermal projects