Rangers risk life and limb to save beloved wildlife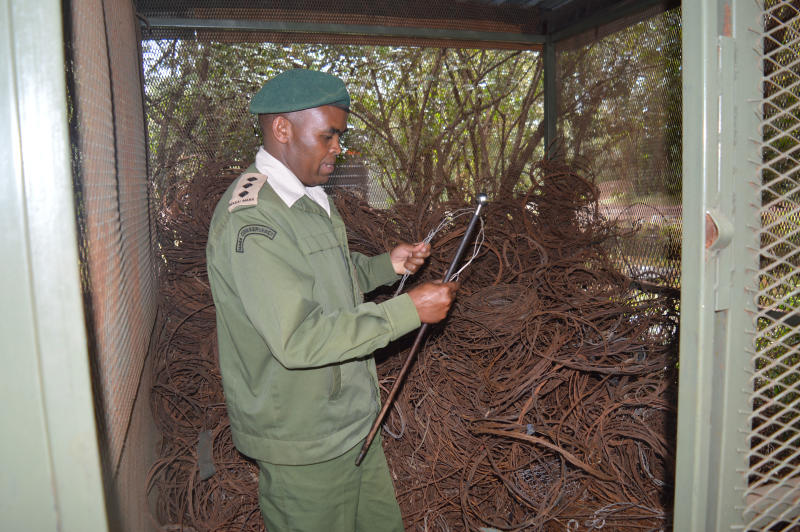 A store full of snares, spears and other weapons used by poachers stands in the administration block at the Mara Triangle, a conservancy within Masai Mara National Reserve.
This is testament to untold stories of threats facing wildlife and rangers.
Snares are strategically placed by poachers to trap large mammals by their feet or neck while others spear hippos.
"All these are stored to document untold stories of dangers faced by wildlife and front-line rangers in their line of duty," Mara Triangle Administrator Liaram Molai said.
Molai said although rangers face threats from poachers and wildlife they protect, their conservation efforts play a key role. For the first time, African rangers were feted for their exceptional stories.
Surging herd
Alfred Bett, is one of the rangers at Mara Triangle among 50 in Africa and 18 in Kenya who won the 2018 African Rangers Award in August. His life-threatening experience while trying to remove a snare from a baby elephant's neck amidst the surging herd propelled him among the top African rangers.
"These snares bear our stories. Each rusty snare has a story tied to it and in one of my most jittery moments as a ranger I almost lost my life while rescuing a baby elephant which was almost chocking. At the same time, a group of elephants were charging fast and we were torn between saving the chocking calf and running for our lives. Miraculously, the elephant which was charging banged on a tree and broke its tusk, giving us enough time to free the calf," Mr Bett said
Removing snares from trapped calves, Mr Bett said, is always scary, and deadly.
"It was a success but to date, it still gives me the jitters," he said. In contrast to his welcoming and friendly character, Bett is a stickler for rules. Among other roles, he ensures wildlife are not harassed and tourists do not drive off the designated roads and paths. Tourists who defy and drive close to the animals are fined Sh10,000 or even 'seen off' Masai Mara in case one attempts to bribe.
Bett is mandated to ensure strict revenue collection through use of a mobile app to verify tourists details and payments. "I cannot condone friendship with anyone who does not respect my work. This is a wildlife territory, an only place they call home and we cannot take the advantage and disturb these animals in their homes," he said. In the Mara Triangle, one can easily notice the change in environment, more organised, with no off drives, tourists always watch the animals in designated places.
"We had to put in place the rules and urge visitors to adhere to them that is why the Mara conservancies remain one of the best conservancies with no off drives. Here, wildlife remains the pride and tourists should accord them respect," Bett said.
The ranger does not condone corruption and acts tough to ensure tourists adhere to park rules. "I have never taken a bribe. I believe that we can best deal with the law if we seal the loopholes of corruption. In instances where a tourist is adamant to bribe and goes beyond exchanging words, I simply strike them off Mara and personally escort them until they are outside the gate," he said.
The African Rangers award is the initiative of Chinese billionaire Jack Ma, and is designed to raise awareness about threats to Africa's wildlife and the critical role that front-line rangers play in conservation.
Resource protection
It brings together wildlife wardens, forest guards, foresters, rangers, scouts, watchers and other front line field staff working on wildlife, habitat and natural resource protection.
"The African Rangers Award is given annually to rangers in Africa who make every effort to combat poaching, habitat loss, and the illegal wildlife trade. It is a prestigious honour that serves to recognize the best of the best within its ranks", the organisers of the award said in a statement.
The winners were selected based on the threats and challenges which they have overcome, their impact, commitment and dedication. Length of service, leadership skills as well, were also considered.
"Rangers operate in extreme environments, and in their efforts to protect the natural heritage, face incredible risks and threats. Their endeavours should be recognised and achievements celebrated," the Foundation says.