Shock to real estate developers as property set to be demolished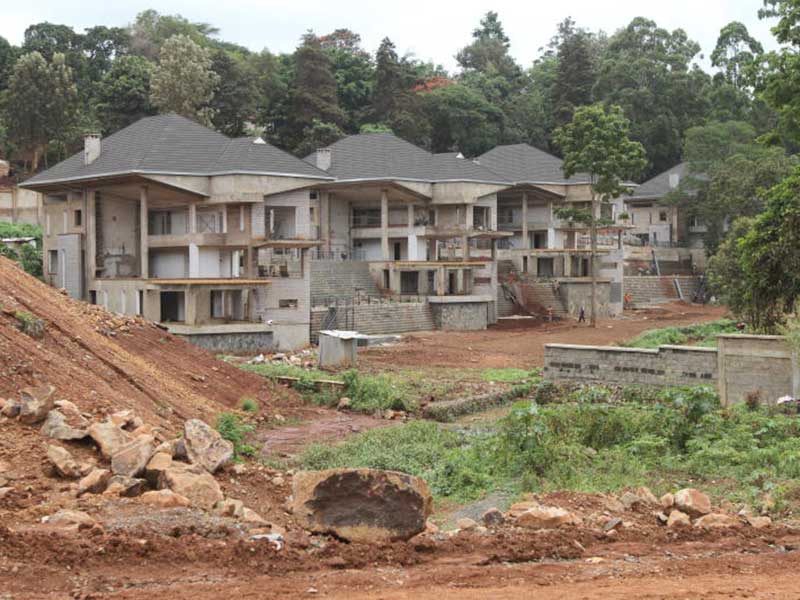 A National Assembly committee touring Nairobi's waterways was shocked at the extent of encroachment.
The MPs, who were investigating the annexing of riparian land in the city, visited a mall in Madaraka Estate with the Ngong River running beneath it.
Here the lawmakers were told of a conflict between the National Environment Management Authority (Nema) and Water Resources Authority (WRA) after Nema condemned the building only for WRA to grant a licence allowing the creation of a canal.
At Arboretum, the Committee on Environment found two other cases of encroachment; in the first case, a developer has erected a fence over the river with plans to construct a building. In the second instance, the wall of a neighbouring estate has been built on the river bed.
Committee members, led by Kareke Mbiuki, questioned how this could happen without permission from the relevant authorities.
"Somebody somewhere closed their eyes and sent their brains to sleep while all this encroachment was happening. That person needs to be held accountable," said Benjamin Tayari (Kinango).
Embolden developers
Hillary Kosgei (Kipkelion West) said that allowing such encroachment only served to embolden other developers to break the law, which was a natural consequence of encouraging impunity.
The MPs also took issue with a high-end hotel in Westlands, saying its wall encroached on a river bed.
Paul Kihara (Mathioya) announced a countrywide crackdown on developments in wetlands even as legislators censured Nema and WRA for failing to act.
"We call upon the Director of Criminal Investigations to move with speed and investigate the circumstances under which the licenses for these constructions were issued," said Mbiuki, who is also the Maara MP.
It remains to be seen whether this pressure will be enough to prompt the owners of multi-billion shilling properties on wetlands to knock them down.
The committee identified Riverside Drive, Westlands, Parklands, Limuru Road, Lang'ata Road, Arboretum Road, Spring Valley, Globe Cinema Roundabout and Fuata Nyayo Estate in South B among areas with developments sitting on riparian land.
Other areas include Kitusuru, Umoja, Roysambu, South C, Githurai and Lang'ata.
One of the factors that galvanised the House team to tour the city was the destruction caused by floods, which experts blamed on the obstruction of waterways.
Illegal structures
Mbiuki directed the environment body to disclose the names of developers, adding that the illegal structures should be demolished to protect water catchment areas.
"Those mentioned to be violating the laws should appear before this committee in the next seven days. The rampant impunity in this country is what makes people violate laws with contempt," said Mbiuki.
Prof Eric Odada, the head of University of Nairobi's African Collaborative Centre for Earth System Sciences, said the law which allows developers to build houses 30m from the river is defective.
"Let us avoid constructing houses near rivers. We need at least 1,000m from the river. People who ignore this don't care about the lives of others. This is why we see buildings and people floating in floods."
Odada noted that ignoring the law had led to loss of lives and property. "Rivers have low and high areas. We need to go to colonial maps of the 1920s to see the original status of the rivers to determine where to build."
He continued: "Never resist the flow of a river. It will always find its way. Some of the original space occupied by rivers has been filled up by sand and soil. If you build here, your house will be swept away. It is going to be worse due to extreme weather conditions."
Odada said people need flood plains for agriculture, grazing and water conservation.
"These are the areas covered by water when rivers break their banks. When the river recedes, never build here as it is not suitable for human settlement."
The university don said the Government needed Sh1.8 billion to evict about 200,000 people living along rivers in the settlements of Kibera, Mathare and Mukuru to save them from effects of flooding.
Ibrahim Mwathane, a surveyor and director of the Land Development and Governance Institute, called for a long-lasting solution.
"We need to harmonise the Environmental Management and Coordination Act, Survey Act, Agriculture Act and Development Act. These laws have different provisions on how to manage riparian land and are confusing to the common person," Mwathane said.
The surveyor noted that a provision that the centre-line of a river is the boundary gives land owners a mistaken impression that they own rivers.
"In tidal rivers, it is hard to determine the high-water mark. The same obtains for lake and ocean shores. There should be an agency that reviews this, based on the current circumstances where towns like Kisumu, Naivasha and Mombasa have developed," Mwathane said.
Though he agreed that the Environment Cabinet Secretary has powers to order for demolition of buildings, he cautioned that this must be done in a sober way.
"Correcting this backwards will only punish innocent developers who got approvals from the right government agencies."
The experts agreed that opening up Karura Forest, one of the last remaining local indigenous forests, to development is disastrous.
Carbon sink
"The forest provides a vital carbon sink for Nairobi's industrial activity. It also serves as an important water catchment area and has great relaxation and recreational value for city dwellers," said Akshay Vishwanath, who works with the International Union for the Conservation of Nature.
He continued: "A rapidly growing and polluted city needs 'lungs' to provide clean air; a filtration system for clean water; and a biological system for the insects that pollinate and support our peri-urban farms and green spaces.
"Without these rivers, parks and forests, our only options for social activities would be restaurants, bars and places of worship," he added.
Vishwanath, who is also a board member of Friends of Nairobi National Park, criticised the Government for issuing illegal titles to private developers.
He argued that public lands are owned by citizens, and that such backroom deals violate land-use laws.
Prof Njoroge Karanja, chairman of the Friends of Karura Forest, said despite the existence of laws and rules to govern activities in forests and rivers, the agencies mandated to carry out enforcement were sleeping on the job.
"We shouldn't be having people still holding on to illegal titles of land parcels inside the forest when the National Land Commission has powers to revoke them," he said.
Karura Forest, which is vital for river health, is now threatened by construction of upscale malls as well as the expansion of Runda, Muthaiga, New Muthaiga, Whispers Gigiri, Ridgeways and estates around Village Market.
Prof James ole Kiyiapi, a former Permanent Secretary in the Ministry of Environment and Natural Resources, said the country's problems were not only caused by non-enforcement of laws and poor urban planning, but by Kenyans' pervasive apathy to conservation.
"Kenyans have a 'don't care' attitude when it comes to environmental conservation. Threats to Karura are symptomatic of a larger problem. If we can't save Karura then we can't save Kenya's other forests and rivers and this spells doom for our country," Kiyiapi said.
[Additional report by Jeckonia Otieno]