Thousands attend former minister Soita Shitanda's funeral service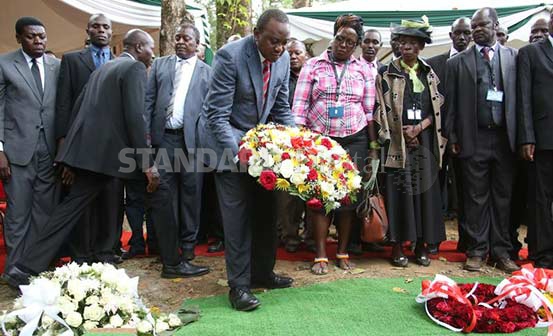 The effects of heated political climate were felt at former Cabinet Minister Soita Shitanda's final requiem mass. Mourners were thoroughly frisked and vetted before they could attend the service at Tande Secondary School in Malava Constituency in anticipation of a possible clash between Jubilee and CORD supporters.
A contingent of GSU, regular and administration police sealed off the main gate to the venue, forcing a multitude that had been milling around the entrance to use an alternative gate.
Because of the huge crowd, the Kakamega-Webuye Road was virtually blocked as the five-hour service dragged on.
Security was just as tight at Shitanda's Butali village home, barely four kilometres away where police struggled to control surging crowds who demanded to access the former legislator's home.
There was relief provided by the famous Isukuti dancers who entertained the large crowd. President Uhuru Kenyatta and Deputy William Ruto were part of the mourners who listened to solemn songs by gospel artists Solomon Mukubwa, Anastasia Mukabwa and Gloria Muliro.
Mourners got to view the decorated coffin bearing Shitanda's body near the main dais.
Family members described Shitanda as a brave, silent warrior who weathered many political battles.
"He was a compassionate and altruistic leader who often helped the poor," said Ngaira Shitanda, the former minister's younger brother. Ngaira described some of the developed projects that Shitanda undertook.
"He was a conscious politician driven by the need to transformation the region, and this is evident by his push for the establishment of both Butali and West Kenya sugar factories," said Ngaira. Shitanda's daughter and sons — Shirley, Terrence and Sidney — described their father as a man of rare virtues.
"He was a sharp and meticulous dresser and I was always impressed by his taste in clothes," said Shirley.
Betty Soita said her late husband's dream and passion of helping the downtrodden never wavered, even when he was ailing. "He loved people, even those he barely knew," she said.
At the venue, giant screens were installed at strategic locations to allow the multitude present to follow the service.
Kenya Assemblies of God Reverend Tony Kiamah challenged politicians to preach peace.
"I beseech leaders to seek national integration and be wary of utterances they make in public," he said.
The cleric seized the opportunity to stress need for national reconciliation.
Huge full colour portraits of Shitanda were displayed with the message "Silent Warrior" written in bold.