Interior CS Nkaissery to say why Ukranian tycoon was deported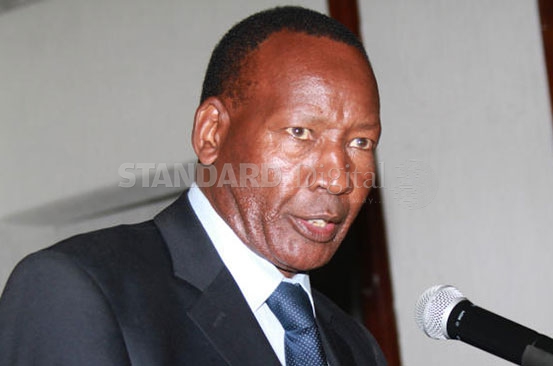 Interior Cabinet Secretary Joseph Nkaissery will disclose to the High Court in Mombasa why Ukrainian businessman Sebastyan Kryvskyy was deported without his family on March 31 this year.
State counsel in the Attorney General's office Richard Ngare told Justice Martin Muya that he needs time to consult Mr Nkaissery.
"This is a matter of national security and I need time to have the minister sign an affidavit stating why Kryvskyy was deported. Give us 14 days to reach the minister," Ngare said.
The circumstances of the Ukranian's deportation have never been disclosed but he was expelled from Kenya after being held in Mombasa by police for four days without trial.
Thursday, his lawyer claimed the Cabinet secretary had broken the Constitution by deporting him without due process.
Mr Kryvskyy had lived in Mombasa where he was married to a Kenyan and operated a business for years. The police had even licensed him to own three guns for his security.
An ethnic Russian from Ukraine, he was arrested alongside his Ukrainian visitors, who were deported on February 28, and the state froze his accounts after deporting him.
When Kryvskyy's lawyer Gikandi Ngibuini sought orders for him to be produced, the State announced that the foreigner had been deported but gave no reason.
Lift freeze
On Wednesday, Ngibuini returned to court seeking orders to have the freeze on his client's bank accounts lifted, and also for the State to disclose the expulsion reasons.
He is also applying to have the law which allows the Interior Cabinet secretary to declare people prohibited immigrants in the country revoked on grounds that it is violating the rights of accused persons put in police custody.
The lawyer accused the State of illegally deporting his client to Ukraine without giving a reason yet he had invested millions of shillings in Mtwapa in Kilifi County.
Ngibuini told the court that his client and four other Ukrainian friends were arrested at the Nyali family house on March 28 by police, who did not have a warrant of arrest, and detained at the police station before being flown to Nairobi on March 30.
He also produced an affidavit signed by Kryvskyy which said: "Police forcibly entered my house and took away my three guns and three valid licences which they never returned."
Ngibuini's application to have the freeze on his client's account lifted was, however, rebuffed by Ngare who asked the court not to budge, saying the lawyer had not followed the right procedures.
"My senior lawyer should first file an affidavit so that the AG can respond to it. An oral application is not the right way," he said.
An inter partes hearing has now been set for May 20.