Tourists flee Kenya's Coast over travel advisories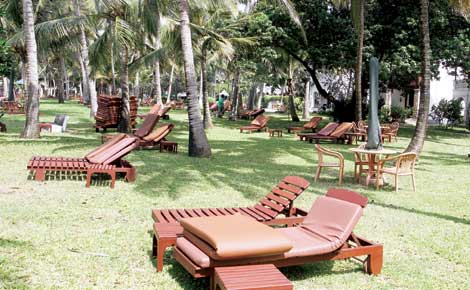 By Tobias Chanji and Philip Mwakio
Kenya: Hundreds of Western tourists are literally fleeing holiday resorts on Kenya's coast following Wednesday's travel advisories by their respective countries.
The UK, US, Australia and France have all advised their citizens against travelling to the region. Last evening, chartered aircraft arrived from Europe and left Mombasa's Moi International Airport with hundreds of tourists fearful of terrorist attacks despite assurances of safety by the Government.
In Mombasa's South coast, some of the tourists evacuated had arrived just a day earlier, signalling that most Westerners had taken the advisories seriously. Some hotels lost virtually all their guests after their mainly British visitors left.
At Diani Sea Resort, one of the hotels on the south coast that was most affected, around 125 Britons were to be airlifted by Thursday evening, said the hotel's Managing Director Har evening, said the hotel's Managing Director Harald Kampa.
Out of these, 108 had only arrived a day before the travel advisory was issued.
The tide of evacuations and cancellations of bookings has sparked fears of job losses.
In Nairobi, the Government strongly protested the travel advisories, terming them as "unfriendly acts" coming from "our partners who have equally borne the brunt of global terrorism".
"The challenges arising from acts of terrorism require concerted efforts to fight it and not behaving in a manner that accelerates it by causing fear and panic," Foreign Affairs Principal Secretary Dr Karanja Kibicho said in statement Thursday.
Mr Kampa, who is also the Coast region's Kenya Association of Hotel Keepers and Caterers (KAHC) chairman, told The Standard that Britain's Tomson Airline was pulling out.
Layoffs inevitable
"I am just surprised because the advisory was clear that Diani was not affected, but now all Britons are out," said Kampa. He said layoffs in the hotel industry were now inevitable.
"We have told our casuals that starting Monday there is no job while a number of the permanent employees will be sent on leave. Everything has crumbled, including our apprentice programme, which is now on hold," explained Kampa.
Several tour agents working with visitors from Britain were also counting losses after most of them cancelled their bookings.
At JT Safaris, for example, a total of 32 British tourists had cancelled their bookings for Thursday, according to Ms Mercy Muchiri, a reservations officer.
"For only a day we have 32 cancellations and have refunded around 2,000 dollars and 1,000 pounds," said Ms Muchiri.
She said there has been so much inconvenience as most of the tourists have refused to come out of their hotels to cancel their bookings, forcing them (JT safaris) to go for them.
Several other bookings have also been cancelled online. The agency usually takes visitors to Tsavo, Amboseli, Masai Mara, Nakuru and Mt Kenya. Kwale County Government's Executive member in charge of Tourism, Mr Adam Sheikh, said Thursday he was not sure of the number of Britons being evacuated.
"I don't know the exact number but Thursday plans were going on for them to be flown out of the Coast region in one plane," said Sheikh.
The Britons have been occupying several hotels in Diani where UK termed as safer compared to Watamu, Malindi and Mtwapa.
Adam confirmed that the tourists were occupying Sea Lodge, Baobab and Palm Beach hotels in Kwale County, adding that the British Foreign and Commonwealth Office advised against all but essential travel to Mombasa Island and within 5km off the coast, from Mtwapa creek in the north to Tiwi.
In Mombasa, tourism experts said the advisories by Britain and Australia are a deadly blow to tourism in Kenya that will drive the sector to its knees. Although several British tourists announced their departure from south coast hotels some said they would defy pressure to leave.
And The Standard learnt that two chartered aircraft were to fly in from Britain to evacuate dozens of British tourists booked in various hotels
Managing director of TPS Serena Hotels (Africa), Mr Mahmud Jan Mohamed told The Standard at the Moi International Airport (MIA) Thursday that the advisories are a major blow to Kenyan tourism.
"It is devastating. Advisories have been issued before. Coast tourism continues to face challenges and this is like the final nail on the coffin,'' Mohamed said.
He added that Kenyan tourism has continued to suffer due to a combination of factors, including the Westgate attack and the general negative publicity out of Kenya.
Mohamed said the industry needs clarification on what exactly is driving the UK government to order for such advisories that come with evacuations.
"Our government should come out in the open and give total assurance to the travel world that Kenya is safe for all,'' he said.
British tourist Benard Dewsbury, 64, from Birmingham, United Kingdom announced his defiance of the travel advisory and plans to continue his holiday.
"I jetted in on Tuesday and will be here for the next two weeks. Kenya has always been like my second home since I first landed here in the early 80s,'' said Dewsbury who is staying at a resort in the north coast.
But he was categorical that the UK has every right to advise its citizens on matters of security. He said his government had not directly contacted him over the advisory and he had only come to learn of it in the local media.
"I have no plans yet to pack my travel bags and head home. I am enjoying every bit of it here and my next move is safari,'' Dewsbury said.
Even as hoteliers reacted to the advisories, it emerged two aircraft belonging to the UK's (UK) airliner, Thomson Fly, a charter operator were scheduled to land at the Moi Airport last night at 8.25pm and 9.15pm from Gatwick, London to evacuate hordes of British tourists.
Britain warned of potential terrorist attacks in Kenya and urged its citizens to immediately leave Mombasa.
The latest warnings, issued on Tuesday and Wednesday, may further damage Kenya's tourism sector.
Britain's Foreign Office said that save for essential travel, all its citizens should avoid Mombasa and the surrounding area "following recent terrorist attacks and the continuing terrorist threat in the area".
Kenya Association of Hotelkeepers and Caterers (KAHC) Coast branch Executive officer Sam Ikwaye expressed the industry's concern at decision to issue the advisories against Mombasa.
"While we appreciate the responsibility of the UK government and that of Australia towards their citizens, we have a country and a nation to live in,'' Ikwaye said.
United Nations World Tourism Organisation (UNWTO) Africa Regional Vice President Dr Kenneth Ombongi said what Kenya needs is support and not advisories.
Geographical boundaries
"Terrorism is global and never a Kenyan problem. It has never and will be confined to geographical boundaries,'' said Ombongi who is also the Principal of Utalii College.
Mombasa Governor Ali Hassan Joho said despite the travel advisories Mombasa was still relatively safe.
"Today, I have had audience with visiting dignitaries from the National Defence College of India who are on a working tour of Kenya,'' Joho said.
Joho spoke at the Sarova Whitesands Resort after meeting the military delegation led by Mr Abhay Triphati. The group was accompanied by India's Assistant High Commissioner to Kenya, Mr Ramesh Kumar.