CS Munya decries low uptake of coffee money, blames co-operatives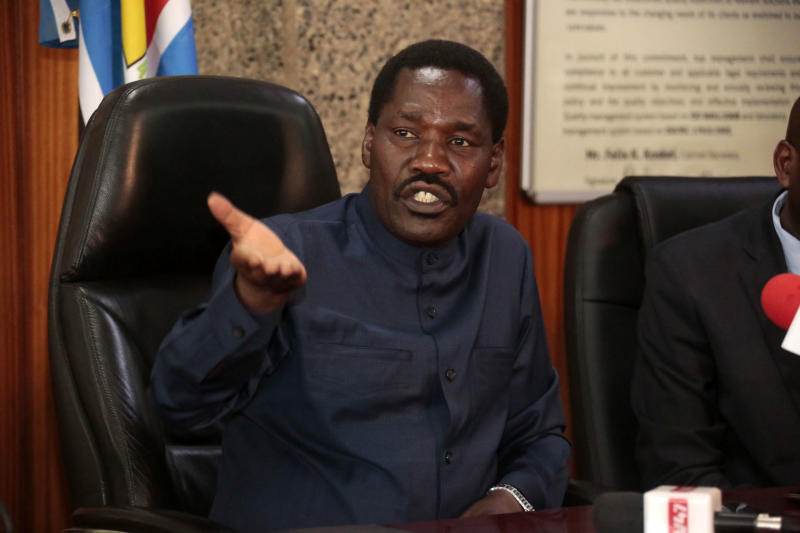 Fourteen coffee farmers in Tharaka Nithi County have applied for credit through the National Government's Coffee Cherry Advance Revolving Fund.
Agriculture Cabinet Secretary Peter Munya regretted the low number of farmers seeking funds from the Sh3 billion kitty, yet it was affordable and readily available.
He asked coffee societies in Tharaka Nithi to conduct elections to improve service delivery to farmers.
While lauding farmers in other counties who had taken advantage of the kitty, he faulted coffee society managers for not encouraging members to apply.
"I know you problems with officials of your cooperatives. It is as if they are opposed to you taking up the loans. So far 15,703 farmers have borrowed Sh177,836,478. The uptake is improving. But only 14 farmers in Tharaka Nithi have borrowed. So, only Sh280,000 has come to Tharaka Nithi," he said.
Mr Munya said various initiatives by government such as the Cherry Fund and subsidised farm inputs programme had enabled farmers to improve production and resulted in increased earnings.
Speaking at Mitheru during a farmers sensitisation programme, Mr Munya said a notice for elections will be out in the next two to three weeks, under the supervision of Director of Cooperatives working with the County Commissioner.
Improved prices
He said coffee prices in counties like Kirinyaga had improved, with some factories paying farmers up to Sh124 a kilogram.
"Where there is good management, coffee production has doubled and prices have gone up well. In Kirinyaga, there is a factory paying Sh124 per kilo, another Sh118. Even in Meru there are those paying Sh98 and Sh100."
He said for farmers in Tharaka Nithi to do so, the management of cooperatives should be changed. Mr Munya said changes were needed to ensure farmers benefit and cartels do not continue to fleece farmers.
"Coffee farmers in Tharaka Nithi want changes in management of coffee so that they can enjoy benefits like in other counties. I want elections conducted in all societies in Tharaka Nithi," he said.
The Agriculture CS said would ensure farmers get managers who will be in charge of delivering the services they needed.
"In the next two to three weeks we will have announced elections of the societies here so that farmers get new managers," he said.