NSE at 15-month low as trading resumes after the long holiday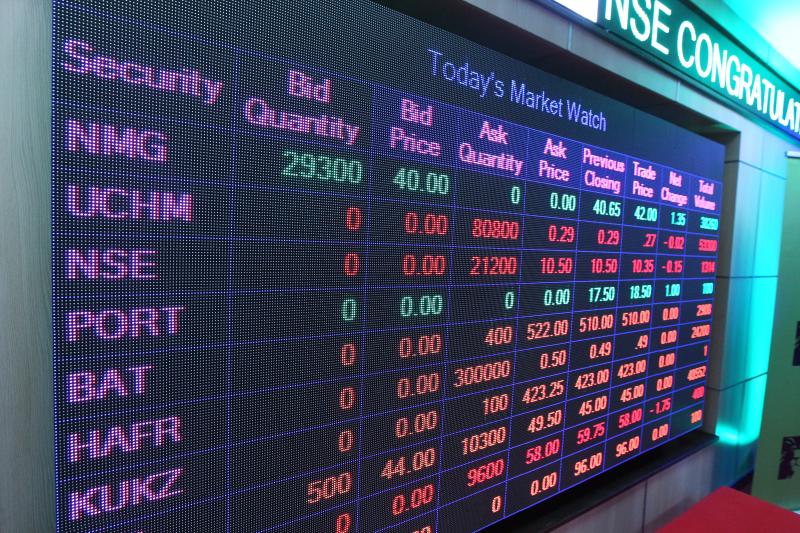 The Nairobi Securities Exchange (NSE) resumes trading this morning counting on Safaricom and bank stocks to pull it from the 15-month low it registered before the long break.
The NSE closed Thursday last week with a combined investors' wealth at Sh2.34 trillion—levels last seen 15 months ago—before the unusually long holiday break from Friday to Tuesday.
At Sh2.34 trillion, the NSE is at levels last seen on January 15, 2021, which follows continuous shedding of value between April 20 and April 28.
The drop between April 20 and April 28 saw NSE investors' paper wealth shrink by Sh111.16 billion—one of the largest losses in under seven days—as major stocks including Safaricom and banks shed value.
In total, 25 stocks closed the week with negative returns, meaning that investors who purchased those shares on Monday morning and sold them on Thursday suffered a loss.
Safaricom, which on Thursday accounted for 58 per cent of the entire NSE wealth, has not had the best of times with the share opening this morning at Sh33.70 apiece.
The telco's share has been losing its value every day of trading between April 20 and last Thursday as foreign investors continued to be net sellers.
AIB-AXYS Africa data showed foreign investor net selling at the NSE was Sh34 million on Monday, Sh5 million on Wednesday and Sh3 million on Thursday. The only day of net buying was Tuesday at Sh25 million.
The Safaricom share was trading at Sh35.45 on April 13 but has since declined to Sh33.70, a level last seen 14 months ago when it traded at Sh33.09 on December 14, 2020.
The fall means that the value of the telco's shares on the NSE dipped by Sh70.1 billion in nine trading days to Thursday.
Three counters—Equity, KCB and East African Breweries Limited (EABL)—which alongside Cooperative Bank and Safaricom form the top five stocks that account for over 70 per cent of NSE wealth, have also failed to impress.
KCB's share, for instance, shed Sh5.55 or 12.9 per cent to cost investors Sh17.83 billion during the week.
Equity, which ended a two-year dividend drought, has for instance seen its share drop below Sh50 to close Thursday trading at Sh47.90.
The bank's share dropped by 3.72 per cent, equivalent to Sh6.98 billion during the four-day trading week, as that of EABL dropped by Sh593 million.
Banks and other firms such as EABL have posted strong recoveries in their earnings and increased dividends to shareholders but this has not helped lift share prices.
KCB, Equity, Cooperative Bank, Absa Kenya, Standard Chartered Bank Kenya, NCBA and Stanbic have all announced record profits and dividends, but their shares have hardly changed.