What Uhuru's 12pc pay hike gift means for the low-wage workers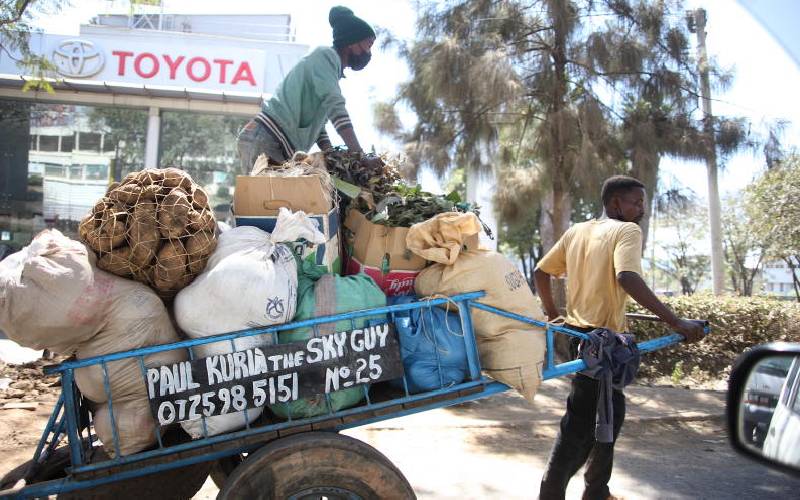 Low paid workers including cleaners, gardeners, watchmen, receptionists and cooks will from this month enjoy a 12 per cent rise in pay after the State reviewed minimum wages for the first time since 2018.
President Uhuru Kenyatta yesterday brightened the faces of the many workers hit by the rising cost of basic commodities by announcing a 12 per cent rise on basic minimum wage despite employers' lobby saying firms were still reeling from Covid-19 disruptions.
Kenya's minimum wage varies by sector and location—covering about 45 separate categories—but all will rise by the same 12 per cent margin.
President Kenyatta's move to raise the minimum wage— the first since 2018 when he announced a five per cent increase—implies an increase in average minimum pay to Sh10,096 in agriculture from the current Sh9,014.
This will see unskilled employees in the agricultural sector take home Sh7,545 from their current Sh6,736 while that of a farm clerk will rise to Sh14,583 from Sh12,152.
General labourers including cleaners, sweepers, gardeners, house servants, day watchmen and messengers in Nairobi, Mombasa and Kisumu will see their minimum pay rise by Sh1,629 from the current Sh13,573 to Sh15,202. A similar group of workers in all former municipalities in Mavoko, Ruiru and Limuru will see their minimum pay rise from Sh12,523 to Sh14,026. Those in all other towns will now earn a monthly minimum pay of Sh8,110 from the current Sh7,241.
Uhuru justified the wage hike by pointing to the surge in the cost of living, with annual inflation averaging between five and six per cent and the fact that there has not been a review in the last three years.
"As a caring government, we find there is a compelling reason to review the minimum wages to cushion workers against further erosion of their purchasing power while also guaranteeing the competitiveness of our economy," said the President.
Workers had gone for three years without any review in minimum pay, with the situation complicated by Covid-19 disruptions on businesses.
In fact, in 2020, workers' real earnings shrunk by 1.5 per cent, meaning their ability to buy goods and services they had afforded in the previous year was weakened. This means the rise in the prices of goods and services such as electricity, fuel, cooking fat, cooking gas, rent, water, charcoal, flour, rice, beef, cabbage, sukuma wiki and sugar has given workers a pay cut.
Heaviest hit
Workers in accommodation and food service activities such as hotels took the heaviest hit in 2020 with their real wages dropping by 9.7 per cent despite all the State interventions such as temporarily lowering Value Added Tax (VAT) and pay as you earn (PAYE). If prices are growing faster than wages, then people are getting inflation-adjusted pay cuts, making their lives difficult.
The State had in 2018 reviewed minimum pay by five per cent compared with 18 per cent in 2017.
There was no review in 2016 after the 12 per cent review in 2015. The late President Mwai Kibaki's administration had delivered a 13 per cent review in 2012 and 14 per cent in 2013, followed by a freeze in 2014.
The Central Organisation of Trade Unions (Cotu) had asked for a 23 per cent hike but the Federation of Kenyan Employers earlier warned of the potential negative impact on job creation and inflation as firms battle to turn the corner on the pandemic.
The rise in minimum wage will also see the pay of workers such as stone cutters turn boys, waiters and junior clerks rise from a range of Sh11,603 and Sh15,384 to Sh12,996 and Sh17,230, respectively.
A telephone operator, receptionist and storekeeper in Nairobi, Mombasa and Kisumu will see their minimum pay rise from Sh20,905 to Sh23,417.
But it may be bad news for tailors and drivers of medium-sized vehicles in Nairobi, Mombasa and Kisumu since their minimum pay will rise from Sh23,039 to Sh25,805, ushering them into the hands of PAYE.
Kenya Revenue Authority taxes 10 per cent of income up to Sh24,000 but gives a relief of Sh2,400 meaning those earning Sh24,000 do not pay PAYE. So an increment that sends their money above Sh24,000 simply puts their additional money to the next tax band of 25 per cent. A similar fate will face grade II artisans in the three cities as their minimum pay rises from Sh23,040 to Sh25,805.
Generally, the minimum wage rise offers potential benefits including boosting the income of lower-earning households, thereby supporting consumer demand provided employment growth remains in positive territory.
But the minimum wage hike, although not affecting all workers, risks another year of sluggish job creation especially since employers had warned that firms are still grappling with the Covid-19 disruptions.