Our lives have deteriorated, say 74pc of Kenyans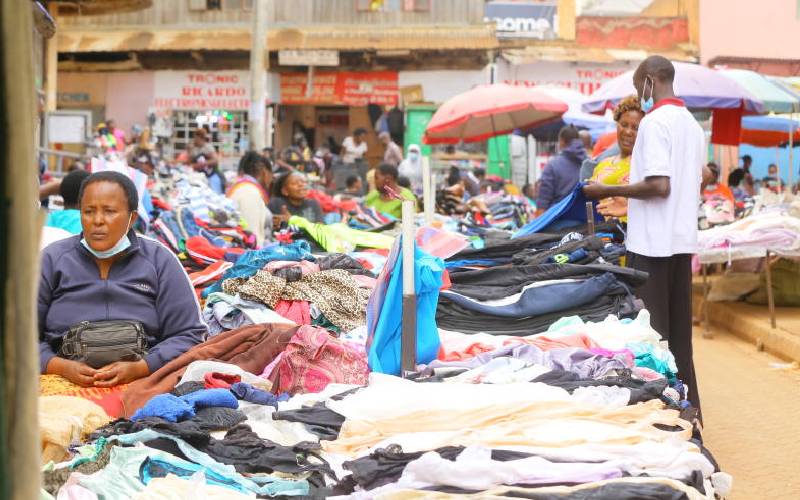 The majority of Kenyans' financial well-being has weakened, with only 17.1 per cent of households being able to meet daily their needs, cope with shocks such as sickness and invest in future goals.
A Central Bank of Kenya (CBK) survey released yesterday in conjunction with Financial Sector Deepening (FSD) Kenya and Kenya National Bureau of Statistics (KNBS) also showed the livelihoods of 73.6 per cent of households have worsened this year compared to 2019.
"The main drivers of the deterioration were the inability to cope with shocks and challenges in managing their day-to-day needs," said the 2021 FinAccess Household Survey.
"Further analysis shows that 73.6 per cent noted that their lives had worsened in 2021 compared to 51 per cent in 2019, supporting their argument about the adverse effects of the Covid-19 pandemic on the socio-economic well-being of households."
The survey, which comes amid the continued Covid-19 disruptions such as job losses, pay cuts and business closures, showed the top priority for respondents during the 12 months leading up to the survey was putting food on the table.
It ranked higher than investing in education which was the highest priority two years ago.
The findings could mean that Kenyans are yet to weather the Covid-19 storm that claimed 737,500 jobs last year and failed to return their pre-pandemic economic status despite the relaxed measures on lockdowns and curfews.
The economic situation saw more than half of the households skip meals, forgo medical care and accumulate school fees arrears.
Some 43.3 per cent of households said they tapped into their savings for survival, 40.6 per cent cut the non-food budget, 38.9 per cent cut food spending, 22.1 per cent sold assets while 29.6 per cent turned to debts.
According to the survey, the proportion of the population which reported going without food sometimes or often rose from 33.3 per cent in 2019 to 53.5 per cent this year, with 12.3 per cent saying they went without food "most often".
The survey results showed the top priority for respondents during the 12 months leading up to the survey was putting food on the table, ranking higher than investing in education which was the highest reported priority two years ago.
About 54.2 per cent said they had to forgo buying medicine or visiting a hospital compared to 35.7 per cent that was in this category two years ago. In addition, 54.3 per cent of children were reportedly sent home for lack of school fees, which the report said will have a significant social impact on their well-being.
The study showed about 17 per cent of children missed school due to a lack of school fees, with 4.6 per cent not returning to school - an indictment on the Jubilee admiration's promise that all children would be kept in school.
The deteriorated financial status saw households saddled in debt at a faster pace than the rate at which they were accumulating savings.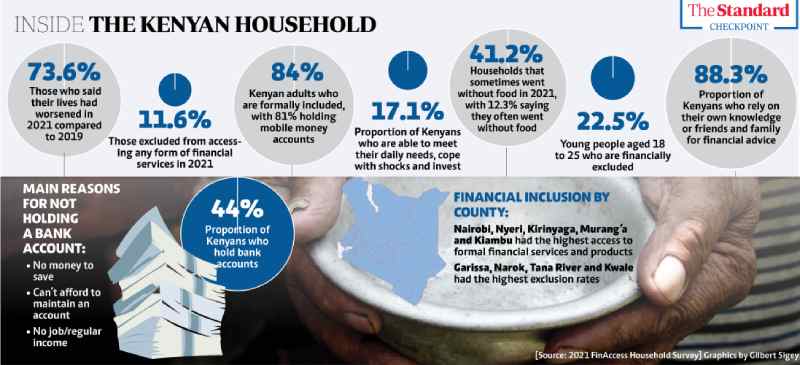 Despite the report showing that Kenya's financial inclusion — a measure of the population that has access to financial services — hitting 83.7 per cent from 82.9 per cent two years ago, the use of formal solutions such as loans in meeting financial needs declined by half.
Instead, usage of chamas, borrowing from friends and family and taking goods from the shopkeeper on credit rose, highlighting the role of social networks in financial inclusion.
About 42.3 per cent of Kenyan households said their savings pace was being hurt by lack of regular income while another 38.3 per cent said they had no sufficient money to save.
The few Kenyans who kept up with savings said their main goals were to accumulate some money to guarantee them day-to-day needs.