Cash-minting tech juggernaut: The rise and rise of M-Pesa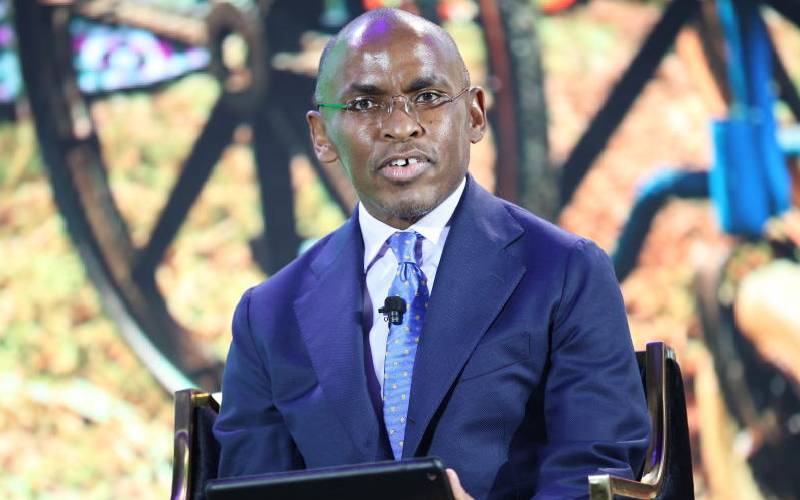 One of the biggest fears by motorists in Nairobi is that of M-Pesa services being disrupted while they are at a petrol station, waiting to fuel their cars.
With many of them not carrying cash, they might end up spending the night in long queues that stretch from the petrol station to the main road, waiting for the resumption of M-Pesa, a disruptive mobile money service owned by Safaricom.
M-Pesa is quickly turning into the lifeblood of Kenya's economy, with a wide range of transactions - from paying for a visa to South Africa to buying pampers for the baby - relying on the service.
The latest financial data released by Safaricom shows that the value of transactions on M-Pesa grew by 51.5 per cent to Sh13.7 trillion in the six months to September 2021.
This is about 13 per cent of Kenya's gross domestic product (GDP), or total output in 2020. The figure will certainly be much bigger at the end of Safaricom's reporting period in March next year.
Safaricom Chief Executive Peter Ndegwa said M-Pesa now accounts for close to two-fifths of the telco's service revenue, accruing from digital financial services to individual and enterprise customers.
"Innovation in digital financial services has been a key growth driver for M-Pesa," said Mr Ndegwa when the listed firm and East and Central Africa's most profitable company released its results on November 10.
Last year, Ndegwa said they were broadening their financial services portfolio, "evolving M-Pesa into a broader financial platform that becomes a lifestyle choice, especially for our SMEs (small and medium enterprises) and MSMEs (micro-small and medium enterprises) with products around wealth management, savings, insurance and credit products among other propositions."
As a result of these innovations, M-Pesa has overtaken voice as Safaricom's largest revenue earner, contributing close to 40 per cent of the service revenue.
Contribution by voice, once Safaricom's major earner, was at 34.2 per cent of the service revenue.
One of the biggest M-Pesa innovations has been around payments and betting, where the value of transactions increased by 74.1 per cent in the six months to September to Sh4.4 trillion.
In the same period last year, the value of payments and betting was Sh2.54 trillion.
The biggest jump in the M-Pesa ecosystem's payments channels was recorded on the customer to business (C2B) segment, which grew by 85 per cent to Sh2.13 trillion due to waiver of fees on transactions between the bank and mobile wallets.
Business to customer (B2C) also increased by 68.3 per cent to Sh1.51 trillion during the period under review.
Lipa Na M-Pesa, a payment platform that has enabled consumers to pay for almost everything using the mobile phone, increased by 61.3 per cent to Sh653.2 billion.
Ndegwa said Safaricom's earnings before interest and tax are projected to be in the range of between Sh97 billion and Sh100 billion by end of March next year, boosted by transactions on M-Pesa.
"We continue leveraging on technological innovation to enhance access to financial services for consumers and enterprise customers," said the CEO, whose objective is to make Safaricom more agile as it transitions from a telecommunication firm to a technology company.
More specifically, Safaricom is trying to find the nexus between finance and technology, with the telco spreading its tentacles into investment, insurance, healthcare and banking, among other services.
Kunal Ajmera, the chief operating officer and International Business Centre director for Eastern Africa at accountancy consultants Grant Thornton Kenya, said this was the direction being taken by other large companies around the world.
He gave the example of Chinese mobile money platforms. "Companies such as Tencent and WeChat, they were so much integrated that they are indispensable nowadays," said Mr Ajmera.
"Safaricom, as much they have pretty much captured the payment side, can do so much more given their dominant position."
It might be purely due to its ingenuity, strict regulations or both, but M-Pesa has grown beyond anyone's expectations.
Today, Safaricom is transforming into a global financial giant, with M-Pesa at the heart of the telco's next chapter.
Safaricom's new strategy, according to Ndegwa, will see the telco spread its tentacles into multiple areas besides telecommunications and finance. The company has already tapped into health, education, e-commerce and agriculture.
As for banks that had initially placed barriers on its ascendancy, Safaricom has the option of either going for the jugular or building bridges with them.
On its journey to becoming a financial services provider, M-Pesa has moved beyond being simply a platform to send and receive money that left banks shaking in their boots over a decade ago.
As a payments solutions provider, Safaricom has added Lipa Na M-Pesa, which enables merchants to get paid via M-Pesa that is turning into a major driver of the country's cashless economy.
Already, Safaricom has leveraged its 28.7 million customers on M-Pesa to offer lending and savings services through M-Shwari and KCB M-Pesa.
It has also unveiled an overdraft facility, Fuliza, that allows M-Pesa users to spend more than the amount in their mobile wallets.
Borrowings from Fuliza rose to Sh1.34 billion daily in the six months to September this year, as economic hardships pushed 700,000 new users to the overdraft service.
The telco disclosed in its financial results that the value of disbursements via Fuliza hit Sh242.6 billion in the six months, up from Sh149.4 billion that had been disbursed in a similar period last year.
It has also set its sights on wealth management and insurance, financial services with low penetration. The firm has been testing a new collective investment scheme that will see M-Pesa subscribers invest in stocks, fixed bank deposits and government securities.
It already has M-Akiba, a partnership between it, the National Treasury and the Nairobi Securities Exchange that allows Kenyans to buy government debt starting from as low as Sh3,000.
Although its low-cost health insurance plan with Britam collapsed, the telco has since come up with a new one dubbed Home Insurance Plan.
For Sh250 a month, M-Pesa subscribers can insure household goods such as furniture, clothing, cutlery and electronics valued at up to Sh250,000.
As part of becoming a financial services provider, Safaricom earlier this year also unveiled a 'super app', which provides SMEs with the capability to create their business apps within the M-Pesa mobile money ecosystem.
This gives SMEs access to Safaricom's 25 million mobile money customers.
Early last year when the Kenya National Bureau of Statistics (KNBS) reviewed the basket of goods and services used to compile the Consumer Price Index (CPI) – also known as the cost of living index – among the new additions was mobile money transfer.
Cash is still king in Kenya, but as the country increasingly embraces a cashless economy, mobile money is being seen as a critical cog in turning the wheels in this new business environment.
Banks are not being left behind. While most have merged with Safaricom's M-Pesa in one form or another, others like Equity Bank are looking to go it alone.
Equity has a customer base of more than 10 million and decided to hunt for more clients through mobile financial services, unveiling Equitel.
Equitel is a SIM card that can be used to make calls, payments and transfer and receive money through the mobile service EazzyPay.
Most banks, however, have decided to get into mobile finance services by working with M-Pesa.
KCB, the country's largest bank by asset size, has a savings and lending platform with Safaricom, and another loans service through its mobile app.
CBA (now NCBA), the third-largest bank by assets, was the first to team up with Safaricom through M-Shwari. The partnership helped shore up NCBA's customer numbers as a lot of M-Pesa customers opened loan and deposit accounts with the lender.
Today, there is virtually no bank without a mobile banking wing. If anything, most of them have ferociously been migrating their services from brick-and-mortar branches into digital platforms.
The potential results of this can be gleaned from the net effect Fuliza has had on KCB M-Pesa and M-Shwari.
While Fuliza disbursements grew by more than a third in the half-year to September, the value of loans through KCB M-Pesa contracted by 60 per cent and on M-Shwari by 14 per cent.
NCBA has also moved all loans of less than Sh2,000 to Fuliza, aimed at discouraging people from taking loans for consumption.
Safaricom is also awaiting regulatory approval from the Central Bank of Kenya (CBK) to launch its investment platform, Mali.
It will allow subscribers to invest in unit trusts from as little as Sh100 with interest of up to 10 per cent annually.
The combination of Mali, Fuliza and the revamped M-Pesa business app means both individual users and those running SME accounts on Safaricom will have little incentive to leave the telco's digital finance ecosystem for commercial banks.
The deep foray into financial services, where the firm already controls substantial aspects, could rekindle the debate on whether the firm is too big to the disadvantage of other industry players, consumers and even new entrants into the sector.
This comes at a time when Safaricom's competitors, led by Airtel Kenya, have re-ignited the debate on the telco's dominance that has made it difficult for other players to compete in the market.
In the past, critics have argued that Safaricom needed to be split; for instance, hiving-off M-Pesa to form a new entity.
Safaricom's lead in mobile money is bigger compared to that of voice with the telco having close to 30 million mobile money subscribers out of a registered 30.52 million.
Airtel Money has 310,359 subscribers, while Telkom Kenya's T-Kash had about 14,000 users.
The dominance debate was anchored on a report from UK consulting firm Analysys Mason, which recommended increased regulation on ICT sector players that, because of their size, could be stifling competition and barring the entry of new players.
The report has in the past drawn emotional arguments from different players. Some industry players say it will level the playing field while others, including ICT and Youth Affairs Minister Joe Mucheru, opposed it arguing that it would be akin to punishing success.