Nile perch: Lake Victoria's golden fish that breeds regional conflict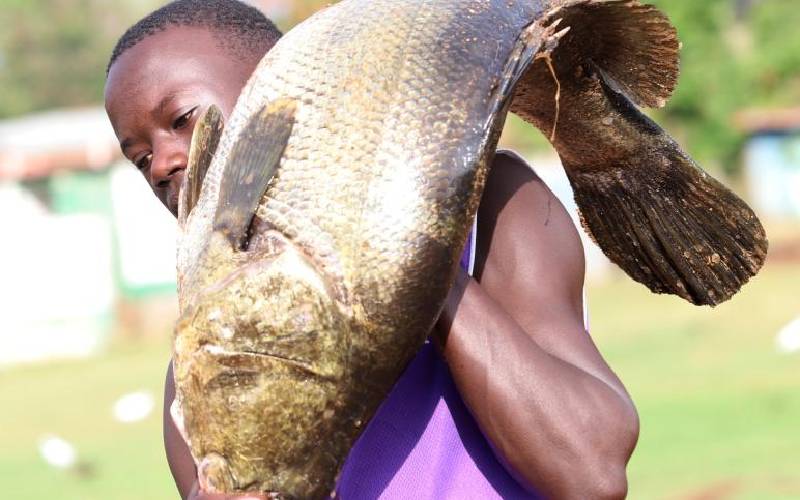 It's 11:00 am at Nambo Beach and Fredrick Otieno, a Nile perch fish broker is busy running errands since some three boats have just landed. Some customers have come to sell him fish maws (locally known as mondo).
He buys any quantity ranging from 100 grams. As he transacts his business, he receives orders for different quantities of fish maws. It takes three hours before we finally get Otieno's attention.
A thriving east African trade in the swim bladder has taken hold of the local communities on the shores of Lake Victoria. It is threatening to make the Nile Perch locally extinct. The fish is a major export to European Union owing to its immense nutritional value and benefits.
But for Otieno, he is in this business to stay. "I have been in this business for the last 15 years and I have no plans of leaving it," he says.
Unlike Otieno who has to purchase directly from fishermen, Peter Oduor, a long-time fisherman tells The Standard that they always follow Nile perch stocks on its seasonal movements.
"Nile perch usually moves into deeper and colder waters during the dry seasons," says Oduor, adding that there is a belief that the 'golden' lucrative fish breeds mainly in Kenyan waters and disperse into open waters towards Uganda and Tanzania at the end of the breeding season.
According to fisheries experts, the Nile perch feeds day and night in areas that have a depth of between 20 and 60 metres.
Dr Christopher Aura, Assistant Director of Freshwater Systems Research at the Kenya Marine and Fisheries Research Institute (KMFRI), Kisumu Centre says since its introduction in Lake Victoria in the 1950s, Nile perch has become one of the most valuable commercial species of East Africa's inland fisheries.
"This fish species migrate to the deeper parts of the lake, especially around the islands where there's plenty of food," explains Aura.
It is for this reason that Kennedy Oluoch; a fisherman at Uhanya Beach says they always target high production areas of Nile perch.
Oluoch, who is aware of the decline in the lake's fish stocks, says that they are left with no option but to venture far deeper into the lake looking for this breed of fish.
"This will require that you get a speed boat for this mission, otherwise ordinary boats will take up to ten hours," he says. He observes that 20 years ago, they would harvest at least 700kg of Nile perch per day but the figures have since plummeted.
With the recent death of Nile perch in Lake Victoria, Oluoch says that they can now only manage a meagre 50kg of perch per day. A kilo of Nile perch goes for between Sh150 and Sh400 depending on the availability of the fish.
Aura explains that since the Nile perch is a sight predator, clear waters are paramount for its survival.
The invasion of the lake by hyacinth has not only muddied the waters, limiting the perch's ability to hunt but is competing for oxygen with the perch, which is an apex predator that requires a lot of it.
For Julius Odembo, going deeper into the lake has its risks. This is where the Kenyan fishermen and their Ugandan counterparts come into contact ­­– and conflict breeds over rights to the perch.
Last month, at least 18 Kenya fishermen arrested by the Ugandan government were released from Sigulu island in Uganda. They had been detained in Uganda after they were accused of fishing in Ugandan waters.
James Onyango, one of the fishermen who was arrested requested the Kenyan government to provide security for Kenyan fishermen in the lake. "Our people need security. We pay taxes to the Government and we don't know why we are suffering when the government is silent on these issues," said Onyango.
This week, a 28-year-old fisherman was shot dead by security officials from Lolwe Island in Uganda.
Arafat Nguka alias Major's body was dumped in Lake Victoria. Mbita Sub-county Police Commander Stanley Atavachi said the incident occurred in Ugandan waters.