Will Munya's reformist policies turn around farmers' fortunes?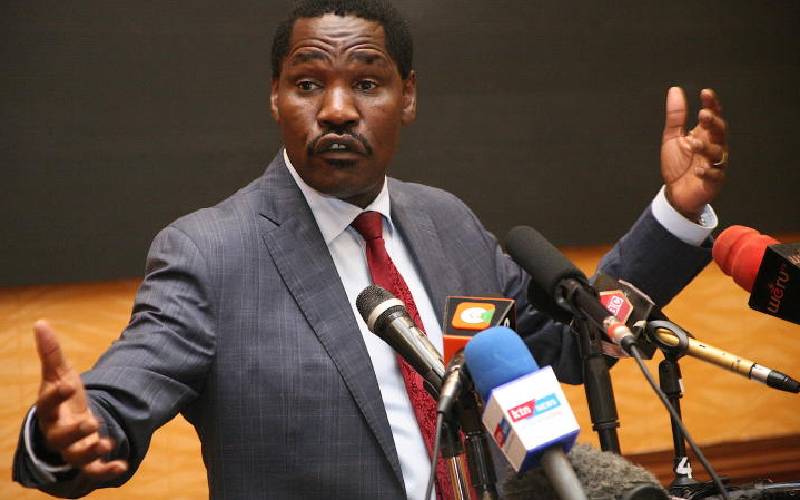 The Cabinet Secretary for Agriculture Peter Munya lives and fights as a learned friend and is always looking for something to reform.
With his signature moustache and bulldozing spirit, the son of Muthaara village, Meru County has been a thorn in the flesh of many.
In the Agriculture Ministry, in three years, he has successfully managed to set minimum prices for green tea, raw milk, Irish potatoes, sugarcane and now wheat.
With the backing of farmers, he has silenced the noisy stakeholders that were setting prices in the market.
In April this year, he was out to sweeten the lives of sugarcane farmers by setting set the minimum price at Sh4,040 per tonne from Sh3,700. However, some millers have resisted the change.
Munya directed millers to adhere to the new prices.
"Any cases of non-compliance will attract a fine of not less than Sh50,0000 or one-year imprisonment as per Section 37 of the Crops Act, 2013," said Munya.
The increase in the minimum price of raw sugar had stagnated at 3,700 with farmers reportedly switching from cane to maize due to poor prices.
So bad was the situation that Kenya produced 440,935 tonnes of sugar in 2019. That was 37 per cent lower than what was produced in 2020 when the jump in sugar cane production reached 603,788 tonnes. However, most growers still have cane rotting in their farms.
Sugar deficit
In December 2020, Agricultural and Food Authority (AFA) projected the production of 660,000 tonnes this year.
True to this, the first two months of 2021 recorded 119,552 tonnes.
However, Munya will have to do more to plug the country's sugar deficit. Last year alone, 442,393 tonnes of sugar was imported which included 140,123 tonnes of industrial sugar.
The Common Market for Eastern and Southern Africa (Comesa) countries supplied 343,087 tonnes —78 per cent of the total imports in that period.
CS Munya also invaded the dairy sector and in March this year and fixed the minimum price of raw milk at Sh33 per litre from the Sh19. Buyers pay a farm gate price of Sh35 per litre of chilled milk and Sh37 for a litre of pasteurised milk.
During dry seasons, farmers get as much as Sh40 per litre.
According to the 2020 Economic Survey, the price of half a litre of milk has been rising from 2015 when it was Sh52.68. In 2016, it went to Sh53.51, in 2017 it was Sh59.60 and then rose to Sh60.59 in 2018. In 2019, it fell to Sh56.26.
Milk production stands at 5.2 billion litres as recorded by the Kenya Dairy Board in August 2020, while household consumption of milk stands at 1.8 billion litres annually.
This week Munya, turned to the wheat sector with his price control gospel. He announced that wheat farmers will sell their produce at Sh3,750 from a previous price of Sh3,250 while grade two will retail at 3,650.
Lower grades will be sold at an agreed price between the buyer and the seller. The CS exuded confidence that the price control will benefit everyone in the value chain.
Interestingly, wheat farmers have over the years have been selling their produce at between Sh3,600 and Sh4,000 for a 90kg bag.
While the ministry believes the move will increase local production, farmers produce a paltry 1.8 million bags leaving the country to import over 25 million bags to plug the deficit.
But what has caused uproar in Munya's price gospel is the country's top foreign exchange earner, tea.
Tea, under the Kenya Tea Development Agency, was set to retail at a minimum Sh183 after a poor streak of prices at the Mombasa auction.
A day later, reports emerged that traders decided not to buy tea from KTDA citing the minimum price set by the State. Munya remained unbowed, reminding traders that the government has enough warehouses to store the produce.
Last Monday, Munya surprisingly announced plans to set prices for independent tea producers. Collins Cheruyiot, the chair of Independent Tea Producers of Kenya urged the State to involve stakeholders.
According to the 2020 Economic Survey, Kenya exported tea worth Sh113.5 billion in 2019.
But agricultural experts have warned that price control measures by Munya are unsustainable and will hurt both the farmers and the consumers.
"Investors are looking at how stable a government policy is. This protects them from shocks in the market, and this price changes now and then is not a good sign," said Dr Timothy Njagi, a research fellow at Tegemeo Institute, a policy think-tank.
While Munya believes setting the minimum price is an easier way of eliminating middlemen in the value chain, Njagi says price controls are only used as an intervention when there is a shock in the market, noting that farmers' and consumers' interests are best protected in a liberal market.