Women fund to disburse Sh9.6 billion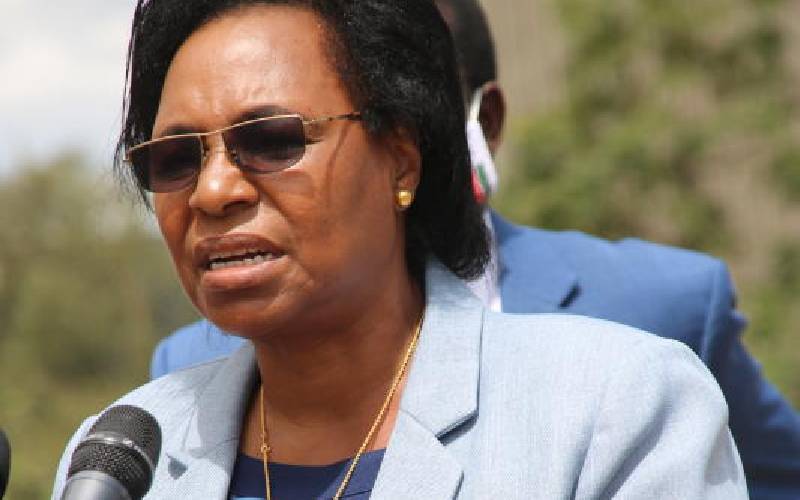 The Women Enterprise Fund (WEF) has unveiled new products among them Thamini loans as it seeks to increase disbursement by Sh3.7 billion.
The fund, under the Ministry of Public Service, Youth and Gender Affairs, purposes to disburse Sh9.34 billion between 2021 and 2024 in its latest strategic plan.
The fund disbursed Sh5.66 billion between 2019 and 2021 to 248,211 beneficiaries. In the strategic plan unveiled yesterday, some 551,789 beneficiaries are targeted.
Thamini, a new loan product targeting widows is one of the platforms that will be used to achieve these figures.
The product, as unveiled by Cabinet Secretary Ministry of Public Service, Youth and Gender Affairs Prof Margaret Kobia, has been informed by the challenges this population goes through.
She urged the fund to break down different populations and have tailor-made interventions. "Each one of us knows a widow, and we know their plight and you can also remember the difference between an economically empowered widow and a poor widow. Poverty wears out a woman's face," she said.
"Those widows who are economically empowered, have a voice so their suffering is not like those who do not have that opportunity."
The Thamini loan will be issued interest-free in flexible repayment terms of between 15 and 30 months. Beneficiaries will also need no collateral and their loans will not be subjected to administrative fees.
The CS was speaking during the launch of the WEF 2021 Strategic Plan in Nairobi, aimed at accelerating women entrepreneurship.
"The initiative premised on the conviction that if you lift women from the poverty they will improve the quality of life for both men and women," she said.
"If you lift women from poverty, they will, in turn, lift the rest. Women make up about 50 per cent of our population and we only have one enemy, poverty."
WEF board chair Njoki Kahiga said the fund has unveiled Kilimo loans and business loans for small and medium enterprises to increase uptake. "We realised almost most of our women engage in agriculture either in a big or small way," she said.
There is also an asset financing product where the fund will purchase items for business for beneficiaries.
The fund also seeks to train more women in entrepreneurship - from 287,340 to 412,660 that will see the number of new enterprises created by women through the fund increase from 111,695 to to 196,979.