KenGen to pay Sh2b dividend as pre-tax profit grows 8.3 per cent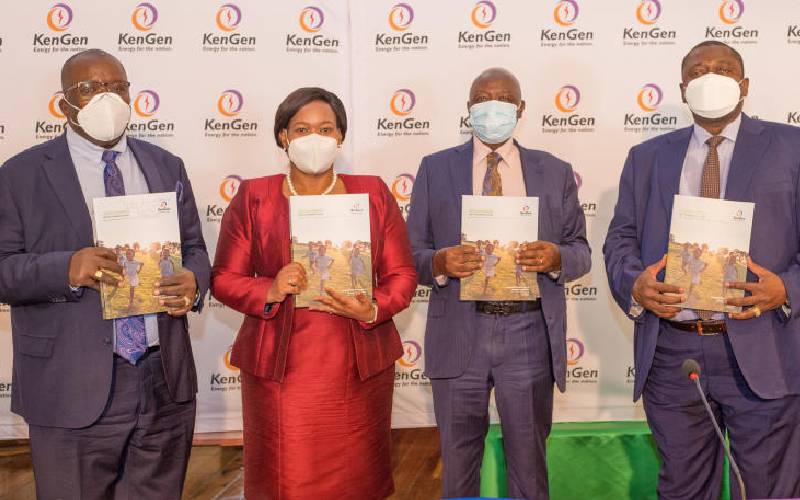 Shareholders of energy producer KenGen will from next week start receiving their Sh1.98 billion dividends for the year ended June 2020.
This is the highest dividend payout by the firm so far after shareholders were paid Sh1.65 billion in 2019. The payment is at Sh0.30 per ordinary share.
KenGen announced Sh13.9 billion profit before tax for the financial year, representing an 8.3 per cent growth from the previous year when it made Sh11.6 billion.
Speaking during the company's annual general meeting on Thursday, KenGen Managing Director Rebecca Miano said the firm's capacity expansion and diversification agenda had contributed to the results and growth achieved during the year.
"The progress we have been able to make as an institution has mainly been driven by deliberate strategic decisions, taking into account the prevailing operating environment, business sustainability, trends and market needs," she said.
Ms Miano pointed out that under the corporate strategy, KenGen had expanded its revenue sources and international footprint.
"It is under this strategy that we now have ongoing contracts to drill geothermal wells in Ethiopia and Djibouti, and also provide geothermal consultancy services in Kenya," she said.
"We are happy this direction we have taken is paying off and are determined to continue with it so that we can provide more value to you, our shareholders."
Corporate strategy
The MD also highlighted the achievements attained during the period, adding that the company envisioned to add another 83.3 megawatts to the national grid by the end of this year following the completion of Olkaria 1 Unit 6 geothermal power plant.
She added that the company would focus on delivering ongoing projects and pursuing new ones in Kenya and beyond.
The company's profit after tax improved from Sh7.88 billion to Sh18.4 billion, an increase that the company attributed to a Sh8.1 billion reduction in corporate tax following the government's reduction of the rate from 30 per cent to 25 per cent to help companies navigate through the Covid-19 crisis.
KenGen board chair Samson Mwathethe said the company was pleased to have delivered positive results amidst a challenging business environment.
He said they would continue implementing the corporate strategy to ensure sustainable electricity supply in the country, while leveraging on innovation and partnerships for business growth and diversification.
KenGen last year indicated they were planning to sell power directly to customers as soon as the related regulations are finalised, which would give competition to the country's sole electricity distributor, Kenya Power.
The Ministry of Energy has completed drafting the regulations to bring to fore the operation of the Energy Act that was signed into law by President Uhuru Kenyatta in March 2019.
The Act allows other firms to apply for retail licences to sell electricity.
KenGen, which contributes over 70 per cent of electric supply to Kenya Power, has been keen to target large-scale consumers.
The move would complicate the relationship between the two firms. Kenya Power owes KenGen about Sh24 billion for supplied energy.
Energy Principal Secretary Joseph Njoroge said the government was working with the National Treasury on strengthening Kenya Power together to ensure it meets its obligations.
"We will have the firm eventually pay its debt," he said.
Jacob Ngetich