Shylocks almost ruined my company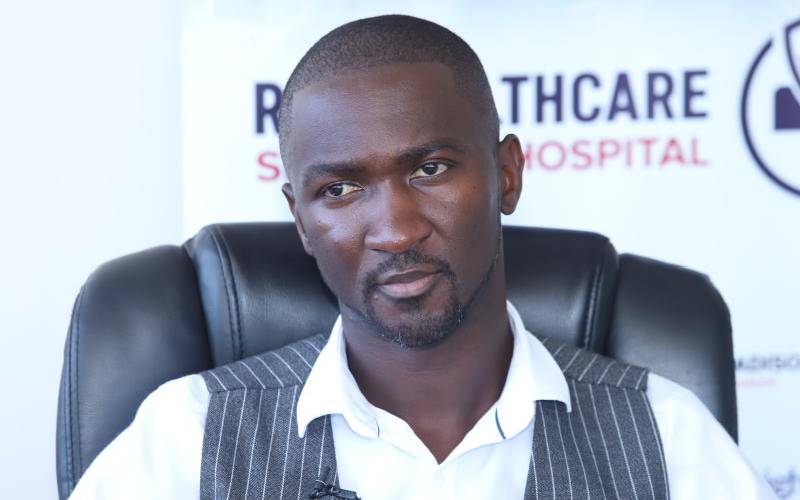 Nine years ago, an intern at a Kiambu hospital started thinking of going out on his own. He didn't see why he shouldn't. He could barely afford rent on his job anyway. It also wasn't his first rodeo. As a medical student at The University of Nairobi, he would buy flash disks from Nairobi's River Road and resell to classmates. "On Valentine's Day, I sold flowers. And for boys too shy to deliver them to their girlfriends, I offered delivery services," he laughs.
At 34, Dr Maxwel Okoth is the founder and Chief Executive of Ruai Family Hospital (RFH) Group of Hospitals. Seated in his all-white office, through the window one can see the wide expanse of the Ruai neighbourhood. In front of him are collectibles. Among them are two awards, dated 2019; one for the Top 40 Under 40 and another embossed Top Male Entrepreneur Under 35. He has come a long way, but not without the ups and downs that dot the life of an entrepreneur.
"Would you believe me if I told you that 2019 was one of the toughest years of my life? I sunk deep into alcoholism and it almost ruined me. It was a bad year for business, and then the awards came. They gave me a lot of hope," he says.
Interestingly, it was that same year that he started the RFH Specialist Hospital, the level 5 hospital in Ruai, just a few hundred metres away from the older Ruai Family Hospital, level 3, which was his first hospital.
The beginnings
After finishing high school studies at Maseno School, he joined Strathmore for a CPA (Certified Public Accountant) course. He later enrolled for Bachelor of Medicine and Bachelor of Surgery (MBChB) at the University of Nairobi.
After graduating, he worked as an intern at Kiambu District Hospital. He then moved to Nyeri's Provincial General Hospital then Mt Kenya Hospital, Pumwani Maternity Hospital, and Kibera, before starting his own clinic.
It was while he was an intern that the journey to the RFH we know now began.
"I was working at Kiambu as an intern and yet I could not afford to live there. I started running the clinic while still working and the clinic doubled up as my home. Sometimes I used to go for locums at night in Rongai and because going all the way back to Ruai was tough, I slept on a bench in Rongai," he recalls.
But how did he get the funding to start Ruai Family Medical Centre?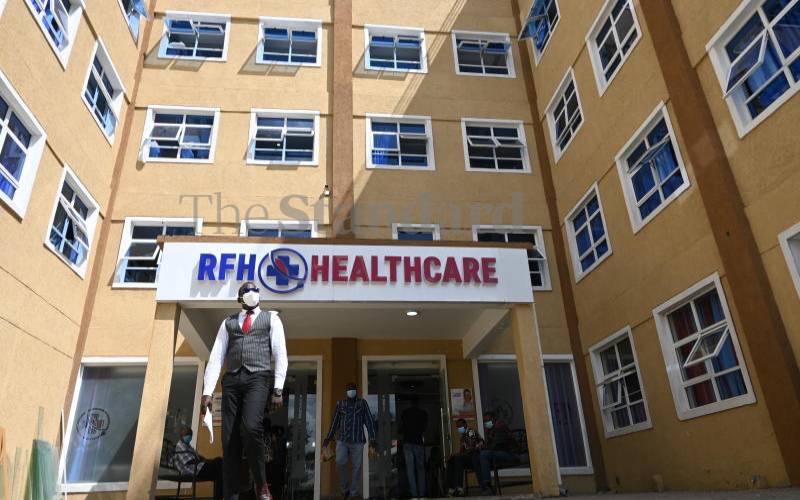 "My mother, who had been laid off work at the time, gave me the seed capital of Sh300,000. I promised her that I was going to pay back as soon as I was on a payroll," Dr Okoth says.
With the Sh300,000, he bought land in Kitengela, and put down deposits and rent for the building in which the clinic was to be located.
The shylock quagmire
He soon ran into financial headwinds, going to the extent of borrowing from shylocks. "I took a loan of Sh300,000 from shylocks and ended paying up to Sh1.3 million."
It was a defining moment for him, he says.
"I would not advise anyone to go down that road," he says. "But at the end, you have to assess the risk and compare it with the benefit you stand to get. If the benefits outweigh the risks, then go for the loan."
With access to credit from regulated lenders difficult in the country, Dr Okoth says that the temptation to go to shylocks is huge.
"If you are certain you will make enough to pay back in time, you can take the risk. These shylock loans are short term, and you need to know that. The interests grow exponentially and I think only a remarkably sustainable business will be in a position to pay back in time to avoid accruing exorbitant interest rates which can crush many. I am lucky I survived this. Because most businesses, and most people, get flattened by this."
Alongside ploughing back his salary into the business, he also secured a Sh1.8 million funding from the Youth Fund.
"That helped a lot. Even my supportive wife took loans for the business. It wasn't till a few years into business that we finally broke even."
I am curious to know why he needed this much financing.
"Sometimes, insurers will take such a long time to pay for the services their client has been offered. Before then, we have to process overdrafts, and borrow widely, to cater for the expenses. Such delays hurt hospitals' finances and performance," he says.
But amid the daily difficulties, there are some small daily wins.
"A referral is probably the most important form of endorsement we can ever get. This means that the services you are offering are appreciated. And this seemingly small thing makes me happy" he says.
Today, RFH boasts of five branches, the 100-bed level 5 Specialist Hospital, the 50-bed Ruai Family Home in Ruai, a 10-bed hospital in Tala, and outpatient hospitals in Embakasi and Jacaranda in Kahawa West. A 10-bed hospital is coming up in Ruaka.
Running a big operation has kept him on the administrative side of the business.
"I haven't practised medicine in two years, and this job requires business smarts, and that is why, when the business began gaining ground, I enrolled for a business course at Harvard."
The business employs over 300 people directly and indirectly. And if all goes according to plan, he hopes to expand RFH all over Africa."
Even at 34, he is thinking hard about moving on to the next thing.
"I need to figure out my transition. We need to bring people who can now take the business to another level. Good leaders know when to leave," he says.