Jitters as 'outgoing' KTDA directors shop for a Sh1.7 billion loan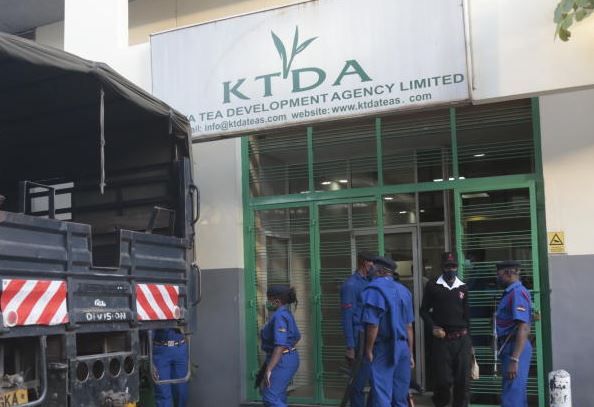 Embattled directors of the Kenya Tea Development Agency (KTDA) may have one last business to execute before their exit.
That last act is taking a loan of up to Sh1.7 billion from two commercial banks.
The news that the 'outgoing' directors of KTDA are shopping for a credit facility is said to have raised fears amid the pending directorship changes at the entity.
Sources in the banking sector told Weekend in Business that, unlike other times, the management of KTDA had not specified where these funds will be used.
KTDA through one of their officials, who, however, spoke on condition of anonymity, dismissed these fears, insisting that business has to continue even as elections go on.
"The fact is that business has to continue at any given time. In any case, there is a Court order barring the elections. So whatever elections are happening, they are in contravention of the court orders that exist," said the source.
He, however, could not reveal the exact amount being borrowed nor the projects that will be funded using the loan.
A source in one of the banks that had been approached to give the facility said that KTDA had been shopping for the loan from at least four banks, with some of the lenders turning down their request for fear of a backlash should management change.
"The timing is a bit curious because elections are going on. We are responsible bankers ourselves. We demand to see projects.
"We will demand to see where they are taking the money, although they have the ability to borrow, we still demand basic prudence," said the source.
By end of June 2020, KTDA's outstanding loans were Sh5.64 billion, an increase from Sh4.45 billion in the previous financial year.
A good chunk of the cash is short-term financing that the authority guarantees its subsidiaries. And while KTDA regularly takes loans to finance various projects such as buying fertiliser, the timing of the current loan is suspect, given that it is being taken during a transition period.
Cabinet Secretary for Agriculture Peter Munya, said he was not aware of the loan. "I am not aware but I would not be surprised. Impunity is their other name," he said.
Some lenders are afraid that giving the loan may come to haunt them should a new team come in. "Because you understand the context of the whole situation about transition happening… you can't ignore that and somebody comes to borrow Sh1.7 billion," said the source.
KTDA insisted there is nothing wrong with taking loans. "We take a lot of short-term loans to finance a lot of things. Like the fertiliser that we are supplying to farmers. We normally get financing for it. For us, getting loans is not news."
On Friday, police officers raided KTDA offices in Nairobi with what they said was an order from a Magistrate's Court.
"The officers have held KTDA staff and barricaded them on the respective floors. The building's entry and exits have been blocked denying employees their constitutional freedoms," said KTDA in a statement sent to newsrooms.
It all started early last year when President Uhuru Kenyatta directed the Ministry of Agriculture to institute changes in the governance of KTDA, following an outcry from tea farmers that they were being short-changed.
In his address to the nation last year, President Kenyatta decried the low tea prices, delayed payments, low initial payment by KTDA and fluctuations in net income of tea farmers.
He said the operational and governance challenges at KTDA had denied tea farmers maximum returns on their produce.
He cited conflict of interest by directors and lack of clarity in the declaration of dividends by subsidiary companies as some of the major challenges.
"Empirical evidence abounds; as a result of poor corporate governance, farmers who would be earning about Sh91 per kilo for their tea, are currently earning about Sh41 with Sh50 per kilo going to brokers and middlemen," said President Kenyatta.
"It is clear the governance of KTDA and entire marketing of tea will require to be restructured if we are to assure our tea farmers get more revenue from their tea sales."
On March 12, 2020, the Uhuru issued an Executive Order directing the Tea Board of Kenya to conduct elections in all KTDA tea factories within 60 days. But KTDA bosses moved to court and obtained an injunction stopping the polls.