Where Kenya's billionaire politicians put their money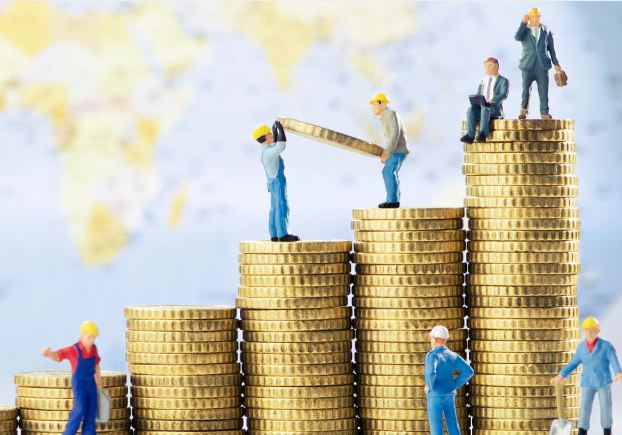 Billionaires have some common factors: wealth, prestige, fame and power.
They also have some common traits including taking business risks, but their journeys to their fortunes are very different.
There are those who are self-made billionaires, who move up from humble beginnings, and those who were born into wealth held by families from one generation to another. There are also those who gamble their way up.
In Kenya, some of those who have made it to wealth have a shared story -- the government. Wealth, politics and power go hand-in-hand in the country.
Their investment taste is also strikingly similar, with land being the most valuable asset and which the super-wealthy mostly pass on to their descendants.
And by association, agricultural enterprises, especially large-scale farming of tea and milk, and real estate also feature among lucrative investments.
Presumably, the striking interest in land is out of a combination of benefits in soil, including occupying, cultivating, selling, developing, renting out and benefiting from increased property value, which often is driven by infrastructure development.
Banks also prefer land and property as security for loans.
Our analysis of Wills and the wealth revealed in succession cases of former politicians, businessmen and bureaucrats indicates that other than land, Kenya is largely run by the service industry and agriculture.
Few of the billionaires we traced had large investments in blue chip companies and manufacturing industries by the time they died.
From Kenya's founding politicians whose cases have been in court and in public domain, the story is the same - land and more land.
Vice President Jaramogi Oginga Odinga, for instance, had at least 156 acres at North Sakwa, Siaya, bought in 1973. This was his only listed asset, which was shared by his family.
Oginga died in 1994.
Former Cabinet minister Mbiyu Koinange was worth Sh14 billion, and his wealth was mostly massive land holdings around the country.
The Jomo Kenyatta-era minister had at least 1,000 acres that traversed Kiambu County and was estimated to have been worth Sh8 billion. He also had a commercial plot within Nairobi central business district.
MAIN INTERESTS
The undeveloped plot, next to Reinsurance Plaza, was estimated to be worth Sh2 billion. He had other properties in Nairobi with value estimated at Sh2.4 billion.
In total, Koinange had at least 32 prime pieces of land, including one in Nakuru, which is estimated to be worth Sh1 billion.
His interests were also in service, tobacco, dairy and mining industries.
A 40-year family dispute involving Koinange's wealth reveals that he had shares in Ocean View Beach Hotel, British American Tobacco, Magadi Soda and Centum.
Koinange died on September 2, 1981.
Another minister, Njenga Karume, is estimated to have been worth slightly above Sh40 billion.
His empire revolves around the 508-acre Cianda farm in Kiambu, and another one named Lynton Farm, which is 27 acres.
Unlike Mbiyu and Jaramogi, he had sizeable holdings in the industrial sector. He had invested in transport through Kiambu Transport Agency Ltd and tea processing through Ngorongo Tea Factory.
At the time he died aged 83, Karume also had an investment vehicle, Karume Investments, service firm Kabete Distributors, Cianda Estates which managed his farm, and Forest Road Flats Ltd, a real estate company.
He had another agricultural firm, Kigutha Farmers Ltd, and Kenya University Retirement Scheme.
Karume also had investments in the hotel industry, a striking similarity with Koinange.
The former internal security minister owned Jacaranda Group of Hotels, a holding company which runs Lake Elementaita Lodge in Naivasha, Jacaranda Hotel in Nairobi, Pizza Garden, Village Inn, and Jacaranda Indian Ocean Beach Resort at the Coast.
Karume also had shares in Bata shoe company and Kenya Wine Agency Ltd.
Meanwhile, former Heritage minister William Ntimama took a different path. He had properties outside Kenya.
By the time of his death, Ntimama was said to be worth Sh2 billion. This included properties in London, which he left to his wife Dorcas and two daughters, Vivian and Sanaipei.
His Will reveals that his interests were mainly in land and real estate. He had 367 acres on one side of Mara and on the other he had 352 acres.
Ntimama also had some 468 acres in Narok and 887.5 at Olchoro, Mara. His only investment away from land was in Moran Safaris Ltd.
The former Narok MP also owned a building in Narok named Maa Towers.
In his Will, he directed that his wealth should not be sold but passed down from one generation to another.
"I wish to state that all my property in land must not be sold out completely either in part or the whole. My heirs or my beneficiaries should hold onto the properties bequeathed to them in the course of their lives," the Will dated June 12, 2015 read.
The National Land Commission (NLC) says that 80 per cent of Kenyans rely on agriculture, hence the key interest in land amongst politicians and businessmen.
The commission led by lawyer Gershom Otachi is of the view that politicians construe land as wealth and source of control.
"Those in the political class and in business regard land as a source of personal wealth and power. For those in the rural areas, land is not only their sole livelihood, but also the subject of great emotional attachment," NLC writes on its website.
But the tastes of Kenya's billionaires are far different from those in Europe. Majority of Europe's wealthy have a common denominator - large amount of cash or liquid securities.
SHARES AND CASH
A 2017 report by financial research firm Wealth-X says the likes of Bernard Arnault and Sussane Klatten have their wealth majorly in company shares and cash.
In that year, French national Arnault was estimated to be worth $38.1 billion (Sh4.1 trillion) of which $34.8 billion was held in retail chain Carrefour and fashion brands Christian Dior and LVMH.
Meanwhile, Klatten, who is said to be the richest woman in Germany, was said to be worth $20 billion (Sh2.1 trillion) with at least $12.1 billion invested in automaker BMW.
Back to Kenya, politician John Keen is estimated to have been worth Sh13 billion when he died in 2016.
Keen had shares in blue chip companies such as Safaricom (659,880), Standard Chartered Bank of Kenya (11,877,840) and KCB Bank (53,000,000).
He had a property in Karen and 270 acres in Kajiado County, which he put under J Keen Investment Ltd trustees. He owned Maasai Lodge, which he said should be used only for commercial and tourism purposes.
Keen left some other 125 acres in Kajiado County to the trustees for the establishment of an educational institute. He also had a building in Namanga that he had rented out to Equity Bank.
In his Will, he listed 24,500 shares of J Keen Investments Ltd and 998 of Resson Gardens Ltd. He had Sh270 million, which he directed should be managed by a trust.
Cabinet minister and lawyer Mutula Kilonzo was also in the billionaires club, and he too was a land person. He had acquired 1,500 acres named Kwa Kyelu ranch.
The father to Senator Mutula Kilonzo Jnr had other parcels of land located in Nairobi, Machakos and Mombasa in both his and corporate names. He also had assets in more than 50 companies.
The estate included stocks and shares in more than 30 companies, motor vehicles, jewelry and watches.
Kilonzo Jnr, in a counter-inventory, listed more than 100 land title deed numbers, shares in several companies, money in two bank accounts and motor vehicles.
The late senator invested his money in Barclays Bank, Standard Bank, Sameer, Safaricom, Cooperative Bank, National Bank, Kenya Power, KCB, East Africa Breweries, Firestone East Africa and Kenya Airways.
Although not listed as part of his estate, Mutula had a unique taste of spending his wealth — rearing of game animals. He kept lions, wild pigs and elands in his ranch.
He was also into beef and dairy ranching.
Meanwhile, former minister David Mwiraria had also set his eyes on land. He died at the age of 79.
Mwiraria, who served as Finance minister for three years from 2003, wanted his descendants to invest in medicine.
He was estimated to be in the billionaires' club, with land being the major investment. He left his empire under two holding companies named after trees — Meru Oak and Muringa.
A 50-acre piece of land in an area called Mulika in Meru County would be set aside for the medicinal trees and for rearing cattle.
An alumni of the London School of Economics, Mwiraria envisioned that his family would grow his empire even after his death. His Will was about developing his estate and selling assets that would not bring money to his children.
For ease of management, he directed that all monies collected — be it from sales or rent — would be held under Meru Oak Ltd and Muringa Ltd.
LAND SUB-DIVIDED
His wife, Jerusha Gatune, died in May 2003 and was interred in their Meru home. It was on these seven acres that Mwiraria wanted to be buried.
He instructed that the land should be sub-divided. One acre would be his final resting place next to his wife, while the remaining six would be transferred to Meru Oak, which would build residential houses.
Mwiraria said half of the houses were to be sold and the rest used to generate rental income. He issued a caveat that should the housing development not be feasible, the land should be sub-divided and sold.
The patriarch directed that his two houses on the Meru land be transferred to Meru Oak for use by all his beneficiaries.
Mwiraria also directed that his Karen homestead be transferred to Meru Oak and sub-divided.
He had a plot next to Nakumatt in Meru town that he wanted developed into retail shops, while another two-and-a-half-acre plot at Kiringa would be developed into a petrol station, or sold.
The Will also revealed that Mwiraria had 22.5 acres in Tiwi Beach, Mombasa, that he wanted sold or held for rental income.
He also had interests in the banking sector and held shares in Gulf African Bank.
Although he did not disclose how much they were worth, he directed that they should be sold and the money used to develop all the properties he had placed under Meru Oak and Muringa.