Tuskys relaunches Kilifi, Malindi branches in fight for survival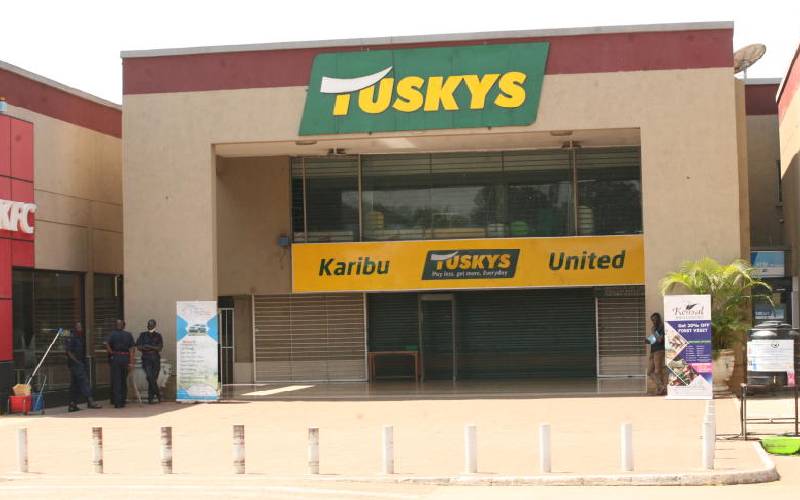 Tuskys Supermarket has relaunched stores in Kilifi and Malindi despite financial troubles.
The supermarket chain has haemorrhaged leading to the shutdown of branches in other parts of the country, including in Mombasa.
On Sunday, the supermarket re-launched the two outlets as part of efforts to restore customer confidence.
Speaking in Malindi, Tuskys Supermarket Head of Business Development John Muitiriri said they have restocked the outlets and the exercise was going on in all stores countrywide.
He explained that business was hard hit in Kilifi and Malindi counties, which are tourist destinations, following the outbreak of Covid-19.
He noted that Tuskys has 55 stores and expressed optimism of return to profitability. Muitiriri said their main challenge was the sustainability of supplies to avoid disruption of business.
"We are working on a very sustainable model to ensure we build this business to the levels that are required," he said.
Muitiriri said over the last one month they have seen sales grow since they started re-launch of outlets.
So far, he noted that they have relaunched the Kisumu, Eldoret, Kisii, Mombasa and Nairobi branches. "For these reasons, we are going around the country just to ensure that we re-launch and convince our shoppers that we are back and fully stocked," he said.
Muitiriri said Tuskys Supermarket was firmly in business despite the challenges, which are now being addressed.
"We are improving every day; it is a continuous exercise, whatever you will see here will probably be different from what you will see tomorrow. To be very honest we are back in the system," he said.
Muitiriri explained that Tuskys started experiencing challenges after the outbreak of Covid-19 in the country that hit many businesses as people spent less due to low disposable incomes leading to a decline in sales.
He commended suppliers for their support that has seen the retail chain restock.
"They are all seeing our vision that we should not see any retailer go down. For this reason, with their support and that of customers and employees, we are sure we shall be able to go ahead and also overcome the few remaining challenges," he said.