Treasury bailed the rich to buy posh vehicles as the poor skipped meals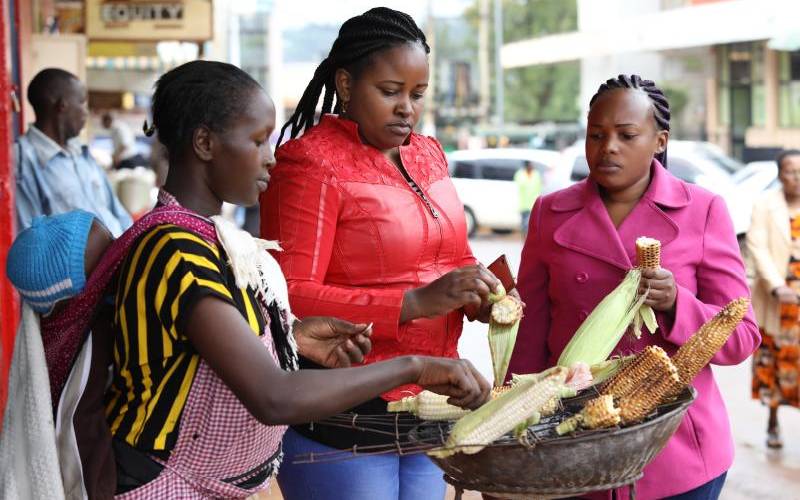 Millions of low-income families in Nairobi have grappled with the harsh realities of coronavirus, with some resorting to back-on-the-wall survival tricks such as skipping meals or buying food in small portions.
A few moneyed individuals still afford to walk into a showroom and drive out in a posh car.
It is a sad reality that has been laid bare by the novel coronavirus. Not only has the pandemic exposed the yawning gap between a few households who occupy the high tables, merrily feasting on scrumptious meals, and the millions on the floor scrambling for crumbs and leftovers, it has also revealed how the market and State are well oiled machinery for the elites.
Indeed, in Nairobi, the so-called forces of demand and supply combined with the government's generous stimulus package, afforded 53,193 rich households a more decent lifestyle in the four months since the country registered its first coronavirus case.
However, close to 1,066,876 low-income households were left to their devices, with most of the breadwinners being rendered jobless by stringent containment measures aimed at curbing the spread of the virus.
Moreover, as the global prices of oil tumbled and movement within and out of the country was restricted, most of the rich people comfortably worked from home - saving on transport and hotels and restaurants, two consumer items that ordinarily take up a huge chunk of their spending cash, according to official data.
Working from home while saving on your expenses is not a luxury that this virus has accorded the hoi polloi.
As a result, the cost of living for the rich, between March and June, was much lower than that of the poor.
A typical shopping basket for the poor in Nairobi - more than a third of which consist of food - increased by an average of 6.29 per cent during this period.
This inflation rate - or increase in prices of goods and services - was much higher than that of the rich at 2.68 per cent or the middle class at 3.04 per cent.
It was not always like this. In the same period last year, inflation rates were highest among the rich at 6.45 per cent and lowest among the poor, 4.75 per cent.
The cost of living for the middle class during this period increased by 6.11 per cent.
But why isn't the fatal blow of Covid-19 striking the rich as it has ravaged the poor?
To begin with, because they have money, loads of it, including some which they stash away for a rainy day like this one.
But even more critical, economists will tell you, is the composition of the different income group's shopping basket.
Joy Mueni, an economics lecturer at the University of Nairobi, emphasised on the need to look at the composition of the shopping basket.
"But you see the lower income are more on the basics - the food inflation and the things like that," she explained.
The Kenya National Bureau of Statistics (KNBS) categorises the rich household as that which spends, in a month, more than Sh184,395. The poor are those who spend less than Sh46,355 in a month, according to KNBS.
For high income group, which includes some occupants of corner offices of some of the most prestigious companies, legislators, and top businessmen, air tickets, fuel and dining in expensive hotels for business or leisure take up a huge chunk of their money.
Mueni noted that the rich have had an upper hand due to depressed prices of oil, which went down considerably when the pandemic struck and most countries went on lockdown.
Besides, flying within and out of the country, rich families also move around a lot. And they drive fuel guzzlers, which means they spend quite a fortune on Super Petrol or Diesel.
Official data shows that their expenditure on transport takes up Sh18 for every Sh100 that the rich spend followed by food (Sh16.8), and restaurants and accommodation services, which takes up Sh14.
Rent, water, electricity, gas and other fuels take up another Sh13 of the money that the rich spend in a month.
For the poor in Nairobi, food is the largest expenditure item taking up Sh36 for every Sh100 that they spend.
It is followed by rent, water, lighting and cooking that takes up Sh17 and transport Sh9.
For the poor, Covid-19 squeezed them from both sides. Most of them, because they were employed in fragile jobs such as nightclubs, pubs and hotels, they lost their jobs. This essentially meant that their purchasing power declined to almost zero for some families.
Most of them, according to a survey by the World Bank, saw their eating altered, "with half of Kenyans saying they were cooking less".
A survey by KNBS showed that more than a third of Kenyans who had never failed to pay their rent struggled to pay it in May.
For those who still had to go to work, they paid almost double their matatu fares.
But it was the government's stimulus package that might have widened the chasm between the haves and have-nots in Nairobi.
As soon as the effects of Covid-19 started pounding the country's economy, the government quickly put together a stimulus package that included a reduction in value added taxes from 16 per cent to 14 per cent, Pay-as-you-earn (PAYE) from 30 per cent to 25 per cent for those who earned Sh24,000 and above and a reduction of corporate income tax paid by large corporations to 25 per cent from 30 per cent.
"Those who were targeted were those who are in formal employment, and they are not the majority and they are already in the rich category," said Mueni, noting that over 80 per cent of Kenyans are in the informal sector.
Official data shows that less than four per cent of reported purchases by Kenyan households were made in supermarkets, which are registered to be charging and remitting to Kenya Revenue Authority (KRA) 16 per cent VAT on the goods they sell.
"Households with higher total expenditure tend to purchase a larger proportion of their food items from supermarkets," said KNBS in a report, noting that this pattern holds invariably across all the domains of analysis.
Most Kenyans, according to official data, buy food from kiosks, open air markets, general shop and other informal sources.
This means that a reduction in VAT did not benefit the poor.
On the other end, almost everything that the rich spent their money on had a tax component.
Critics had warned the government that reducing the taxes would not help the millions of Kenyans, who made up for the most expenditure in Nairobi at 56.1 per cent.
Seven in 10 households, or slightly over a million families, fall in the low-income group.
David Ndii, a fiery government critic, was the first to criticise the government's stimulus package.
"I am at a loss as to how this is a rational response policy for a government that was in a fiscal crisis before the Covid-19 shock, or how tax breaks translate to food on tables of ordinary people who have lost incomes and jobs," said Ndii.
"For the duration of the crisis, their (MSMEs) income/turnover tax returns will be nil, VAT returns nil. I doubt they have cash reserves for salaries – PAYE returns nil," said Ndii, adding that the government should have slashed its spending.
To add salt to injury, by the time President Uhuru Kenyatta unveiled the stimulus package, one of Wanjiku's main sources of livelihood in Nairobi, Gikomba Market, had already been stifled by the virus.
Gikomba, a leading open-air market for second-hand clothes in the region, is just chugging along after Trade and Industrialisation Cabinet Secretary Betty Maina directed that the importation of second-hand clothes be stopped.
The government's stimulus package did not end with tax reliefs. It also paid pending bills and VAT refunds running into billions.
In the four months since March, total cash in fixed deposits, money that cannot be accessed soon, had increased by Sh150 billion.
Banks were not lending out this money as they feared the volatile business environment, especially micro, small and medium sized enterprises (MSMEs) whose loans are expected to be unlocked with the unveiling of a Sh3 billion guarantee scheme.
Instead, spooked banks have been parking this cash, on behalf of rich clients, in government securities. Others have hedged their billions in by putting their money in dollars or gold.
Of course, there have been efforts from the government to help the vulnerable.
Each month, the government sends some money to the vulnerable population in Nairobi, those who have been hit the hardest by the pandemic.
Besides increasing cash transfer to the elderly, it also set aside Sh10 billion for the Kazi Mtaani, a programme in which people in slums do some menial work.
However, Mueni insists that the government's rescue package did not do much for the common mwananchi, especially women.
"You only target the upper, you leave out the whole majority of stakeholders simply because you only concentrate on the formal. You do not go out of your way to find reliefs for those who are in the informal sector," said Mueni.
Not only have the poor had difficulties servicing their loans, they have also had difficulties accessing credit.