Equity buys Sh10b stake in DRC bank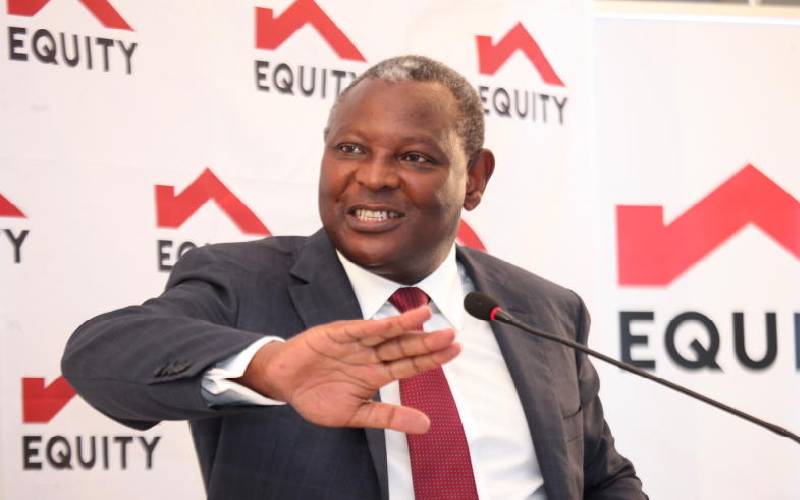 Equity Group Holdings has acquired a majority stake in a Congolese bank at a cost of Sh10.3 billion as the race to the pinnacle of Kenya's banking sector intensifies.
In a public announcement, Equity Group CEO James Mwangi (pictured) said yesterday the lender had reached an agreement with George Forrest and met all regulatory approvals, paving the way for the acquisition of all the 625,354 shares (66.53 per cent) owned by the Belgian in Banque Commercial du Congo (BCDC).
This comes a month after Kenya's second lender shelved plans to acquire London Stock Exchange-listed Atlas Mara, citing challenges occasioned by the Covid-19 pandemic.
The transaction would have seen Equity acquire a 62 per cent stake in Banque Populaire du Rwanda (BPR) and all of Atlas Mara's subsidiaries in Zambia, Tanzania and Mozambique (BancABC).
"EGH (Equity Group Holdings) is pleased to inform its shareholders and the public that the condition precedent in the acquisition, including the receipt of corporate and regulatory approvals, have been fulfilled and/or waived and the acquisition was completed on August 7," he said.
Equity Group, which now has two subsidiaries in the Democratic Republic of Congo, having earlier acquired ProCredit, a German bank, is banking on this amalgamation to penetrate this resource-rich economy.
Mwangi reckoned that the acquisition would inflate Equity's balance sheet in excess of $2 billion (Sh216 billion).
He said the merger would produce a subsidiary, contributing more than 20 per cent of the group's total balance sheet. "We take this opportunity to welcome BCDC directors and employees to the EGH Group and look forward to working together to provide BCCDC's current and new customers with access to competitive, tailored financial services to improve people's lives and livelihoods whilst also delivering significant value to our stakeholders." Equity launched the takeover bid of the bank on November 19, 2019 as the lender - which besides Kenya, also has a presence in Uganda, Tanzania, Rwanda, South Sudan and DRC - sought to spread its wings beyond the East African region.
Erstwhile BCCDC shareholder, Mr Forrest, said he chose the Kenyan lender because he believed it would add value to the Conglese banking sector.
"I sell my shares to Equity in the trust that it will make it the largest bank in Congo and continue to contribute to the development and transformation of the country," said Forrest. Equity, which is listed at the Nairobi Securities Exchange, registered a dip in profit after tax for the first three months of this year owing to the uncertainty of Covid-19, with the lender setting aside a lot of money as insurance against possible loan defaults.
KCB, Kenya's largest bank by asset size, has also been busy swelling its ranks. Last year, it acquired National Bank of Kenya. There have also been mergers, such as between Commercial Bank of Africa and NIC Bank, which culminated into NCBA.