Governors tell Yatani to release Sh30b for June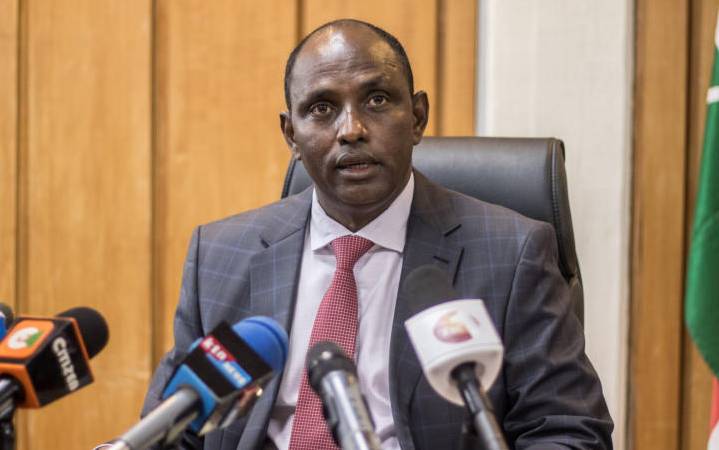 Governors are spoiling for a fight with the National Treasury over the delayed disbursement of Sh30 billion.
Council of Governors chairman Wycliffe Oparanya wrote to Treasury Cabinet Secretary Ukur Yatani (pictured above) on Monday urging him to facilitate the release of the funds.
"The delayed disbursement has affected service delivery and, slowly, services by the county governments are grounding to a halt," reads Mr Oparanya's letter copied to all governors and county Finance executives.
He cautioned that the fight against the Covid-19 pandemic will be compromised if the money is not released, adding lack of resources may result in avoidable deaths due to delayed interventions.
"We seek your urgent intervention to facilitate release of these funds. Your prompt response will facilitate county governments to factor the balances in their supplementary budgets for this financial year, leading to uninterrupted service delivery," said Oparanya.
The governor, however, acknowledged that the delay may have resulted from a revenue shortfall occasioned by the pandemic as earlier explained by the Treasury Cabinet Secretary.
Contentious formula
But even as the county chiefs fight for the money budged for in the 2019/20 financial year, all eyes will be on the Senate this afternoon where members will vote on a contentious formula to share Sh316.5 billion for the 20202/21 fiscal year.
Ahead of the divisive vote, CoG has convened a crisis meeting to discuss the way forward should senators fail to agree on the third-generation formula in which the Commission on Revenue Allocation proposes to slash billions of shillings in allocations to 19 counties.
"We are meeting tomorrow (today) to discuss the formula impasse. If implemented as proposed, counties alienated for over 50 years since independence will find themselves in the same situation," a governor said.
The Standard has reliably learnt the formula has split governors and senators.
The counties' leadership have censured the government over its push to implement the formula pegged on the passage of the Building Bridges Initiative (BBI) report, which seeks to increase the revenue to counties from 15 per cent to 35 per cent.
Governors have questioned how shareable revenue can be implemented based on a law that is yet to be enacted through a popular initiative.
"It's like naming the baby before birth. How will we face our people to tell them that their allocation has been slashed?" asked Kilifi Governor Amason Kingi, whose county stands to lose Sh1.1 billion.
Mandera Governor Ali Roba, whose county stands to lose Sh2 billion, pushed for extension of the expired second generation formula.
"Let us use the current formula because counties have drawn development plans with the current minimal revenues," he said.
Machakos Governor Alfred Mutua, whose county stands to gain Sh367 million, advocated for a formula that works for everybody.
Some 27 senators have vowed to reject the new formula, saying it goes against the spirit of the Constitution. [Roselyne Obala, Cyrus Ombati and Moses Nyamori]