It's slow start for transport sector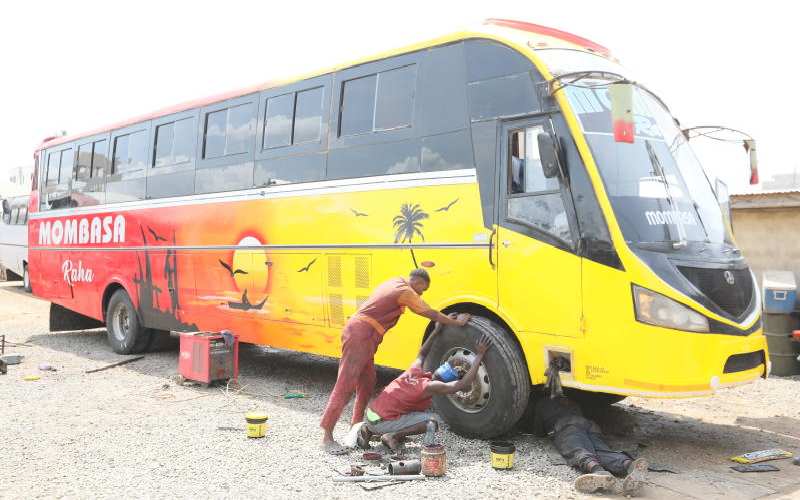 Public transport operators remained cautiously optimistic yesterday as they resumed operations following the lifting of a ban on inter-county travel.
In his address to the nation on Monday, President Uhuru Kenyatta lifted a ban on travel in and out of Nairobi, Mombasa and Mandera counties, bringing relief to thousands of operators and travellers who had been grounded by measures put in place to contain spread of Covid-19.
In Nairobi, residents who had been trapped in the capital since the lockdown took effect three months ago, were eager to return to their families, jobs and businesses and began queuing at various bus stages as early as 4am.
However, the vehicles now carry fewer passengers. For instance, 14-seaters are allowed to carry only eight passengers. In March, the government directed that all public service vehicles would operate at 60 per cent occupancy.
Bus services are preparing to resume operations. However, they are waiting for new Health and Transport ministries guidelines.
"We are ready for business, we just need to know whether bus crew must be tested as one of the new required measures," said Wycliffe Ndege, an operations manager at Transline Classic Bus Services.
Easy Coach Bus Services MD Azym Dossa said they had not received official guidelines, but he said they were eager and ready to start operations.
Yesterday, Matatu Owners Association chair Simon Kimutai said the decision to have certification was not good for the industry, which has been struggling since the measures were instituted.
Resumption of transport services, however, have come at an extra cost.
Mololine Sacco, one of the operators which resumed transport services, was yesterday charging Sh1,000 for passengers travelling to Nairobi from Nakuru, up from Sh400.
Long haul bus operators based in Mombasa also said they could be forced to hike fares.
"We shall have to increase the fares to help us stay afloat as we operate under the new normal environment where buses are not allowed to carry to maximum capacity," said Mohamed Ajaz Mirza, chairman of Coast Bus.
In Nyeri, operators said the mandatory certification for drivers and touts may not be effective as the same directive is not applying to passengers.
"Having only the operators tested beats the logic of stopping the spread. Again, the results are only valid at the time of testing and we've seen results taking weeks to be released due to the backlog," said Joseph Mwangi, a driver with 2NK Sacco.
In Nyanza, transport operators were racing against time to make preparations to resume services.
A spot check by The Standard across bus stops and booking offices in Kisumu, Homa Bay, Siaya, Kisii and Migori showed that a number of passengers were still struggling to find means of transport to Nairobi.
Many operators in the region were yet to comply with the directives by the Health ministry.
At Kisumu Bus Park, most buses were half-booked, with attendants saying most people might be afraid of the coronavirus, which has been majorly recorded in Nairobi.
"Today, we have seen few people turn up which is a blessing to us since we have not been working for months. It's a slow start but we hope things will return to normal," said Otieno, a Climax Bus attendant.
At the booking points of other transport operators such as Ena Coach, Transline and Guardian buses, a handful of passengers queued for tickets.
Several buses remained parked at Kisii bus stop as well as the Nyamira bus stop as the operators are yet to comply with requirements.